Tornado damage at Pfizer plant likely to cause long-term hospital drug shortages
The fallout from a Pfizer factory being damaged by a tornado could put even more pressure on already-strained drug supplies at U.S. hospitals, experts say.
Wednesday's tornado touched down near Rocky Mount, North Carolina, and ripped up the roof of a Pfizer factory that makes nearly 25% of all sterile injectable medicines used in U.S. hospitals, according to the drugmaker.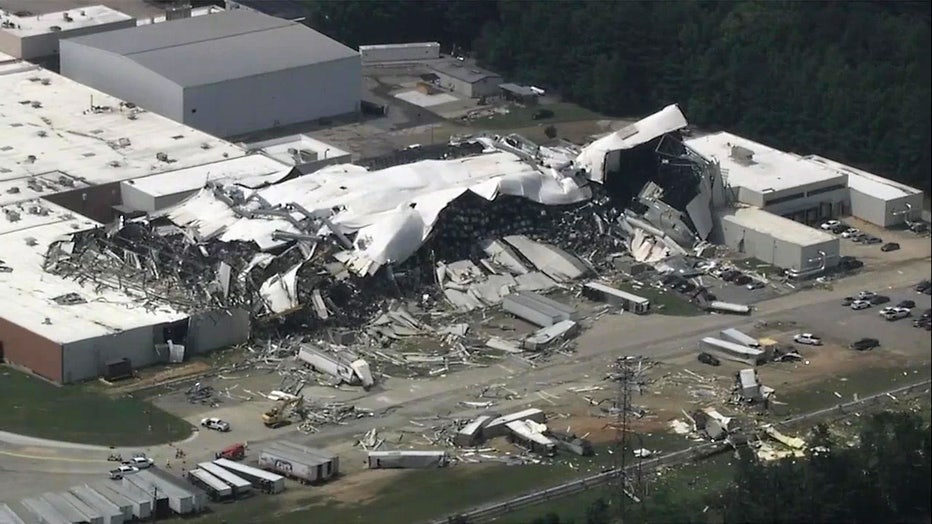 Damage at Pfizer plant in North Carolina (WTVD image via FOX)
Pfizer said all employees were safely evacuated and accounted for, and that it is still assessing damage.
Here's a closer look at the possible effects.
What are sterile injectables? 
The North Carolina plant produces injectables — like drugs used in IV infusions or that are delivered under the skin or into patient muscles.
READ MORE: Tornado damages Pfizer plant in North Carolina as scorching heat, floods hit parts of US
The plant makes anesthesia drugs, anti-infectives (that typically treat things like fungal infections) and drugs that temporarily paralyze muscles. The latter are used in surgeries or intensive care units for patients who are placed on ventilators, said Mike Ganio, who studies drug shortages at the American Society of Health-System Pharmacists.
The Pfizer site does not make or store the company's COVID-19 vaccine or treatments Comirnaty and Paxlovid.
How big is the damaged Pfizer plant?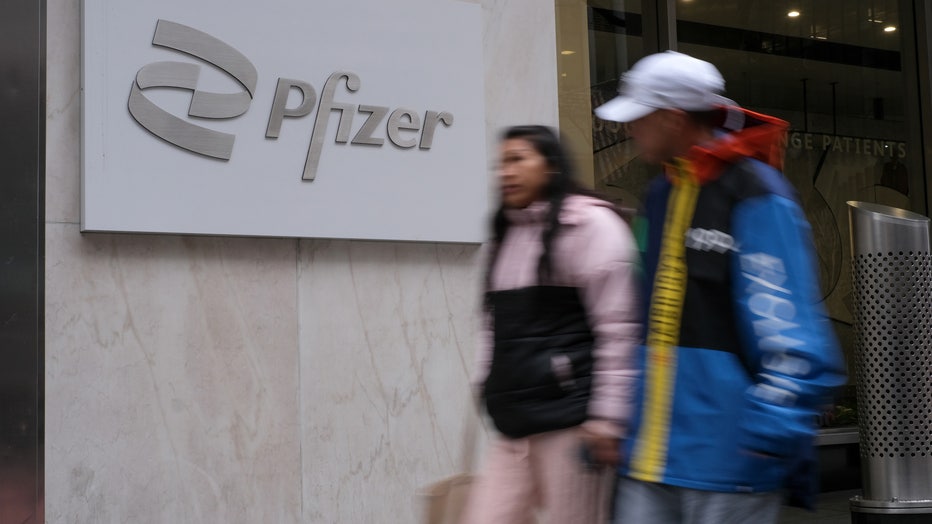 Pfizer headquarters in New York, US, on Wednesday, March 1, 2023. The drugmaker said damage to its North Carolina plant will likely cause drug shortages for some hospitals. Photographer: Bess Adler/Bloomberg via Getty Images
Pfizer bought the eastern North Carolina factory in 2015 as part of its acquisition of the drugmaker Hospira.
There is more than 1.4 million square feet of manufacturing space, or the equivalent of more than 24 football fields, and 22 packaging lines.
Pfizer says well over 2,000 people work there.
How will this affect hospital drug supplies? 
It will likely lead to some long-term shortages while Pfizer shifts production to other locations or rebuilds, said Erin Fox, senior pharmacy director at University of Utah Health.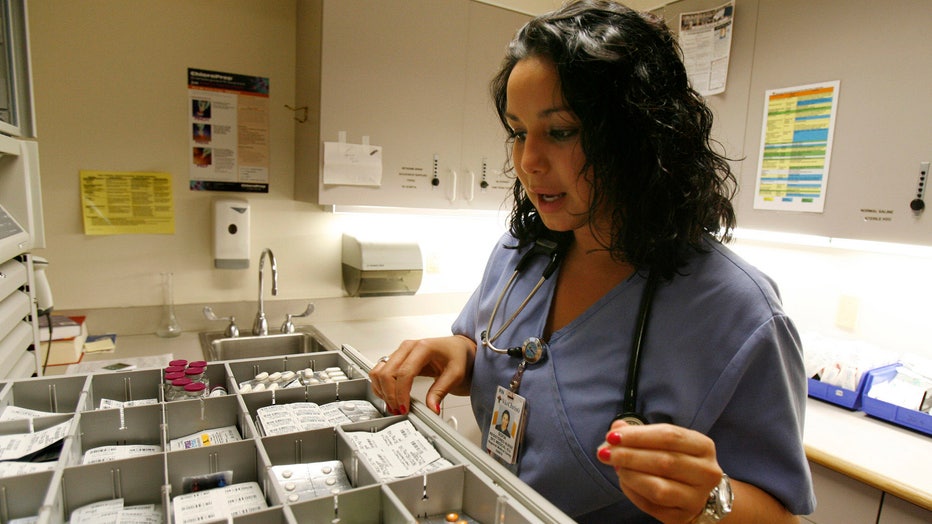 Via Christi St. Francis Intensive Care Unit nurse Sofia Jaramillo gets medication for a patient. Hospitals could see long-term drug shortages after a major tornado damaged a Pfizer facility in North Carolina. (Photo by Jaime Oppenheimer/Wichita Eagle
But the specifics of which drugs might be involved in a shortage and how long that shortage will go aren't clear.
"Anyone who is aware of this event is basically holding their collective breath at this point, hoping for the best and waiting for news," Ganio said.
He noted that drugmakers tend to ship finished products quickly from manufacturing sites, which may limit how much inventory was damaged by the twister.
How can hospitals handle shortages? 
They have several tools to soften the impact for patients.
Some hospitals have started increasing inventories of stored drugs instead of relying on regular deliveries from a wholesaler. Ganio said that it's particularly true of drugs that hospital executives know will be hard to get.
READ MORE: Albuterol factory closure prompts concerns over ongoing asthma drug shortage
Hospitals also may switch to different forms of a drug by giving a patient an antibiotic pill instead of an IV if that person can handle it. If a larger vial size of a drug is more readily available, they may order that and then fill several syringes with smaller doses ready for use.
Aren't hospitals already dealing with drug shortages?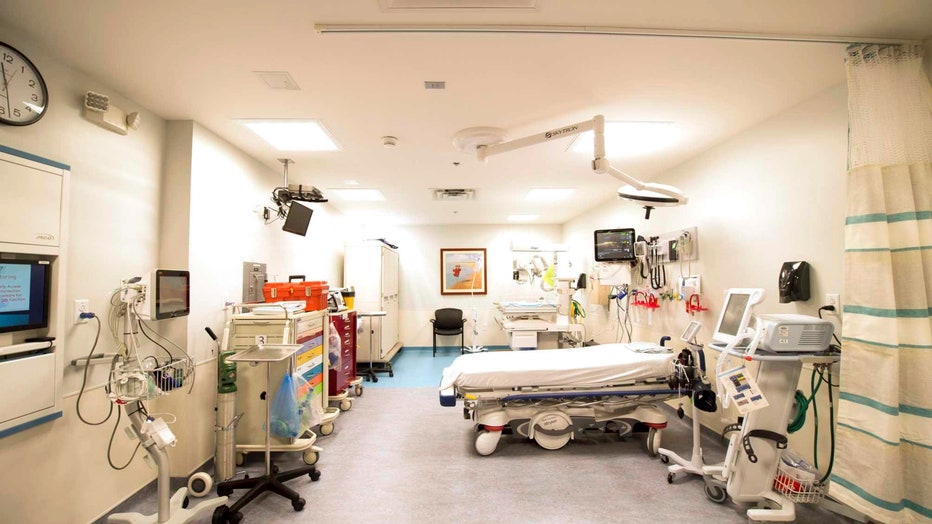 Inside of South Nassau Communities Hospital emergency department at the Long Beach, New York campus (Photo by Alejandra Villa Loarca/Newsday RM via Getty Images)
Yes, it's been happening for years. But right now, hospitals are specifically seeing shortages for things like chemotherapy drugs.
The impact of drug shortages isn't limited to hospitals. They also affect more routine care delivered through drugstores and doctor's offices.
READ MORE: Study finds some pain medicines could soon be created from pine trees
Overall, there were 309 active drug shortages in the U.S. at the end of June, according to the University of Utah Drug Information Service. That's up from 295 at the end of last year and the highest total recorded since 2014.
What will Pfizer do? 
The company hasn't said what happens next.
Drugmakers can shift manufacturing to other locations. But that can be complicated because they must reroute raw materials — usually made elsewhere — to other locations and may have to train workers to make a product.
Pfizer also may have to figure out whether to cut production of another product to squeeze in more manufacturing at the new site.
"It's not always as easy as just flipping a switch to increase production," Ganio said.