Tornado damages Pfizer plant in North Carolina as scorching heat, floods hit parts of US
RALEIGH, N.C. - A tornado heavily damaged a major Pfizer pharmaceutical plant in North Carolina on Wednesday, while torrential rain flooded communities in Kentucky and an area from California to South Florida endured more scorching heat.
Pfizer confirmed that the large manufacturing complex was damaged by a twister that touched down shortly after midday near Rocky Mount, but said in an email that it had no reports of serious injuries. A later company statement said all employees were safely evacuated and accounted for.
Parts of roofs were ripped open atop its massive buildings. The Pfizer plant stores large quantities of medicine that were tossed about, said Nash County Sheriff Keith Stone.
"I've got reports of 50,000 pallets of medicine that are strewn across the facility and damaged through the rain and the wind," Stone said.
The plant produces anesthesia and other drugs as well as nearly 25% of all sterile injectable medications used in U.S. hospitals, Pfizer said on its website. Erin Fox, senior pharmacy director at University of Utah Health, said the damage "will likely lead to long-term shortages while Pfizer works to either move production to other sites or rebuilds."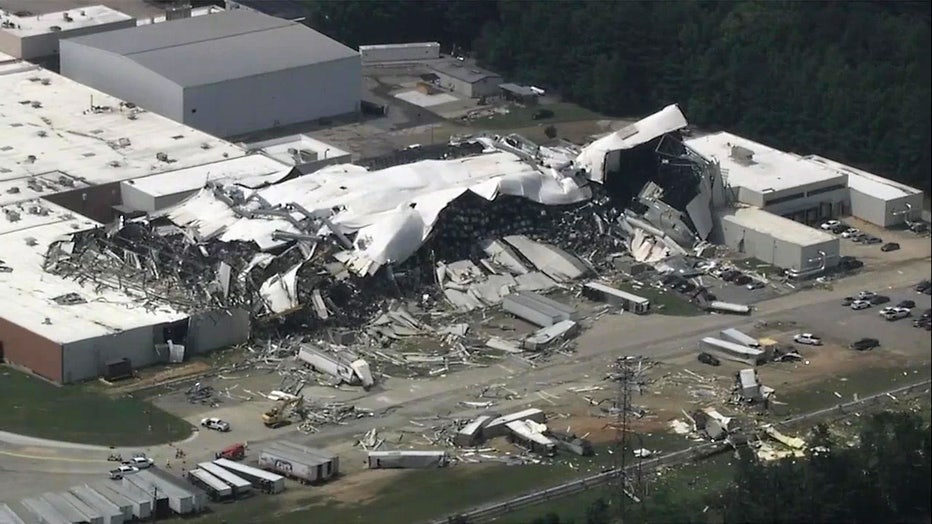 The National Weather Service said in a tweet that the damage was consistent with an EF3 tornado with wind speeds up to 150 mph (240 kph).
The Edgecombe County Sheriff's Office, where part of Rocky Mount is located, said on Facebook that they had reports of three people injured in the tornado, and that two of them had life-threatening injuries.
A preliminary report from neighboring Nash County said 13 people were injured and 89 structures were damaged, WRAL-TV reported.
Three homes owned by Brian Varnell and his family members in the nearby Dortches area were damaged. He told the news outlet he is thankful they are all alive. His sister and her children hid in their home's laundry room.
"They got where they needed to be within the house and it all worked out for the best," Varnell said near a home that was missing exterior walls and a large chunk of the roof.
Elsewhere in the U.S., an onslaught of searing temperatures and rising floodwaters continued, with Phoenix breaking an all-time temperature record and rescuers pulling people from rain-swamped homes and vehicles in Kentucky.
Forecasters said little relief appears in sight from the heat and storms. For example, Miami has endured a heat index of 100 degrees Fahrenheit (37.8 degrees Celsius) or more for weeks, with temperatures expected to rise this weekend.
In Kentucky, meteorologists warned of a "life-threatening situation" in the communities of Mayfield and Wingo, which were inundated by flash flooding this week from thunderstorms. Kentucky Gov. Andy Beshear declared a state of emergency there Wednesday as more storms threatened.
Forecasters expect up to 10 inches (25 centimeters) of rain could yet fall on parts of Kentucky, Illinois and Missouri near where the Ohio and Mississippi rivers converge.
The storm system is forecast to move Thursday and Friday over New England, where the ground remains saturated after recent floods. In Connecticut, a mother and her 5-year-old daughter died after being swept down a swollen river Tuesday. In southeastern Pennsylvania, a search continued for two children caught in flash flooding Saturday night.
Meanwhile, Phoenix broke an all-time record Wednesday morning for a warm low temperature of 97 F (36.1 C), raising the threat of heat-related illness for residents unable to cool off adequately overnight. The previous record was 96 F (35.6 C) in 2003, the weather service reported.
Lindsay LaMont, who works at the Sweet Republic ice cream shop Phoenix, said business had been slow during the day with people sheltering inside to escape the heat. "But I'm definitely seeing a lot more people come in the evening to get their ice cream when things start cooling off," LaMont said.
Heat-related deaths continue to rise in Maricopa County, where Phoenix is located. Public health officials Wednesday reported that six more heat-associated fatalities were confirmed last week, bringing the year's total so far to 18. All six deaths didn't necessarily occur last week as some may have happened weeks earlier but were confirmed as heat-related only after a thorough investigation.
By this time last year, there had been 29 confirmed heat-associated deaths in the county and another 193 under investigation.
Phoenix, a desert city of more than 1.6 million people, had set a separate record Tuesday among U.S. cities by marking 19 straight days of temperatures of 110 F (43.3 C) or more. It topped 110 again Wednesday.
National Weather Service meteorologist Matthew Hirsh said Phoenix's 119 F (48.3 C) high Wednesday tied the fourth highest temperature recorded in the city ever. The highest temperature of all time was 122 F (50 C), set in 1990.
Across the country, Miami marked its 16th straight day of heat indexes in excess of 105 F (40.6 C). The previous record was five days in June 2019.
"And it's only looking to increase as we head into the later part of the week and the weekend," said Cameron Pine, a National Weather Service meteorologist.
The region has also seen 38 consecutive days with a heat index threshold of 100 F (37.8 C), and sea surface temperatures are reported to be several degrees warmer than normal.
"There really is no immediate relief in sight," Pine said.
A 71-year-old Los Angeles-area man died at a trailhead in Death Valley National Park in eastern California on Tuesday afternoon as temperatures reached 121 F (49.4 C) or higher and rangers suspect heat was a factor, the National Park Service said in a statement Wednesday.
It is possibly the second heat-related fatality in Death Valley this summer. A 65-year-old man was found dead in a car on July 3.
Human-caused climate change and a newly formed El Nino are combining to shatter heat records worldwide, scientists say.
The entire globe has simmered to record heat both in June and July. Nearly every day this month, the global average temperature has been warmer than the unofficial hottest day recorded before 2023, according to University of Maine's Climate Reanalyzer.
Atmospheric scientists say the global warming responsible for unrelenting heat in the Southwest also is making extreme rainfall a more frequent reality.
Finley reported from Norfolk, Virginia. Associated Press reporters Anita Snow in Phoenix, Freida Frisaro in Miami, JoNel Aleccia in Temecula, California, and Rebecca Reynolds in Louisville, Kentucky, contributed to this report.