This is the best way to watch 'Oppenheimer,' according to Christopher Nolan
It's no secret that Christopher Nolan made "Oppenheimer" to be seen on the big screen. But not all big screens are created equal.
That's part of the reason why Universal Pictures has made "Oppenheimer" tickets available early for over a thousand "premium large format" (or PLF) screens, with options including IMAX 70mm, 70mm, IMAX digital, 35mm, Dolby Cinema and more.
Knowing that even those words can get overwhelming and technical, Nolan went a step further: In an exclusive interview with The Associated Press, he offered a guide to his favorite formats, explaining why it matters and even where he likes to sit so that audiences don't feel like they need a film school degree (or one in theoretical physics) before settling on a theater.
"You rarely get the chance to really talk to moviegoers directly about why you love a particular format and why if they can find an IMAX screen to see the film on that's great," Nolan said. "We put a lot of effort into shooting the film in a way that we can get it out on these large format screens. It really is just a great way of giving people an experience that they can't possibly get in the home."
In a film about J. Robert Oppenheimer, the theoretical physicist who oversaw the development of first atomic bomb during World War II, this will be especially pivotal in viewing the Trinity Test, the first detonation of a nuclear weapon. Nolan and his effects teams recreated the blast, with all its blinding brilliance.
"We knew that this had to be the showstopper," Nolan said. "We're able to do things with picture now that before we were really only able to do with sound in terms of an oversize impact for the audience—an almost physical sense of response to the film."
"Oppenheimer," starring Cillian Murphy, opens in theaters on July 21.
RELATED: 'Oppenheimer' film brings up conflicted history for those affected by atomic blast
The big picture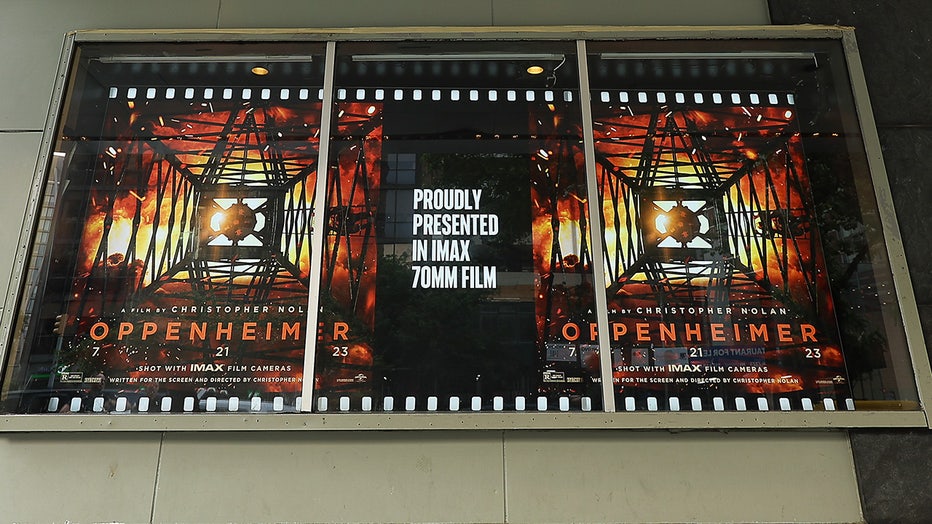 General view of Universal Pictures' "Oppenheimer" premiere which was canceled in New York due To SAG-AFTRA Strike at AMC Lincoln Square Theater on July 17, 2023 in New York City. (Photo by Arturo Holmes/Getty Images)
"Oppenheimer" was shot using some of the highest resolution film cameras that exist. Like " Dunkirk " and " Tenet," "Oppenheimer" was filmed entirely on large format film stock, meaning a combination of IMAX 65mm and Panavision 65mm (think David Lean/"Lawrence of Arabia"), that's then projected in 70mm.
"The sharpness and the clarity and the depth of the image is unparalleled," Nolan said. "The headline, for me, is by shooting on IMAX 70mm film, you're really letting the screen disappear. You're getting a feeling of 3D without the glasses. You've got a huge screen and you're filling the peripheral vision of the audience. You're immersing them in the world of the film."
Nolan has been shooting with IMAX cameras since "The Dark Knight." Audiences would regularly gasp at seeing its first shot projected in IMAX 70mm. Though it's "just a helicopter shot" of some buildings in Chicago, it helps explain the ineffable power of the format.
On a technical level, the IMAX film resolution is almost 10 times more than a 35mm projector and each frame has some 18,000 pixels of resolution versus a home HD screen that has 1,920 pixels.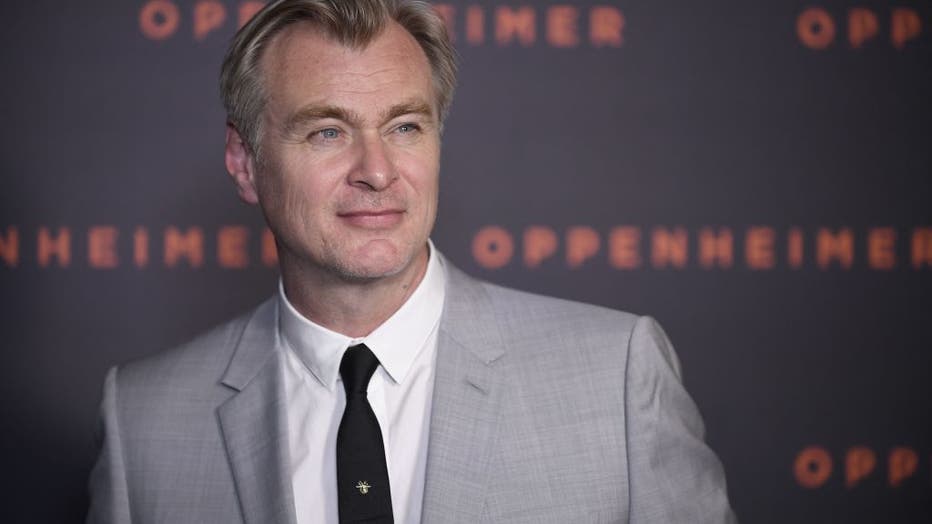 US-British film director Christopher Nolan poses upon his arrival for the "Premiere" of the movie "Oppenheimer" at the Grand Rex cinema in Paris on July 11, 2023. (Photo by JULIEN DE ROSA / AFP) (Photo by JULIEN DE ROSA/AFP via Getty Images)
Why is it shot on 65mm and projected in 70mm?
The 5mm difference goes back to when that extra space on the film had to be reserved for the soundtrack. With digital sound, that's unnecessary and it is "purely a visual enhancement," Nolan explained.
Do the different formats impact how the film is shot?
"We have to plan very carefully because by shooting an IMAX film, you capture a lot of information," he said. "Your movie is going to translate very well to all the formats because you're getting the ultimate amount of visual information. But there are different shapes to the screen — what we call aspect ratios. What you have to plan is how you then frame your imagery so that it can be presented in different theaters with equal success."
Starting with "The Dark Knight," they developed a system that they call "center punching the action" so that nothing is lost.
Cinematographer Hoyte van Hoytema is also always aware of the "frame lines for the different theaters" when looking through the camera.
On the biggest presentations, IMAX 1.43:1 (the massive square screen) the screen essentially disappears for the audience. For other formats like 35mm, the top and the bottom get cropped.
But, Nolan said, "from a creative point of view, what we've found over the years is that there's no compromise to composition."
Why not make an entire movie in IMAX?
The IMAX cameras are just too loud for dialogue heavy scenes, but Nolan is optimistic about the new cameras being developed.
What's the significance of the black and white sequences?
Some of "Oppenheimer" is presented in black and white for a very specific story reason.
"I knew that I had two timelines that we were running in the film," Nolan said. "One is in color, and that's Oppenheimer's subjective experience. That's the bulk of the film. Then the other is a black and white timeline. It's a more objective view of his story from a different character's point of view."
Nolan's desire for the black and white portions to be of equal image quality to the rest of the film led to the development of the first ever black and white IMAX film stock, which Kodak made and Fotokem developed.
"We shot a lot of our hair and makeup tests using black and white. And then we would go to the IMAX film projector at CityWalk and project it there," he said. "I've just never seen anything like it. To see such a massive black and white film image? It's just a wonderful thing."
Nolan's favorite theatrical formats
For Nolan, the "best possible experience" to view "Oppenheimer" in theaters is the IMAX 70mm film presentations. These are also among the rarest, currently set for 25 locations in North America including the AMC Universal CityWalk in Los Angeles, the AMC Lincoln Square in New York, the Cinemark Dallas, the Regal King of Prussia near Philadelphia and the AutoNation IMAX in Fort Lauderdale.
The prints span over 11 miles of film stock, weigh some 600 pounds and run through film projectors horizontally.
There will also be over one hundred 70mm prints ("a fabulous presentation," Nolan said) sent to theaters around the world, with over 77 (and more to come) on sale in North America at major chains and many independent locations like the Music Box in Chicago and the AFI Silver in Washington D.C.
"The two formats are sort of different and I love them both," he said.
The sequences projected in IMAX 70mm really "come to life" on those screens, and vice versa for the 70mm sequences on those specific projectors. In IMAX theaters, for example, things shot with IMAX film cameras will expand vertically to fill the entire screen.
IMAX digital, laser and exhibitor PLF options
The vast majority of moviegoers in North America will have easier access to digital presentations. These include IMAX digital, which can sometimes mean a laser projected image and other times involves a retro formatted screen, and what's called "exhibitor PLF," meaning large format screen and projection systems developed by individual theater chains (like Regal RPX, Cinemark XD and Cineplex UltraAVX). When in doubt, look for an "X" in the name.
But don't dismay: It'll still look great, according to Nolan, whose team has worked for six months to digitize the original film for other formats to ensure the best experience on every screen.
"This is the exciting thing about shooting an IMAX film: When you scan it for the digital format, you're working with the absolute best possible image that you could acquire, and that translates wonderfully to the new projector formats like the laser projectors," he said.
Nolan said the "IMAX impact" over the last 20 to 30 years has resulted in more theaters paying more attention to presentation, from projection to sound, which has been "great for filmmakers."
But where are the best seats?
Well, that comes down to personal preference but here's where Nolan likes to sit.
"When I'm in a theater that's Cinemascope ratio, I like to be right near the front, middle of the third row," he said. "When I'm in a stadium, IMAX 1.43:1, then I actually like to be a little behind the center line right up at the middle. So, a little further back."