These are the most debt-ridden cities in the US, according to study
Americans are taking on more debt as the cost of living continues to rise, according to a new analysis.
The average non-mortgage debt across the 50 largest U.S. cities is $39,713, which includes auto loans, student loans, credit cards, and personal loans, a new study by online lending marketplace LendingTree found. 
Across the largest American cities, auto loan debt was found to be the highest at an average of $13,718, ahead of student loans ($11,661), credit cards ($7,789) and personal loans ($5,411), according to the study.
The study, published this week, was based on an analysis of 75,000 anonymized credit reports of LendingTree users between January and March.
LendingTree chief credit analyst Matt Schulz said he actually expected non-mortgage debt to be much higher.
"Considering that the average price of a new car is about $50,000 and that so many people likely have an auto loan, student loan debt and credit card debt simultaneously, $40,000 hardly seems outrageous," Schulz said in a statement. 
He added: "Now, I'm not saying that $40,000 in debt isn't a lot or isn't concerning. It absolutely is, and it can consume people's lives. I'm just saying that given how expensive life is today, I'm not surprised that so many people are that deep in debt."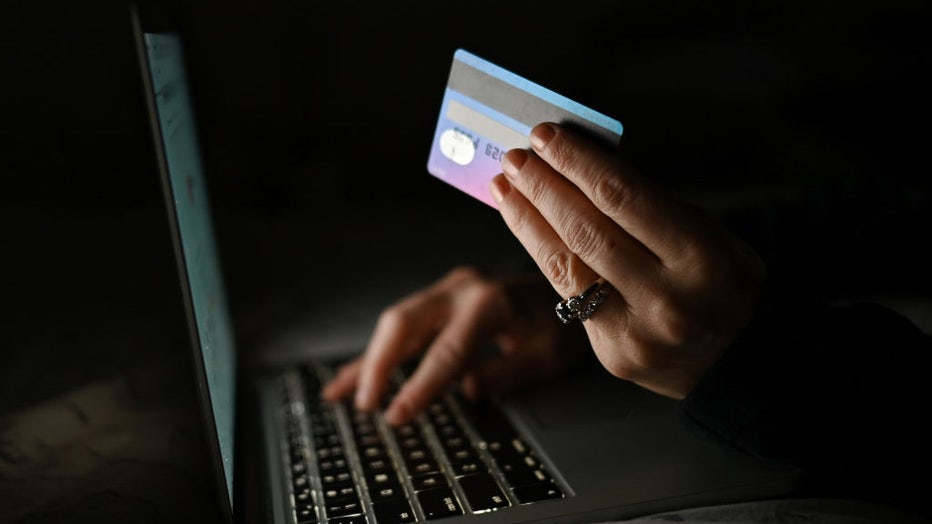 FILE - An illustrative image of a person holding a credit card while shopping online on a computer. (Photo by Artur Widak/NurPhoto via Getty Images)
Here are some of the other key findings from the study:
Atlanta dubbed most debt-ridden city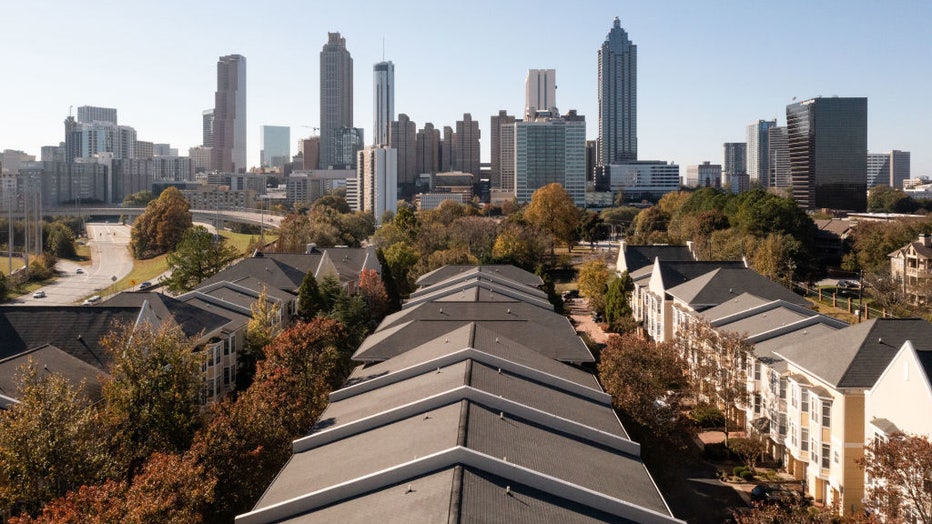 FILE - Housing in front of the Atlanta skyline in Atlanta, Georgia, on Nov. 13, 2022. Photographer: Elijah Nouvelage/Bloomberg via Getty Images
Atlanta was found to be the most debt-ridden metro among the 50 largest, with residents having an average of $45,891 in non-mortgage debt, according to the study.
 The next most debt-ridden metros were identified as Dallas ($45,541) and Washington, D.C. ($45,337). 
D.C. and Atlanta residents were found to have the third- and fourth-highest student loan debt totals — $16,107 and $15,819, respectively — while Dallas had the third-highest auto loan debt total ($16,644).
"Atlanta has a lower-than-average income compared to other big American cities, and Georgia has historically had some of the lowest credit scores in the nation (in Atlanta, the average credit score is 675)," Schulz said. "That less-than-stellar credit means that when you do get a loan, you're probably not going to get the best terms, so that new car you want to buy may be even more expensive than you thought."
Rounding out the top 10 were Austin ($44,541), Raleigh ($44,262), Memphis ($43,741), Baltimore ($43,456), Charlotte ($43,279), Nashville ($43,079), and Orlando ($42,876).
Click here for LendingTree's full ranking.
San Jose is least debt-ridden city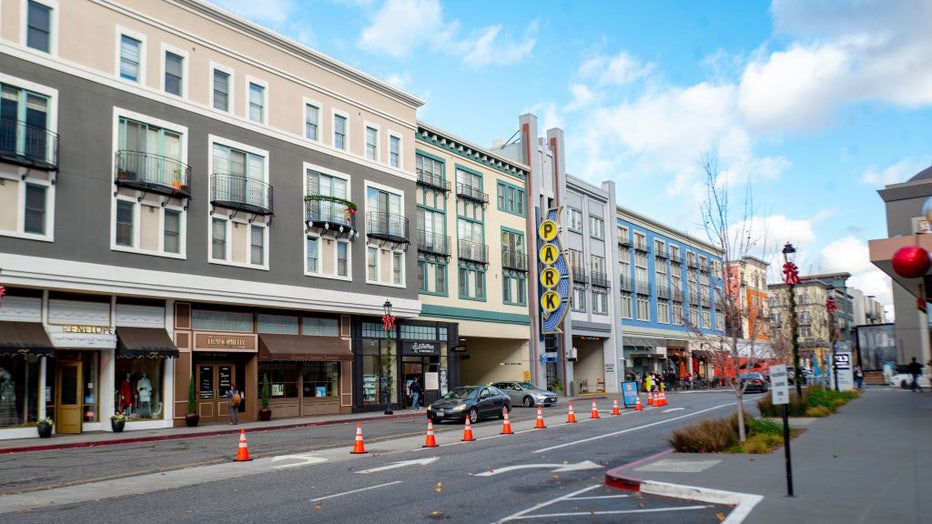 FILE - Street scene of retail stores on Santana Row in the Silicon Valley, San Jose, California, December 14, 2019. (Photo by Smith Collection/Gado/Getty Images)
The study identified San Jose, California, as the least debt-ridden city, with residents owning an average of $32,260 in non-mortgage debt. 
Sacramento, Calif. ($32,604) and Minneapolis ($34,776) followed as the metros with the least consumer debt. 
Sacramento and San Jose were found to have the smallest student debt totals at $7,028 and $7,323, respectively, while Minneapolis had the second-lowest auto debt total at $10,602.
"I'm not surprised that these cities are at the top of this list, especially San Jose. Yes, it's an absolutely expensive area to live in, but it's also one of the highest per-capita income areas in the whole country," Schulz said. "That gives residents there a little more financial wiggle room, even with the high housing costs."
He added that Sacramento and Minneapolis also have slightly higher-than-average incomes, which "makes a huge difference."
Auto debt is most common in 50 largest cities, study finds
The LendingTree study identified auto debt as being the largest form of non-mortgage debt in 34 out of the top 50 U.S. metros. 
The highest average auto debt was found to be in San Antonio at $18,248, which is 81.8% more than the average auto balance found in New York ($10,037).
Meanwhile, student debt was found to be the largest non-mortgage debt in the 16 other metros. Raleigh, N.C., had the highest student loan debt, at an average of $16,691, followed by Memphis, Tenn. ($16,166), and Washington, D.C. ($16,107), according to the study.
How to handle debt amid high inflation
Consumer prices in the U.S. rose again in April, and measures of underlying inflation remained high, implying that the retreat from sharply higher prices is likely to be slow and bumpy. 
Prices increased 0.4% from March to April, the government said earlier this month, up sharply from a 0.1% rise from February to March. Compared with a year earlier, prices rose 4.9%, down slightly from March's year-over-year increase. It was the smallest annual gain in two years.
The Federal Reserve, in its most aggressive series of rate increases since the 1980s, has raised its key rate by a substantial 5 percentage points in the past 14 months. Those hikes have led mortgage rates to more than double and elevated the costs of auto loans, credit card borrowing and business loans. 
Schulz noted how having a significant amount of debt can be stressful, particularly those who live in a larger city with a higher cost of living. However, paying down debt is possible, even with inflation as high as it is, he added.
For those dealing with debt, Schulz recommended:
Put money away while paying down debt: "Yes, it's easier said than done," he said. "Yes, it means it will take longer and cost you a little bit more to pay off that debt. Yes, you may only be able to save a few dollars at a time. It's still worth it. Building up your savings is the key to breaking the cycle of debt that traps so many people. If you don't have any savings once you've paid off your debt, the next unexpected expense will have to go on your credit card and you'll be right back in debt."
Reassess the budget: "If you haven't done this in several months, it may no longer accurately represent your financial situation," Schulz said. "Many of the assumptions in your budget may have been blown out of the water by inflation. The truth is you can't make a meaningful plan to attack credit card debt without knowing how much is coming in and going out of your household each month."
Consider consolidating to lower interest rates: "Interest rates are through the roof these days," he said. "The good news is you can take steps to get those rates in line. One of your best moves is to consolidate those debts. A 0% balance transfer credit card can be one great option, though you'll likely need good credit to get one. A low-interest personal loan can also do the job, though you won't find 0% offers with these. It isn't just about lowering rates, though. These loans can knock some things off your to-do list by reducing the number of payments you have to worry about each month."
Woman pays off $70K in debt by 'cash stuffing'
A woman in Texas made headlines last month after revealing that she paid off $70,000 in debt in just two years by using a unique method of saving and spending.
Jasmine Taylor of Amarillo became debt-free by "cash stuffing," a term that refers to the placing of cash into labeled envelopes and ditching credit and debit cards.
"I was honestly willing to try anything to start digging myself out of the hole," she said. 
After doing a YouTube search on various ways to get out of debt, Taylor settled on cash stuffing — using cash only, and separating it into specific categories based on need. 
Taylor has various envelopes for critical items such as groceries, shopping and gas, she also said.
Cash envelopes for special saving needs like Christmas presents, birthday presents and car maintenance expenses are also important to have, she said.
"When they come up, you typically have to dig into your savings … So you save in the short term for those big expenses," she added.
The idea is to only spend the cash that is in that envelope, she said. And once it's gone, it's gone. 
"We tend to overspend, to impulse spend — and cash stuffing really gives you a stopping point," Taylor said.
RELATED: Many Americans eye buy now, pay later to gain more financial flexibility: Survey
This story was reported from Cincinnati. The Associated Press contributed.