After outrage over Taylor Swift-Ticketmaster fiasco, not much has changed
When thousands of fans couldn't get tickets for megastar Taylor Swift's summer stadium tour, some diehards paid upwards of 70 times face value to see their favorite artist in person — an outrage that prompted Congressional hearings and bills in state legislatures to better protect consumers.
After 10 months, Swift's U.S. tour is finished, but so are most of the meaningful reforms consumer advocates and industry groups had hoped to pass this year. A proposal has so far failed to advance in the U.S. Senate. Legislation in Colorado was vetoed by the Democratic governor at the urging of some consumer groups.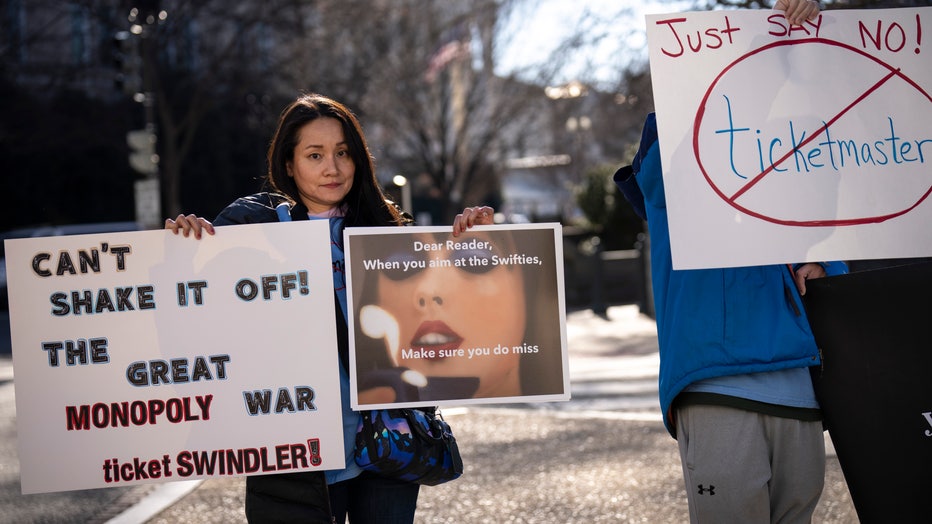 Amy Edwards demonstrates against the live entertainment ticket industry outside the U.S. Capitol January 24, 2023 in Washington, DC. The Senate Judiciary Committee is holding a hearing this morning to explore whether the merger of Live Nation and Tic
In California, home to iconic recording studios like Capitol Records and influential clubs like the Whiskey A Go Go and Hollywood Bowl, what started as a robust array of legislation has been watered down to a single bill banning hidden fees, something New York and Connecticut have done and most major industry players have already committed to do on their own.
"That's it? That's all that California, the leading state in the nation on so many consumer protection issues, that's all we're going to do?" said Robert Herrell, executive director of the Consumer Federation of California. "That's an embarrassment. It's not enough."
READ MORE: Taylor Swift fans take Ticketmaster to court over concert ticketing fiasco
The slow progress over changing how tickets should be sold and resold highlights not just the strength of industry opposition, but the regulatory difficulties in a market upended by technology. Gone are the days of standing in line at a box office to find out what seats were available and how much they cost.
Today, nearly all tickets are sold online and downloaded to phones or other devices. Consumers often don't know how much they will pay until just before they click the purchase button and fees and charges, which can sometimes be almost as much as the ticket price, are applied.
Venues often don't say how many seats are available for a specific event, according to consumer groups, but instead release tickets in batches, making consumers spend more out of the mistaken fear they'll miss out.
Some bad actors use software to quickly bulk-buy tickets for resale at much higher prices. They will even sell tickets before they have them, a practice known as "speculative ticketing" that consumer groups say is dangerous and does not guarantee the ticket. Some go so far as to mimic venue websites so consumers believe they are buying tickets directly.
Sharp disagreements among venues, ticket sellers, consumer groups and artists have muddied what may seemingly straightforward consumer rights issues.
READ MORE: Taylor Swift brings Eras Tour to the big screen
Artists and venues want to restrict how fans can resell tickets, an attempt to crack down on "the secondary market to sweep the inventory, inflate the price and price gouge our fans," said Jordan Bromley, who sits on the board of the Music Artist Coalition, an advocacy group representing artists.
Consumer groups argue buyers can do what they want with their tickets, including upselling. That disagreement is partly why Colorado Democratic Gov. Jared Polis vetoed a bill earlier this year, despite the bill also containing consumer-friendly policies like banning hidden fees, price increases and speculative ticket sales.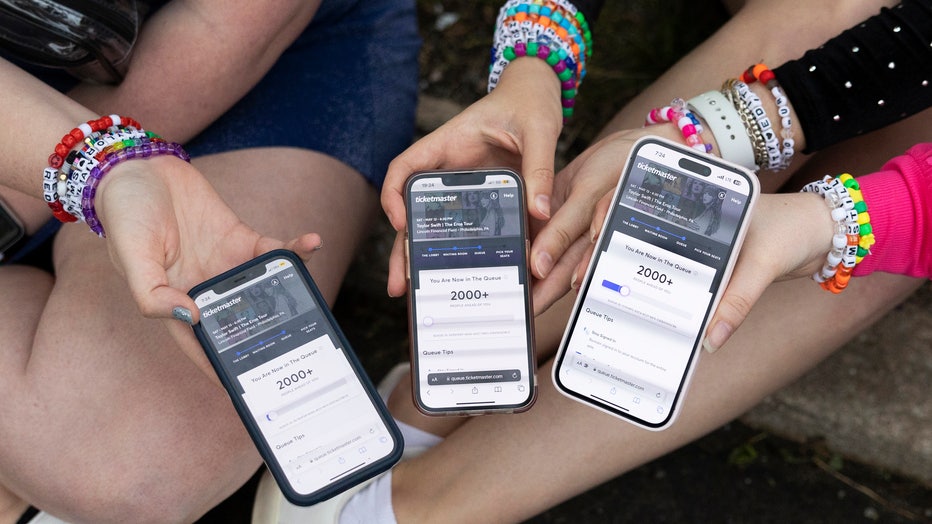 Anna Mason, Emily Lind, and Kristen Robinson show their Ticketmaster queue, which displays over 2000+ people ahead of them, from the parking lot outside of the Taylor Swift concert at Lincoln Financial Field in Philadelphia, Pennsylvania on May 13, 2
In California, consumer groups have mostly focused their ire on Live Nation Entertainment, the company that owns Ticketmaster and controls the bulk of ticket sales and venues in the U.S. for touring music artists. But the debate is spreading to artists, major men's professional sports teams like the Los Angeles Dodgers and San Francisco 49ers, and independent venues with capacity for 1,000 people or fewer, including more than 600 in California alone.
Most people are being vocal about "how this is an attempt to shoot at Ticketmaster and Live Nation," said Julia Heath, president of the California chapter of the National Independent Venue Association. "What's actually happening is they are aiming at them, but they are hitting everybody else, too."
READ MORE: Taylor Swift officially has more No. 1 albums than any woman in history
The biggest disagreement was over whether to allow teams, venues and artists to restrict how fans could resell tickets they purchased.
A bill to allow teams, venues and artists restrict how fans can resell tickets passed the Senate but failed to pass the Assembly this year after drawing concerns from consumer groups. State Sen. Anna Caballero, the bill's author, promised to hold a hearing on the issue once the Legislature adjourns.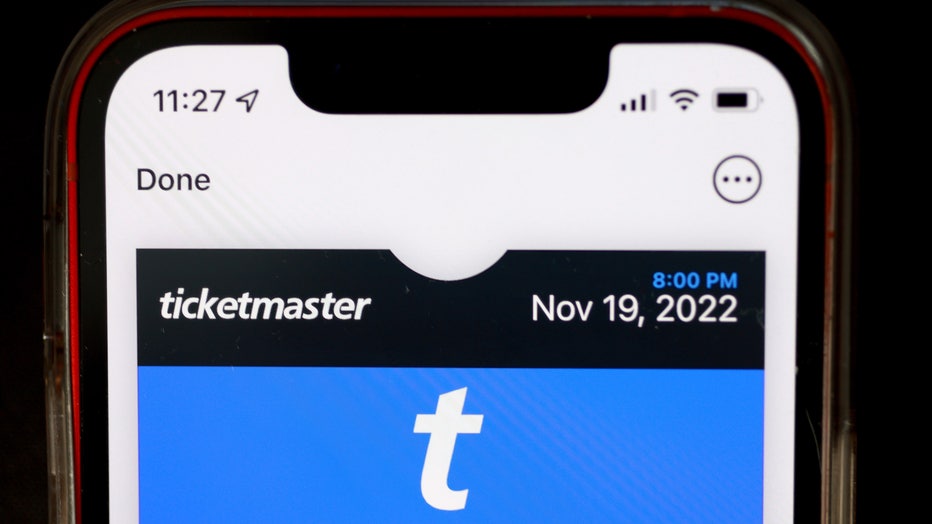 A ticketmaster ticket is shown on a cellphone on November 18, 2022 in Miami, Florida. The Justice Department is reportedly investigating the parent company of Ticketmaster for possible antitrust violations, this follows the news that Taylor Swift con
A bill by Assemblymember Laura Friedman would ban venues and artists from restricting resales. The measure also would have required venues to disclose how many tickets were available for an event to prevent "holdbacks." Ultimately, the bill was changed to remove both of those provisions after attracting strong industry opposition.
"It's been very difficult. It had a very strong and concerted effort from the very beginning lobby against this bill," said Friedman, who added she was disappointed the bill was not stronger.
READ MORE: The Eras Tour: Taylor Swift adds 15 additional shows in 2024
Industry groups also are disappointed. Heath, who represents independent venues, called it a "do-nothing bill."
"A lot of the things we took issue with are gone, but we also see it as a missed opportunity," she said. "There are issues in the ticketing world right now that need to be addressed."
Not everyone is disappointed. Jenn Engstrom, state director for the California Public Interest Research Group, said while it would be great to solve all of those problems, banning hidden fees is still a win for consumers.
"I'm just all about incremental change," she said. "This is a good first step."