Survey: 1 in 3 Gen Z employees feel guilty not working on vacation
A new LinkedIn study reveals the differences between younger and older employees in the workforce. 
As part of its study, the company surveyed more than 9,400 professionals in the U.S. from June 3 through July 14. 
LinkedIn found that Gen Zers – born in 1997 or later – feel the greatest pressure to stay connected to work. 
During the survey's early summer interviews, only 58% of the youngest cohort said they planned to take some vacation and completely unplug in the next few months – four percentage points below the overall U.S. average and even further below millennials and baby boomers.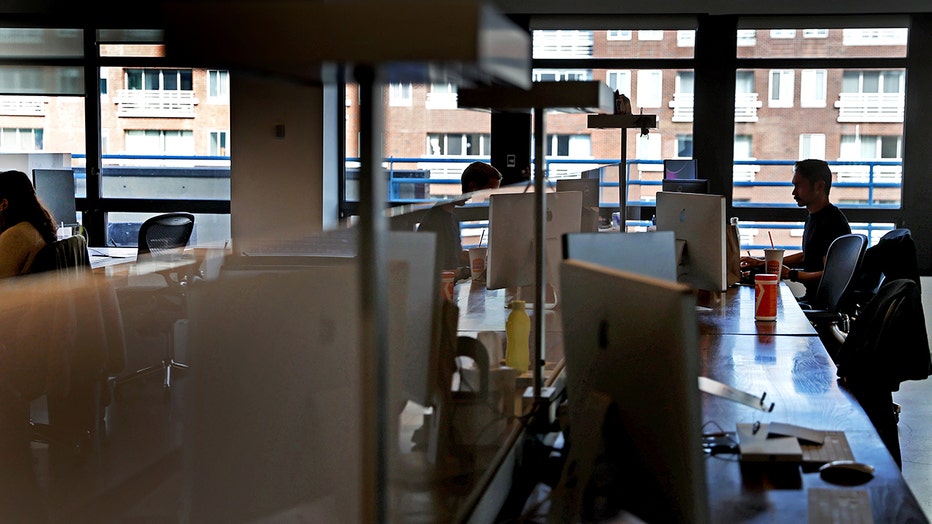 Some employees at workplace. (Credit: David L. Ryan/The Boston Globe via Getty Images)
"Even when Gen Zers do slip away for vacation, the sense that they're making a mistake is hard to shake," George Anders, senior editor at LinkedIn, wrote about the study.
In addition, 35% of Gen Zers said they feel guilty not working when they are on vacation. Millennials (30%) and Gen Xers (32%) are somewhat less likely to feel such burdens. Meanwhile, boomers (22%) showed the least amount of guilt. 
LinkedIn noted that finances and the current economy could play an impact.
"Money can be especially tight for career starters, who haven't yet risen far enough up the pay-and-promotions ladder to be able to afford vacations with some "wow!" in them," Anders continued. 
RELATED: Gen Z hardest generation to work with, according to survey: 'They lack discipline' and 'like to challenge you'
The survey also found that 31% of Gen Zers said that due to the current state of the economy, they had no vacation plans this year.
Notably, vacation time at many employers isn't allocated evenly among generations. Those earlier in their careers with fewer years of experience may have fewer vacation days than those who are older.
And while this new study suggests that Gen Zers may take their jobs more seriously than other generations, other studies suggest otherwise. 
Another study, released in April, revealed that nearly 75% of managers of business leaders said that Gen Z were "more difficult to work with than other generations." 
Even more concerning, a whopping 49%  of business leaders and managers surveyed said that it was difficult to work with Gen Z all or most of the time, according to a survey from ResumeBuilder.
A number of managers also agreed that Gen Z workers lack communication skills, effort, motivation and even technological skills.
Business expert and chief career advisor Stacie Haller told FOX News that the COVID-19 pandemic and remote work may be a possible cause of Gen Z's trouble adjusting to the workplace.  
"As a result of COVID-19 and remote education, it's possible that Gen Zers lack the foundation to be more successful than older generations in entry-level positions," Haller said.
She continued: "We know that with remote work and education, communication skills do not develop as well and people tend to work more independently. Hiring managers need to be cognizant of this when interviewing GenZers for positions. This generation may need more training when it comes to professional skills."
This story was reported from Los Angeles. FOX News contributed.