Biden offers alternative student debt relief plan following Supreme Court ruling
WASHINGTON - President Joe Biden vowed Friday to push ahead with a new plan providing student loan relief for millions of borrowers, while blaming Republican "hypocrisy" for triggering the day's Supreme Court decision that wiped out his original effort.
Biden said his administration had already begun the process of working under the authority of the Higher Education Act of 1965, which he called "the best path that remains to provide as many borrowers as possible with debt relief."
In the meantime, since student loan-payment requirements are to resume in the fall, the White House is creating an "on ramp" to repayment and implementing ways to ease borrowers' threat of default if they fall behind over the next year.
The president said the new programs will take longer than his initial effort would have to ease student loan debt.
Speaking to reporters at the White House, Biden said borrowers now angry about the court's decision should blame Republicans. He is trying to stay on the political offensive even as the ruling undermined a key promise to young voters who will be vital to his 2024 reelection campaign.
"These Republican officials just couldn't bear the thought of providing relief for working class, middle class Americans," Biden said. "The hypocrisy of Republican elected officials is stunning."
RELATED: Student loan forgiveness struck down: Here's what that means for you
Trying to place staunch opposition to student loan forgiveness on the GOP could allow Biden's reelection campaign to maintain the issue as one of strength in the short term. But that may ultimately offer little solace to 43 million Americans who benefited from the initial program and will now have to wait for its replacement to take shape.
"We do not want to go into excruciating debt for our entire lives to enhance our education," Voters of Tomorrow, a Gen Z-led organization that promotes the power of young Americans, said in a statement.
RELATED: Supreme Court backs Christian designer who objects to making gay couples' wedding websites
The White House efforts to forgive loans were an attempt to keep a Biden promise stretching back to his 2020 campaign to wipe out student loan debt — an idea that was especially popular with young voters and progressives. Both will be key for the president in next year's presidential race but may be less energized about supporting him after the high court's decision.
Wisdom Cole, the national director of the NAACP Youth & College Division, said Black Americans helped put Biden in the White House, so there's an obligation for him to "finish the job" with his pledges to provide relief for borrowers.
"It's going to have a huge impact on the next election," Cole said, adding, "If we don't do this, we continue the cycle of seeing our elected leaders make promises and not follow through."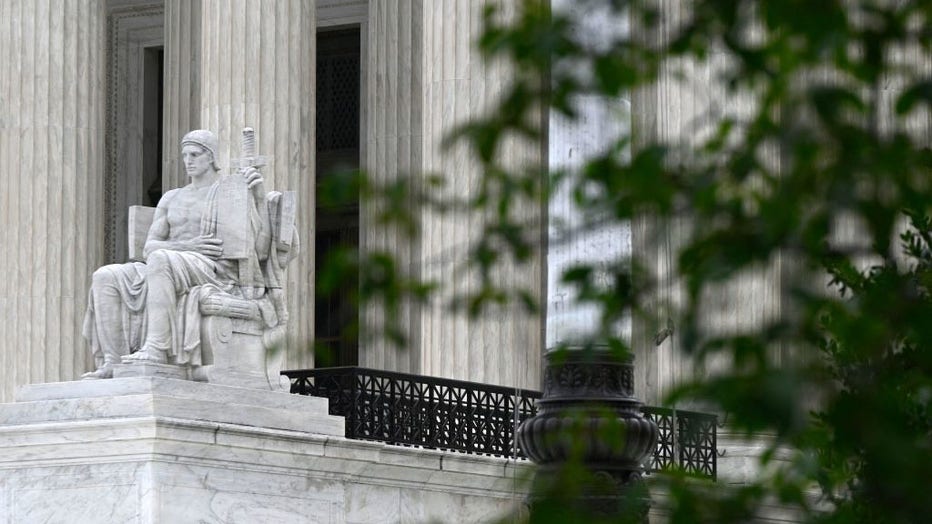 The US Supreme Court in Washington, DC, on June 28, 2023. (Photo by OLIVIER DOULIERY/AFP via Getty Images)
A May poll from The Associated Press-NORC Center for Public Affairs Research found that 43% of U.S. adults approve of how Biden sought to handle student debt, similar to his approval rating overall of 40% in the same poll.
The poll suggested that Biden gets credit for his handling of the issue among young adults in particular. Fifty-three percent of adults under age 30 said they approved of Biden's handling of student debt, compared with only 36% who approved of his job performance overall.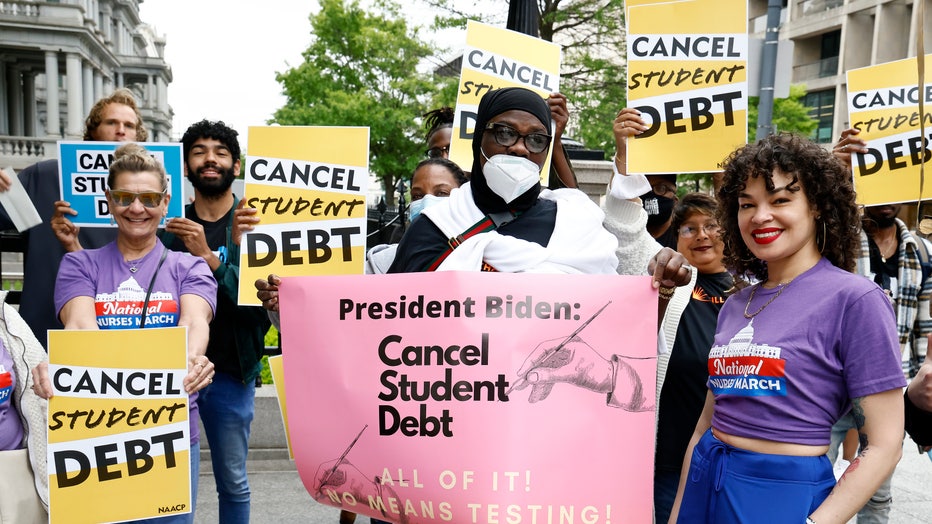 Student loan borrowers gather near The White House to tell President Biden to cancel student debt on May 12, 2020 in Washington, DC. (Photo by Paul Morigi/Getty Images for We, The 45 Million)
Senior administration officials said Biden's top advisers had met frequently lately to prepare for a high court ruling on student loans. They also spoke with advocates and allies in Congress. After Friday's decision, Biden met with top advisers and ordered them to immediately begin implementing a new loan plan.
The White House argues that its new efforts will stand up to future legal challenges, even given the Supreme Court's 6-3 current conservative majority. However, the administration also insisted its original plan was legal.
RELATED: Here's how to prepare to pay back your student loans once the pandemic payment freeze ends
Biden bristled at suggestions his efforts to ease student loan burdens got borrowers' hopes up unnecessarily.
"I didn't give any false hope," he said. "The Republicans snatched away the hope that they were given."
The political stakes are especially high since progressive Democrats in Congress and activists have been clamoring for the administration to offer an alternative to Biden's original student loan plan for months, fearing that the Supreme Court would ultimately move to block the president's original efforts.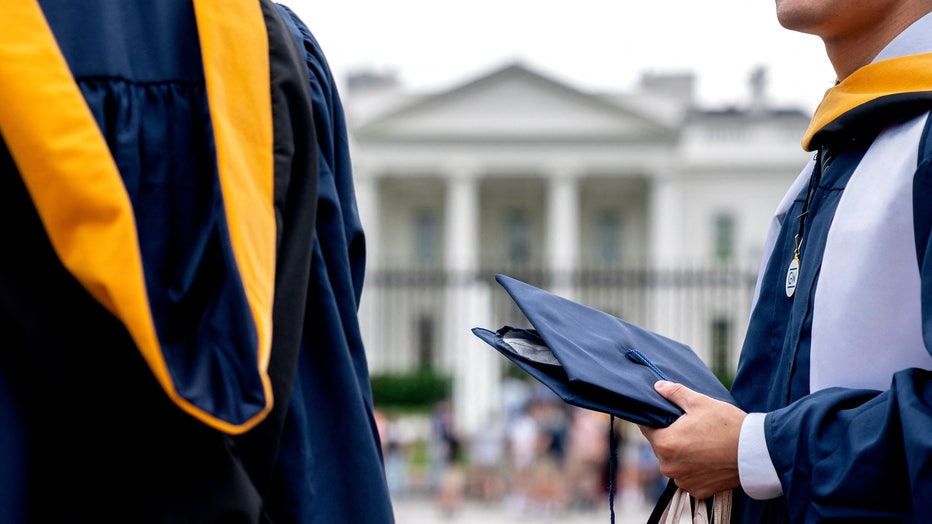 Students from George Washington University wear their graduation gowns outside of the White House in Washington, DC, on May 18, 2022. (Photo by STEFANI REYNOLDS/AFP via Getty Images)
Many progressives argued that the Higher Education Act was the best vehicle all along, though the administration worried that implementation might have been slower had it originally tried employing the act.
The new approach uses a provision allowing Education Secretary Miguel Cardona to "compromise, waive or release" student loans. The Biden administration used the same basis last year to forgive $6 billion in loans for borrowers who were deceived by their colleges.
The details of the new forgiveness will be negotiated through a federal rulemaking process that the administration launched Friday. The process allows the Education Department to write or change federal regulations with the weight of law.
But there's no guarantee that the plan could survive another legal challenge.
The Higher Education Act has been used to cancel student debt but never at this scale, and lawyers for the Trump administration concluded in 2021 that the education secretary "does not have statutory authority to provide blanket or mass cancellation" under the act.
READ MORE: Supreme Court upholds North Carolina ruling that struck down congressional districting plan
The GOP has long countered that repaying student loans is a fairness issue, and many leading Republicans celebrated Friday's ruling. Betsy DeVos, who served as secretary of education under President Donald Trump, called Biden's original plan "deeply unfair to the majority of Americans who don't have student loans."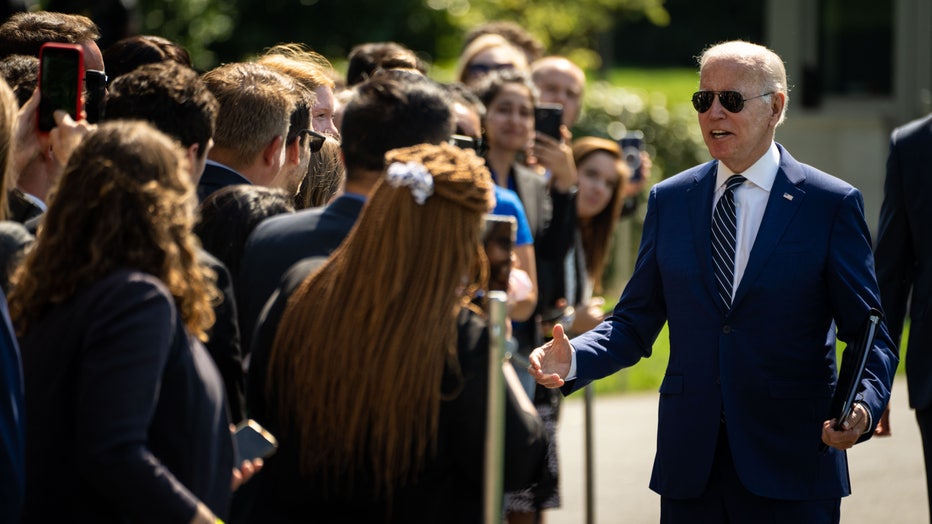 President Joe Biden greets guests after disembarking from Marine One, returning to the White House from Rehoboth, Delaware, on the South Lawn of the White House on Wednesday, Aug. 24, 2022 in Washington, DC. (Kent Nishimura / Los Angeles Times via Ge
Republicans now seeking their party's 2024 presidential nomination lined up to applaud the decision, with former Vice President Mike Pence saying he was "pleased that the court struck down the radical left's effort to use the money of taxpayers who played by the rules and repaid their debts in order to cancel the debt of bankers and lawyers in New York, San Francisco, and Washington."
Addressing the Moms for Liberty conference in Philadelphia on Friday, Trump slammed Biden's efforts on student loans as "a way of trying to buy votes, that's all it was." Former U.S. ambassador to the United Nation's Nikki Haley said the Supreme Court was "right to throw out Joe Biden's power grab."
After Biden announced his response, some Republicans were equally quick to reject it.
"Taxpayers just got sucker punched – again – by this administration," said Rep. Virginia Foxx, a North Carolina Republican. "Today, President Biden announced that taxpayers will be forced to pay for the costliest regulation in our nation's history."
___
Associated Press writers Chris Megerian and Collin Binkley contributed to this report.