'St. Elmo's fire' seen in crazy Air Force video
An electrically charged sky gave U.S. Air Force pilots a rare light show while evacuating planes in Florida ahead of Hurricane Idalia, which made landfall on Florida's Gulf Coast Wednesday morning.
According to MacDill Air Force Base in Tampa, the 50th Air Refueling Squadron (ARS) was evacuating its fleet when a camera on one of the planes recorded St. Elmo's fire, "a weather phenomenon in which luminous plasma is created in an atmospheric electric field."
MacDill said all aircraft have been evacuated from the military base, which remains closed until further notice. 
What is St. Elmo's fire?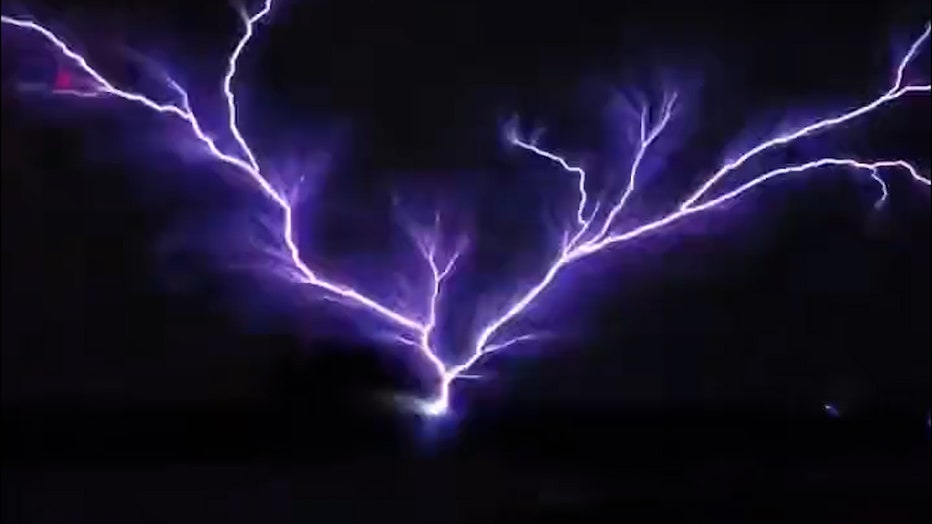 "St. Elmos fire" phenomenon seen from a U.S. Air Force plane in Florida (MacDill AFB)
According to the National Weather Service, "The glow on a masthead produced by an extreme buildup of electrical charge is known as St. Elmo's Fire."
It's also called a corona discharge, or "an electrical discharge brought on by the ionization of a fluid surrounding a conductor that is electrically charged," Science Direct reports.
"Unprotected mariners should immediately move to shelter when this phenomena occurs," the NWS said. "Lightning may strike the mast within five minutes after it begins to glow."
Hurricane Idalia latest
Hurricane Idalia made landfall on Florida's west coast as a dangerous Category 3 storm on Wednesday and was unleashing life-threatening storm surges and rainfall in an area not accustomed to such pummeling.
More than 200,000 customers were without electricity as trees snapped by strong winds brought down power lines and water submerged streets. Along the coast, some homes were submerged to near their rooftops, and structures along the ocean crumpled in the surge. As the eye moved inland, destructive winds shredded signs and rooftops.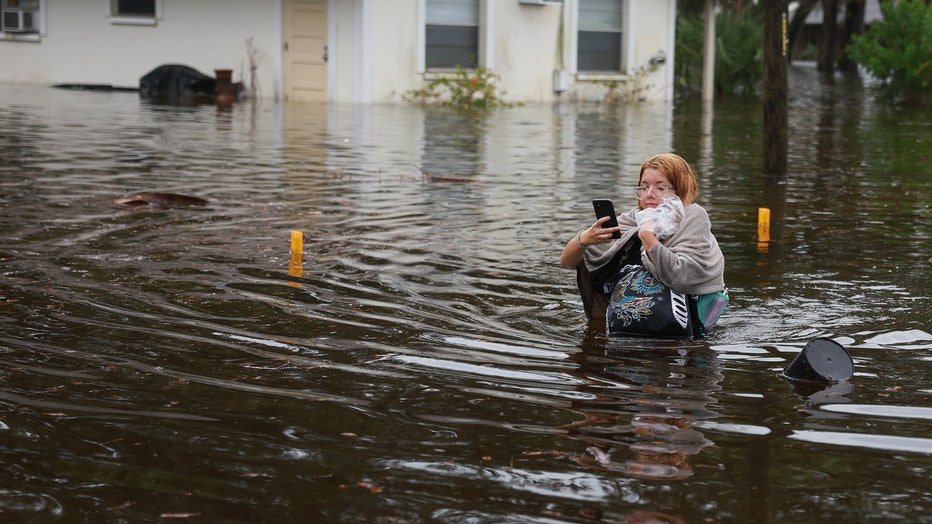 Makatla Ritchter wades through flood waters after having to evacuate her home when the flood waters from Hurricane Idalia inundated it on August 30, 2023 in Tarpon Springs, Florida. Hurricane Idalia is hitting the Big Bend area of Florida. (Photo by
"We have multiple trees down, debris in the roads, do not come," posted the fire and rescue department in Cedar Key, which was taking some of the biggest storm surge. The department's post said most of the streets around the downtown area were under water.
RELATED: Hurricane Idalia, Hurricane Franklin put on powerful show as seen from space
Idalia came ashore in the lightly populated Big Bend region, where the Florida Panhandle curves into the peninsula. It made landfall near Keaton Beach at 7:45 a.m. as a high-end Category 3 hurricane with maximum sustained winds near 125 mph (205 kph). Forecasters said it would remain a hurricane while crossing Florida and Georgia before punishing the Carolinas as a tropical storm.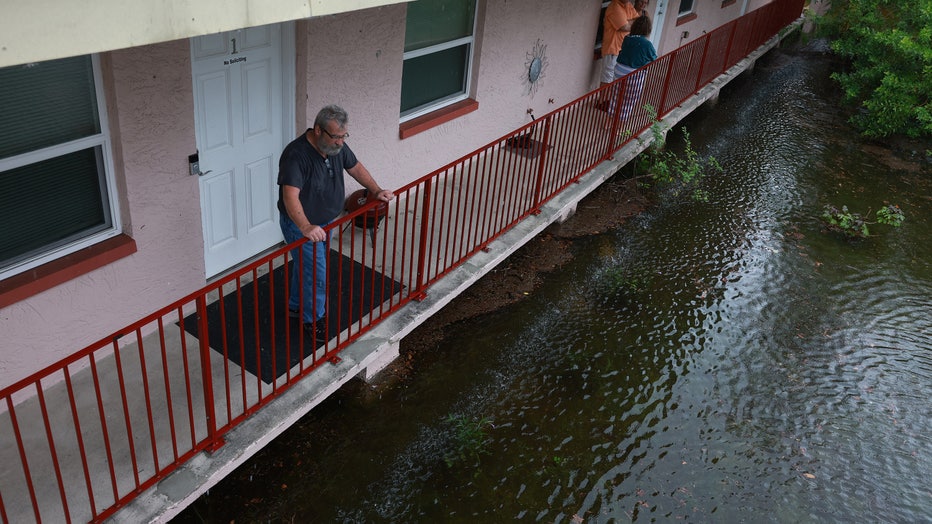 Ken Kruse looks out at the flood waters from Hurricane Idalia surrounding his apartment complex on August 30, 2023 in Tarpon Springs, Florida. Hurricane Idalia is hitting the Big Bend area of Florida. (Photo by Joe Raedle/Getty Images)
And the storm brought flooding to the streets from Tampa to the Florida Capital. Tallahassee Mayor John Dailey urged everyone to shelter in place — it was too late to risk going outside. Florida residents living in vulnerable coastal areas had been ordered to pack up and leave as Idalia gained strength in the warm waters of the Gulf of Mexico.
"Don't put your life at risk by doing anything dumb at this point," Gov. Ron DeSantis said at a news conference Wednesday morning. "This thing's powerful. If you're inside, just hunker down until it gets past you."
Storm surge could rise as high as 15 feet (4.5 meters) in some places.
The Associated Press contributed to this report.