Idalia's wrath continues across Southeast with flooding in Charleston following historic Florida landfall
KEATON BEACH, Fla. - After Hurricane Idalia made its unprecedented landfall along  Florida's Gulf Coast, Idalia continues its trek as a tropical storm into Georgia and the Carolinas, blasting destructive winds, and catastrophic storm surge and flash flooding as power outages climbed to over 600,000 utility customers.
The Category 3 storm made landfall on the coast of Florida's Big Bend near Keaton Beach at 7:45 a.m. local time. With its 125 mph winds and significant flooding, it posed an immediate threat to lives and properties. The storm has now weakened to a tropical storm with winds of 70 mph as it lashes Georgia and the Carolinas.
As of the latest advisory from the National Hurricane Center (NHC), the center of Idalia is 60 miles west of Charleston moving to the northeast and crossing into South Carolina.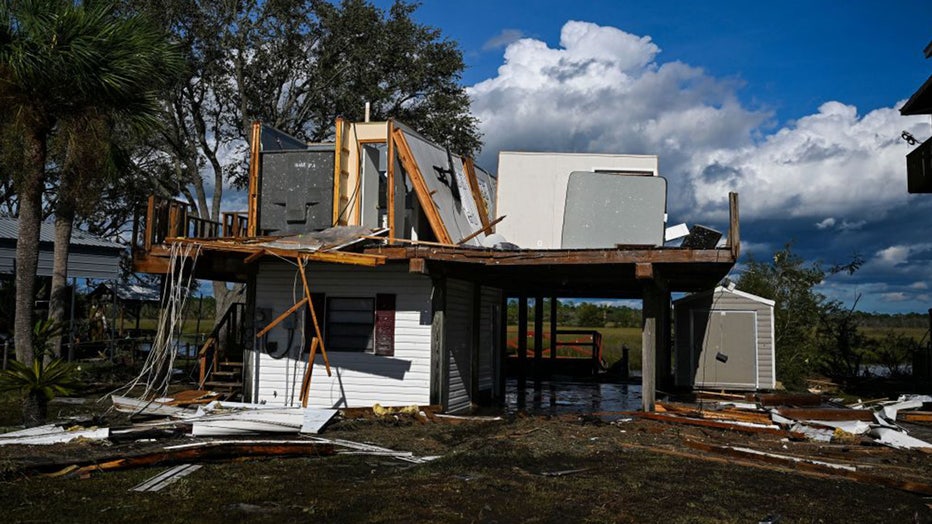 A destroyed house is seen in Keaton Beach, Florida on August 30, 2023 after Hurricane Idalia made landfall.  (CHANDAN KHANNA/AFP via Getty Images)
Even after Idalia's eye has left the Sunshine State, the NHC is forecasting significant storm surge impacts to continue through the evening for the Gulf Coast. Damaging hurricane-force winds are forecast for Georgia and southern South Carolina through Wednesday night and flooding impacts could continue through Thursday.
FLORIDA HURRICANE IDALIA TRACKER: LIVE RADAR UPDATES, POWER OUTAGES, WATCHES AND WARNINGS AND STORM SURGE
Donnye Franklin helps a friend try to get the flood waters out of his Explorer Manatee Tour store after Hurricane Idalia passed offshore on August 30, 2023 in Crystal River, Florida. (Joe Raedle/Getty Images)
While Governor Ron DeSantis told media Wednesday afternoon during a news conference that there were no confirmed fatalities, the Florida Highway Patrol said two men died in separate rain-related crashes in Gainesville and Pasco County due to Idalia. One man's pickup truck swerved and crashed into a tree, while the other man lost control and hit a tree with his truck.
"We don't necessarily have any confirmed fatalities yet, but that very well may change," DeSantis said.
DRONE VIDEO REVEALS DAMAGE, FLOODING FROM HURRICANE IDALIA LANDFALL NEAR KEATON BEACH
The FOX Forecast Center said Idalia was the strongest hurricane to strike the Big Bend area – especially near Cedar Key – in 125 years, dating back to an unnamed 1896 storm.
The governor said he believes Hurricane Ian was more deadly because of the path of the storm, and people evacuated when Idalia's storm surge was forecast to be between 10 and 15 feet.
"I can tell you with Hurricane Ian, as soon as that storm hit, within an hour after hitting, there were frantic phone calls to 911 locally there of people that were literally drowning in their house," DeSantis recalled of Lee County, Florida, where Ian made landfall.
"I think part of it is that when you see storm surge of that nature like we saw during Ian, I think a lot of people really heeded the warnings that their local officials issued because, you know, you can't hide from the storm surge in your house," DeSantis said. 
President Joe Biden said he spoke with the governors of all states facing Idalia's rath on Wednesday morning. FEMA Director Deanne Criswell will be heading to Florida to direct the federal disaster response, according to Biden. 

"I don't think anybody can deny the impact of a climate crisis anymore," Biden told reporters. "Just look around. Historic floods … more intense droughts, extreme heat, significant wildfires have caused significant damage like we've never seen before, not only throughout the Hawaiian Islands and the United States, but in Canada and other parts of the world. We've never seen this much fire."
Tropical Storm Idalia charges east through Georgia, Carolinas 
After lashing Florida's Gulf Coast with threatening storm surge and extreme winds, Idalia rushed inland, triggering rare Extreme Wind Warnings for four counties north of the Big Bend, including a swath of Interstate 10.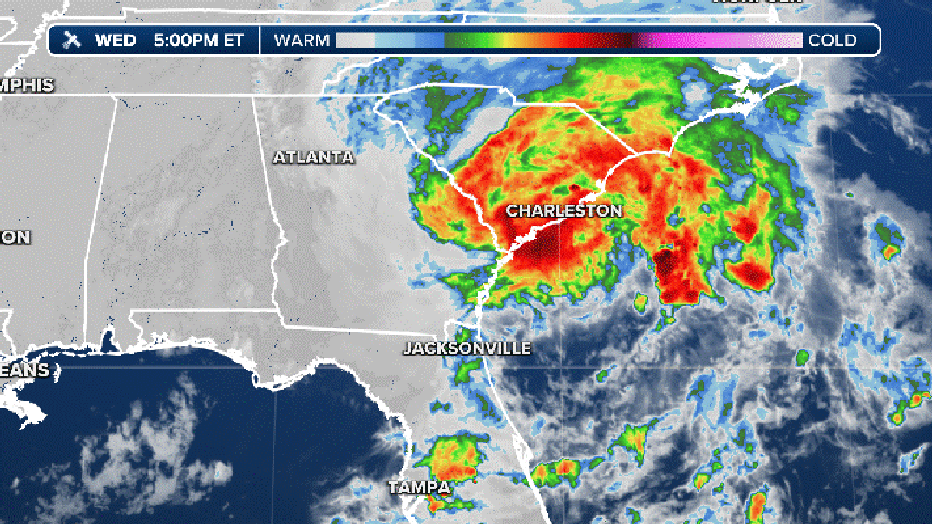 Hurricane Idalia's landfall in Florida is blasting catastrophic storm surge and destructive, life-threatening winds as the storm's core moved onshore in the Big Bend of the state. (FOX Weather)
Idalia roared into southern Georgia still threatening hurricane-force gusts. Valdosta hit a gust of 67 mph and was under a rare Flash Flooding Emergency, the FOX Forecast Center reports. Valdosta and Savannah remained under Storm Surge Warnings on Wednesday. 
DRAMATIC PHOTOS, VIDEO CAPTURE HURRICANE IDALIA'S HISTORIC LANDFALL IN FLORIDA
Florida's streets flood as storm surge rises
Before the monstrous storm's arrival, the National Hurricane Center (NHC) cautioned that Idalia's storm surge could reach heights of 16 feet in some locations near the storm center, setting modern records.
People ride an ATV through the flooded streets caused by Hurricane Idalia passing offshore on August 30, 2023 in Tarpon Springs, Florida. Hurricane Idalia is hitting the Big Bend area on the Gulf Coast of Florida.  (Photo by Joe Raedle/Getty Images)
Just after sunrise, Cedar Key, Florida, reported 6.07 feet of storm surge during astronomical low tide, and forecasters expect a higher value as Idalia churns more inland. This is the second-highest level ever observed behind Hurricane Hermine of 6.10 feet.
Florida Department of Transportation Secretary Jared Perdue said more than 700 crew members are using heavy equipment to reopen roads and inspect bridges in Big Bend and North Florida, as well as restoring traffic lights.
"One thing that we noticed as we were surveying the area traffic signals are definitely out of power here in this area," Perdue said. "We have generators in route. We're going to be getting generators set up to get those signals powered up as quickly as possible."
FOX WEATHER'S ROBERT RAY BLASTED WITH STRONG WINDS, FLOODING WHILE REPORTING ON HURRICANE IDALIA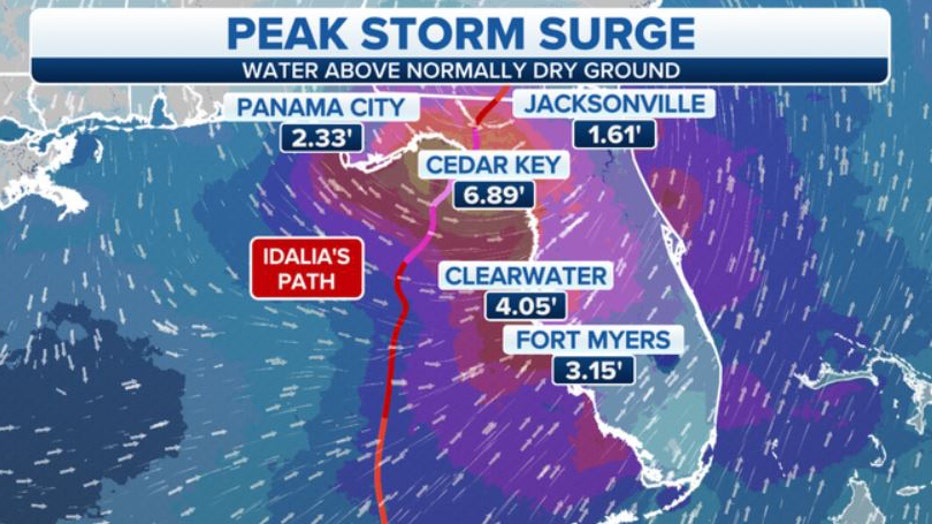 A look at Hurricane Idalia's peak storm surge Wednesday morning. (FOX Weather)
On Wednesday morning, floodwater submerged a mobile home park in St. Petersburg. The National Guard dispatched over 100 soldiers and high-water vehicles to assist in affected counties.
According to St. Petersburg city officials, fire rescue crews rescued more than 75 people from flooding on Wednesday. 
Treasure Island was also covered in floodwaters as Idalia's storm surge pushed inland, and officials were still worried about waters rising during high tide around midday, with significant flooding forecast to continue throughout the day.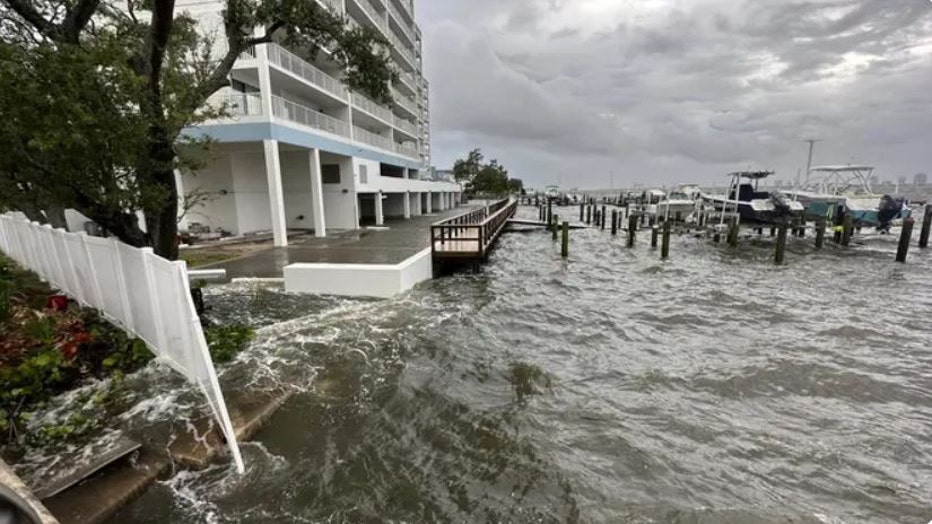 The Tampa Police Department is out assessing the damage and flooding from Idalia on Wednesday after making landfall in Florida. (City of Tampa)
Idalia causes power outages for over 650,000
As of the latest update, over 260,000 customers in Florida were experiencing power outages, with the majority of reports coming from Wakulla, Taylor, Dixie and Levy counties near landfall – areas where some residents decided to remain in their homes despite evacuation orders in at least 30 counties placed in a state of emergency. 
LIVE COVERAGE: HOW TO WATCH FOX WEATHER
More than 210,000 outages have been reported in Georgia as Idalia slams the state. Outages were also starting to pop up in the Carolinas on Wednesday afternoon surpassing 13,000.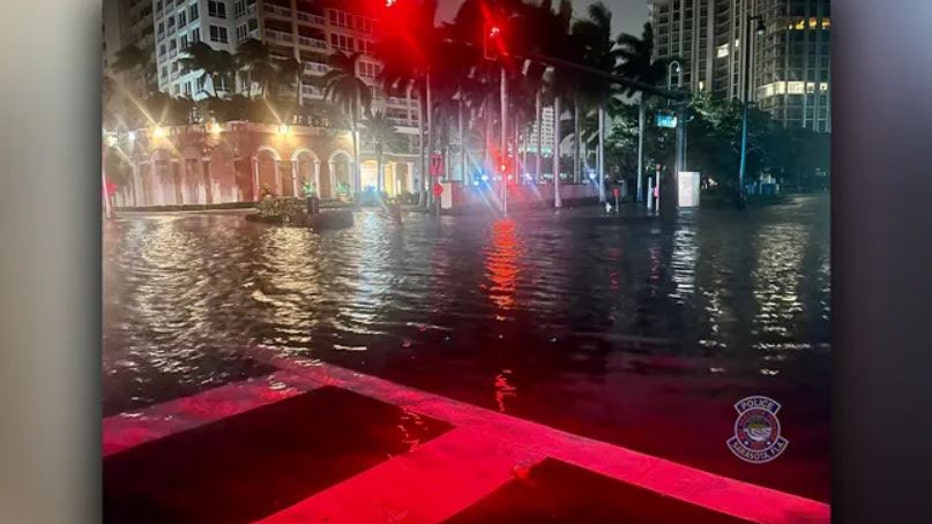 The Sarasota Police Department said the majority of the Sarasota Bayfront is closed due to flooding Wednesday morning. (Sarasota Police Department)
Days leading up to Idalia's arrival, resources were prepositioned as President Joe Biden approved Florida Governor Ron DeSantis' request for a pre-landfall emergency declaration. 
Inside Idalia's eyewall
During Idalia's landfall, an impressive convective burst and abundant lightning were seen within its eye wall.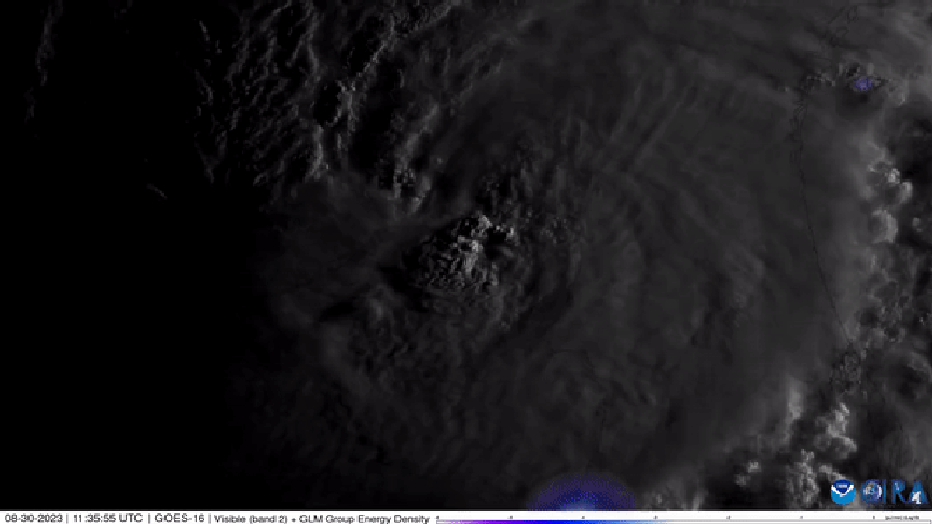 The Cooperative Institute for Research in the Atmosphere (CIRA) released satellite images of the storm approaching Florida. (CSU/CIRA & NOAA / FOX Weather)
Brian Emfinger, a storm chaser with Live Storms Media, experienced Idalia's landfall in Keaton Beach. He reported that the front of the eye wall contained strong winds. Although a wind gauge recorded a gust of 83 mph before toppling, Emfinger estimated gusts over 100 mph. 
WATCH: VIDEO SHOWS HURRICANE IDALIA'S DANGEROUS STORM SURGE OVERWHELMING CLEARWATER, FLORIDA
After the eye passed, the winds returned with even more ferocity, blowing onshore and bringing a wall of water with it. Emfinger noted that the storm surge arrived quickly with the back eyewall, rising several feet in just a few minutes.
This is a developing story. Refresh this page for the latest on Hurricane Idalia.