Search intensifies for Italy tourist who carved name in Colosseum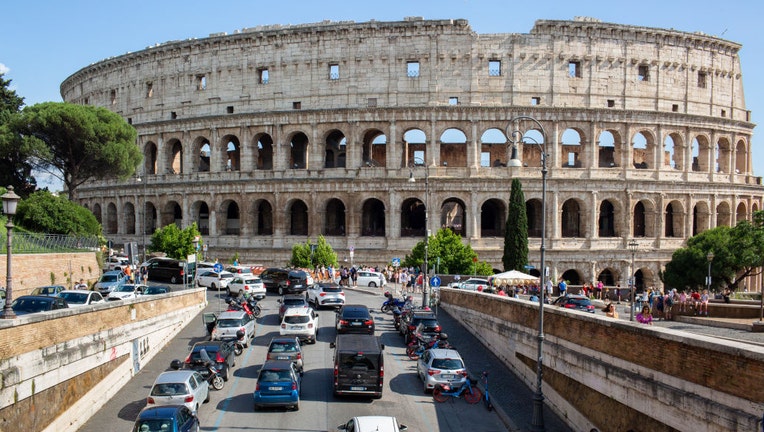 article
ROME (AP) - Italy's culture and tourism ministers have vowed to find and punish a tourist who was filmed carving his name and that of his apparent girlfriend in the wall of the Colosseum in Rome, a crime that resulted in hefty fines in the past.
The message reading "Ivan+Haley 23" appeared on the Colosseum at a time when Romans already were complaining about hordes of tourists flooding the Eternal City in record numbers this season. A fellow tourist, Ryan Litz, of Orange, California., filmed the incident and posted the video on YouTube and Reddit.
The video received over 1,500 social media views and was picked up by Italian media. Litz told The Associated Press on Tuesday he was "dumbfounded" that someone would deface such an important monument.
RELATED: Pizza at Pompeii: Newly-discovered painting shows the food's 'distant ancestor'
Culture Minister Gennaro Sangiuliano called the writing carved into the almost 2,000-year-old Flavian Ampitheater "serious, undignified and a sign of great incivility." He said he hoped the culprits would be found "and punished according to our laws."
Italian news agency ANSA noted that the incident marked the fourth time this year that such graffiti was reported at the Colosseum. It said whoever was responsible for the latest episode risked $15,000 in fines and up to five years in prison.
Tourism Minister Daniela Santanche said she hoped the tourist would be sanctioned "so that he understands the gravity of the gesture." Calling for respect for Italy's culture and history, she vowed: "We cannot allow those who visit our nation to feel free to behave in this way."
Litz, who is on a two-month backpacking trip through Europe, said he had just finished a guided tour of the Colosseum on Friday when he saw the person "blatantly carving his name" in the Colosseum wall. Litz told the AP he took out his phone to film the man because he was so shocked at what he was doing.
"And as you see in the video, I kind of approach him and ask him, dumbfounded at this point, 'Are you serious? Are you really serious?'" Litz recalled. "And all he could do is like smile at me."
Litz, a recent graduate of Cal Poly Pomona, said he tried to get a guard to take action, but neither the guard nor his supervisor did anything, even after Litz identified the man and offered to share the video.
He said he decided to post the video online the following morning, after he had calmed down. While saying he appreciates graffiti and art, "carving your name seems like a pretty selfish act." He said visitors to foreign countries cannot repay their hosts "with blatant disrespect like this."
Outside the Colosseum on Tuesday, other visitors agreed.
"We have to preserve what we have," said Diego Cruz, an American student. "There is a rich history here. It helps us learn from the past.
Güldamla Ozsema, a computer engineer visiting from Turkey, said his country also had difficulty protecting its monuments from disrespectful tourists.
"I really get angry with them, with this behavior," Ozsema said.
Italian tourism lobby Federturismo, backed by statistics bureau ISTAT, has said 2023 is shaping up as a record for visitors to Italy, surpassing pre-pandemic levels that hit a high in 2019.
In 2014, a Russian tourist was fined 20,000 euros ($25,000) and received a four-year suspended jail sentence for engraving a big letter 'K' on a wall of the Colosseum.
The following year, two American tourists were also cited for aggravated damage after they carved their names in the monument.
Nicole Winfield contributed.