Oprah Winfrey, Dwayne Johnson launch fund with $10 million for displaced Maui residents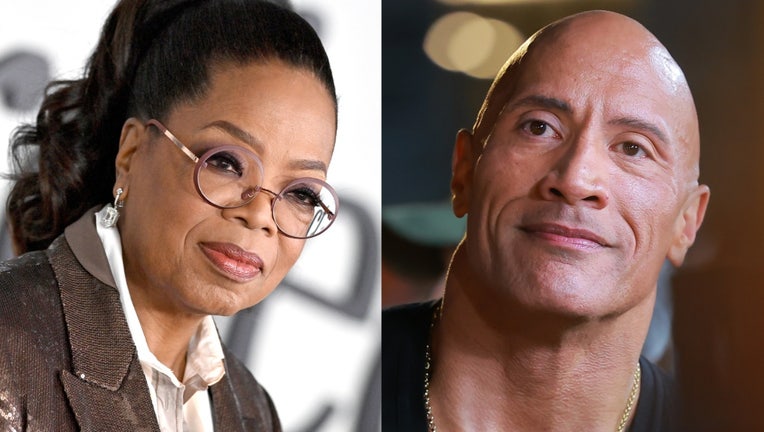 article
MAUI - Oprah Winfrey and Dwayne Johnson have committed $10 million to make direct payments to people on Maui who are unable to return to their homes because of the wildfires, through a new fund they announced Thursday.
The People's Fund of Maui will give $1,200 a month to adults who are not able to return to their primary residences because of the recent wildfires, including people who owned and rented their homes, according to the fund's website. The fund will also seek donations to extend the length of time it can provide the support.
"How do we help?" the "Young Rock" star said he and Winfrey asked each other during the wildfires, saying in a video released along with the announcement that they grappled with how to best direct their efforts. "You want to take care of the greatest need of the people, and that's giving them money."
They are looking forward to the help of "every person who called me and said, 'What can I do?'" Winfrey said in the video. "This is what you can do."
The pair were inspired by a similar fund set up by Dolly Parton after wildfires swept through Gatlinburg, Tennessee in December 2016, killing 14 people and destroying 2,400 structures.
Jeff Conyers, president of The Dollywood Foundation, said he consulted with Winfrey's team multiple times in the past weeks to share the lessons that they'd learned from administrating the fund, which eventually granted $11 million to families who had lost their homes.
"Dolly's idea was that, 'Hey, look, these are my people and I want to take care of them and we trust them to know what recovery looks like for themselves and their families in the days and weeks following this immediate catastrophe here,'" Conyers said.
RELATED: Oprah Winfrey visits Maui shelters, supports evacuees amid wildfires: 'Very much appreciated'
Parton's fund, called My People Fund, worked with first responders and a local utility company and asked residents to help them determine which structures were destroyed and who lived in those homes, Conyers said. Around 1,000 families eventually received assistance from the fund, according to an evaluation from the University of Tennessee Knoxville College of Social Work. That included a final $5,000 lump sum transfer at the end of six months.
Winfrey, who lives on Maui part-time, visited an emergency shelter on Maui in the days after the wildfire hit and worried about effectively getting resources to residents. At least 115 people were killed in the fires, though an unknown number are still missing. The fire that ripped through the historic town of Lahaina on Aug. 8 was the deadliest in the U.S. in more than a century.
Forecasters warned Wednesday that gusty winds and low humidity increased the risk that fires could spread rapidly in the western parts of each Hawaiian island, though they were not as powerful as the winds that helped fuel the deadly blaze three weeks ago.
To qualify, applicants must show a government ID and a utility bill in their name for a lost or uninhabitable residence, the fund's website said.
In the announcement, Winfrey and Johnson said they consulted with "community elders, leaders and residents including Hōkūlani Holt-Padilla, Keali'i Reichel, Archie Kalepa, Ekolu Lindsey, Kimo Falconer, Tiare Lawrence, Kaimana Brummel, Kaleikoa Ka'eo, Brian Keaulana, Kaimi Kaneholani, Henohea Kāne, Paele Kiakona, Ed Suwanjindar, Shep Gordon and Jason Momoa."
The Entertainment Industry Fund, a Los Angeles-based nonprofit that helps celebrities administer their charitable work, is sponsoring the fund, the announcement said.
Johnson and Winfrey hope the fund will continue to make transfers to qualifying residents for at least six months, but Winfrey said it would be up to the American public to determine how long the fund extends, based on their support and donations.