Ohio puts abortion access on the ballot in November
Ohio voters will decide this fall whether the right to an abortion should be added to the state constitution, after officials said Tuesday that enough signatures were gathered to get the proposal on the ballot.
However, it's an open question how much support the amendment will need to pass, as Republican lawmakers have set a special election next month on whether to raise the threshold from a simple majority to 60%. AP VoteCast polling last year found 59% of Ohio voters say abortion should generally be legal.
READ MORE: Abortion is now legal in Iowa after judge blocks new ban
The measure would establish "a fundamental right to reproductive freedom" with "reasonable limits." In language similar to a constitutional amendment that Michigan voters approved last November, it would require restrictions imposed past a fetus' viability outside the womb — which is typically around the 24th week of pregnancy and was the standard under Roe v. Wade — to be based on evidence of patient health and safety benefits.
"Every person deserves respect, dignity, and the right to make reproductive health care decisions, including those related to their own pregnancy, miscarriage care, and abortion free from government interference," Lauren Blauvelt and Dr. Lauren Beene, executive committee members for Ohioans United for Reproductive Rights, said in a statement.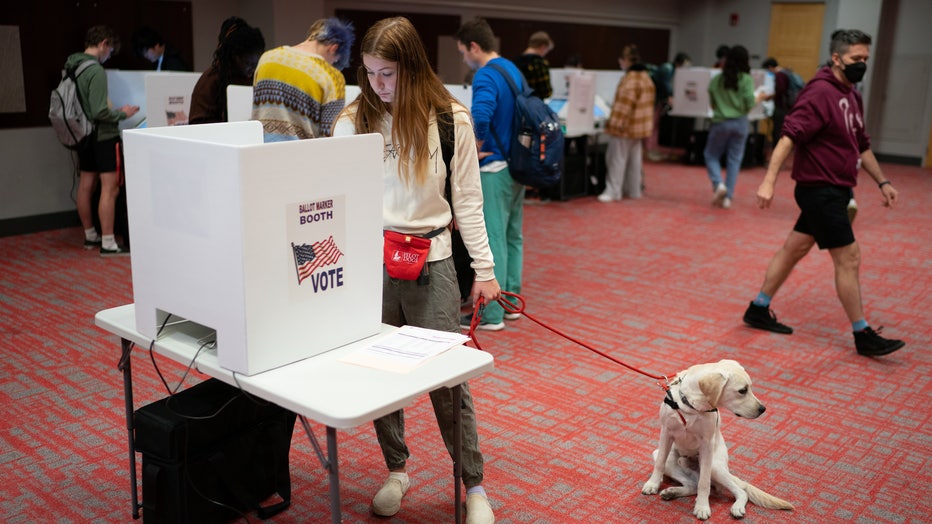 Zoe Johnson, 20, a pro-choice voter, votes in Ohio in the November 2022 election with one issue to mind: abortion. (Photo by Sarah L. Voisin/The Washington Post via Getty Images)
Secretary of State Frank LaRose determined Tuesday that Ohioans United for Reproductive Rights submitted nearly 496,000 valid signatures, comfortably enough to put the amendment before voters on Nov. 7. The coalition had submitted more than 700,000 signatures.
The Aug. 8 special election called by Statehouse Republicans would also would eliminate the 10-day curing period when citizen-led campaigns may submit additional signatures if they fall short the first time, and increase the number of counties where signatures must be collected from 44 to all 88. But those provisions would come too late to impact the abortion issue, which has already faced both legal and administrative hurdles to now be poised for a vote.
READ MORE: Few Americans support full abortion bans, including in states that have them, AP-NORC poll finds
Abortion remains legal in the state up to 20 weeks' gestation, under a judge's order issued in a lawsuit challenging a ban once cardiac activity can be detected, or around six weeks into pregnancy, which is before many women know they are pregnant. The Republican attorney general has asked the Ohio Supreme Court to overturn the stay.
Ohio's anti-abortion network has signaled it is ready to fight the November proposal, vowing a vehement and well-funded opposition campaign.
Opponents of the measure have advanced an argument that, because the amendment protects "individuals," it has the potential to trump Ohio's parental consent laws around abortion. The amendment's authors reject the theory. Ads against the abortion amendment suggest it would open the door to gender transitioning surgeries for all ages, matching national political messaging that experts deem misleading.
READ MORE: One year without Roe v. Wade: Here's where abortion laws stand in your state
Amy Natoce, press secretary for Protect Ohio Women, the opposition campaign, said the group will "continue to shine a light on the ACLU's disastrous agenda until it is defeated in November." The American Civil Liberties Union of Ohio is on the November campaign's executive committee and serves as part of Ohioans United For Reproductive Rights' legal team.
"Ohioans are waking up to the dangers of the ACLU's anti-parent amendment and they are terrified — and rightfully so," she said in a statement.
The proposal joins others around the nation that have been motivated by last summer's U.S. Supreme Court decision to overturn Roe v. Wade and the nationwide right to abortion it once protected, leaving abortion policy to individual states.
In the first statewide test following that decision, Kansas voters resoundingly protected abortion rights last August. In November, five other states — California, Kentucky, Michigan, Montana and Vermont — either enshrined abortion rights in their constitutions or rejected constitutional restrictions on the procedure.