McDonald's ditches self-serve soda fountains for a new dining era
CHICAGO - McDonald's is ushering a new phase of the dining experience by eliminating the self-serve soft drink fountains. 
The company confirmed the move to FOX Television Stations, saying it will completely remove the machines from all dining rooms by 2032. 
The fast-food chain said the intention is to create a consistent experience for both customers across all ordering points including McDelivery, the app, kiosk, drive-thru or in-restaurant.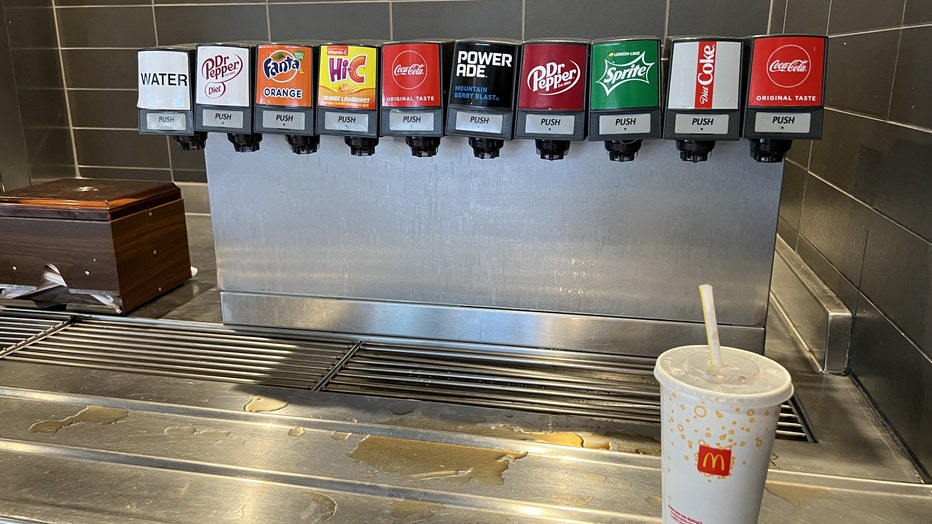 Soda fountain with drink cup visible at McDonald's restaurant in Lafayette, California, March 14, 2022. Photo courtesy Sftm. (Photo by Gado/Getty Images)
Throughout out the year, McDonald's has made changes to its menu and dining experience. 
RELATED: Oreo is bringing back one of the most requested fan-favorite flavors
In late April, McDonald's temporarily beefed up its menu with its latest addition: Big Mac sauce made exclusively for dipping. 
The fast-food chain also said "small but tasty" improvements were made to the Big Mac, McDouble burger and its classic cheeseburger, double cheeseburger and hamburger.
Customers will soon notice softer hamburger buns and a more "perfectly melted" cheese. The restaurant said patties will also be cooked with the juices from caramelized white onions which will be added to the grill. 
This story was reported from Los Angeles.