Judge warns of restraints to what evidence Trump can discuss, agrees to limited protective order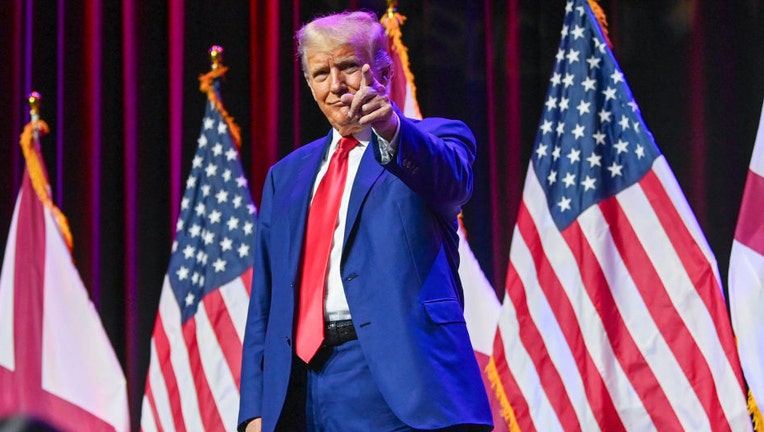 article
WASHINGTON - The federal judge overseeing the election conspiracy case against Donald Trump warned on Friday that there are limits on what the former president can publicly say about the investigation as he campaigns for a second term in the White House.
Presiding over her first hearing for the case, U.S. District Judge Tanya Chutkan in Washington heard arguments on how to structure a protective order that would prevent a public airing of all the evidence turned over by prosecutors. But she also used the forum to address the case's unprecedented mix of legal and political concerns.
Chutkan stressed that political considerations wouldn't guide her decisions. She also repeatedly said Trump was subject to the court's rules as a defendant before trial even as he runs for the 2024 Republican nomination for president.
"Your client's defense is supposed to happen in this courtroom, not on the internet," Chutkan told Trump's lawyers.
RELATED: Trump indicted over efforts to undo 2020 presidential election
The judge said that the more anyone makes "inflammatory" statements about the case, the greater her urgency will be to move the case more quickly to trial to prevent the contamination of the jury pool. She noted that "arguably ambiguous statements" could be construed as intimidation or harassment of potential witnesses.
"I will take whatever measures are necessary to safeguard the integrity of the case," she said.
A prosecutor said the Justice Department was prepared to turn over an initial batch of more than 11 million pages of evidence to Trump's lawyers.
Chutkan agreed with Trump's defense team on a looser version of a protective order for evidence in the case, but she largely sided with the prosecution on what sensitive materials should be protected.
RELATED: Trump's trial on election interference could kick-off just days before Capitol riot anniversary
She rejected prosecutors' broader protective order proposal that sought to prevent the public release of all evidence they hand over to Trump's defense as they prepare for trial. She instead seemed poised to impose a more limited protective order that would bar the public release only of materials deemed "sensitive," such as grand jury materials.
The government considers the vast majority of evidence in the case to be sensitive. The judge sided with the prosecution on what materials are considered sensitive and therefore protected under the order.
Thomas Windom, a top deputy to Special Counsel Jack Smith, argued that Trump needed to be supervised when he reviews case materials. In another sign of the unique circumstances facing the former president, Windom quipped about the indictment Trump faces in Florida after classified materials were discovered in his Mar-a-Lago residence.
"He has shown a tendency to hold on to material to which he should not," Windom said.
RELATED: Trump campaign staff said 'fan the flame' on 2020 election lies, leaked audio shows
When prosecutors proposed the protective order, it became an early flashpoint in the case. The prosecutors called the judge's attention to a post on Trump's social media platform, Truth Social, in which he said he would be "coming after" those who "go after" him.
They warned Trump could improperly share sensitive information online that could have a "harmful chilling effect on witnesses."
"The defendant has broadcast their strategy, and that is to not try this case in the courtroom," Windom said.
Lawyers for Trump, who has railed against prosecutors and the judge on social media and during campaign events, said the government's proposed order went too far and would restrict his free speech rights.
John Lauro, an attorney for Trump, raised the example of former Vice President Mike Pence — who is both competing against Trump for the Republican nomination and a potential witness in the case before Chutkan. Trump has repeatedly attacked Pence for being disloyal.
"President Trump has the ability to respond fairly to political opponents," Lauro said.
Trump, the early front-runner in the GOP presidential primary, says he is innocent of the charges, including conspiracy to defraud the United States. He has portrayed investigations of him as politically motivated.
Prosecutors say that a substantial amount of evidence they're ready to turn over to Trump's legal team includes sensitive and confidential information — like transcripts from the grand jury that investigated the case and evidence obtained through sealed search warrants. Grand jury proceedings are secret.
Prosecutors' filing last week seeking the protective order included a screenshot of a post from Trump's Truth Social platform that day in which the ex-president wrote, in all capital letters, "If you go after me, I'm coming after you!"
"If the defendant were to begin issuing public posts using details — or, for example, grand jury transcripts — obtained in discovery here, it could have a harmful chilling effect on witnesses or adversely affect the fair administration of justice in this case," prosecutors wrote in their motion.
The prosecutors proposed a protective order barring Trump and his lawyers from disclosing materials provided by the government to anyone other than people on his legal team, possible witnesses, the witnesses' lawyers or others approved by the court.
Trump's team, meanwhile, asked for a more narrow order that would bar the public release only of the materials deemed "sensitive," such as grand jury documents. Defense attorneys wrote in court papers that the need to protect sensitive information "does not require a blanket gag order over all documents produced by the government."
The case, unsealed last week, is the first criminal case that seeks to hold Trump accountable for his efforts to cling to power before an angry mob of supporters fueled by his election lies attacked the Capitol on Jan. 6, 2021. It comes as Trump faces two other criminal cases and tries to reclaim the White House.
Trump has pleaded not guilty to four felony counts, including conspiracy to defraud the U.S. and conspiracy to obstruct Congress' certification of Democrat Joe Biden's electoral victory. The charges could lead to a lengthy prison sentence in the event of a conviction, with the most serious counts calling for up to 20 years.
Smith's team has indicated that it wants the case to move to trial swiftly, and this week it proposed a Jan. 2 trial date. Trump is already scheduled to stand trial in March in a New York case stemming from hush money payments made during the 2016 campaign and in May in another case brought by Smith accusing the former president of hoarding classified documents at his Mar-a-Lago estate in Palm Beach, Florida.
Magistrate Judge Bruce Reinhart in June imposed a similar protective order in the Florida case that prohibits Trump and his legal team from publicly disclosing evidence turned over to them by prosecutors without prior approval.