How to watch the second GOP primary debate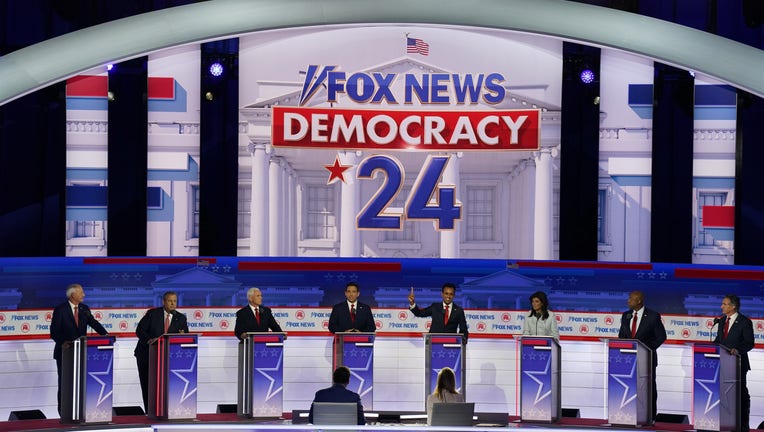 article
The next debate of Republican primary presidential candidates is Wednesday, Sept. 27 at the Ronald Reagan Presidential Library in Simi Valley, California.
Seven of the candidates qualified for the debate and are expected to participate. Former President Donald Trump will again not be in attendance and has other campaign plans for the evening. 
How to watch 2nd GOP debate
This second GOP debate is hosted by FOX Business Network (FBN), so you will not be able to see it live on FOX TV stations (including this one), the FOX Local app, or LiveNOW from FOX. But here is how you can watch.
The debate will take place from 9 p.m. - 11 p.m. ET, with FBN's Stuart Varney and Dana Perino set to moderate, along with UNIVISION's Ilia Calderón.  
There are several ways to watch: 
On FBN, with special coverage beginning live at 6 p.m. ET and post-debate coverage lasting through 1 a.m. ET, at which point the debate will re-air
On FOX News Channel, beginning at 8:30 p.m. ET, and post-debate coverage lasting through 1 a.m. ET, at which point the debate will re-air
FOX Nation, FOX News Media's streaming platform
Outside of FOX, streaming exclusively on Rumble
Due to the exclusive streaming agreement, LiveNOW from FOX will not be streaming the debate live but will have analysis and coverage immediately afterwards. This FOX TV station will also have highlights and analysis during the late newscast.
How to watch Trump's UAW event
Donald Trump is once again skipping the debate and will instead be holding an event in Michigan, where the United Auto Workers strike against the Big Three continues to grow. 
Trump plans to meet with UAW leadership and give a speech shortly before his rivals take the stage in California. 
His invite-only rally will be at a non-union auto supplier in Macomb County, which was a voting demographic that surprisingly flipped in 2016, helping him win the election. 
Trump's remarks will be streaming live on LiveNOW from FOX.
President Biden, meanwhile, met with UAW picketers on Tuesday. 
You can find LiveNOW from FOX on FOX NOW, your station's FOX Local app, Amazon Freevee, Amazon News, fuboTV, LG Channels, Plex, The Roku Channel, Samsung TV Plus, Tubi, Vizio WatchFree+, Xumo, YouTube and YouTube TV. 
Who will be at 2nd GOP debate
Seven candidates have qualified for and are expected to attend Wednesday night's debate. 
Ron DeSantis
Tim Scott
Nikki Haley
Vivek Ramaswamy
Chris Christie
Doug Burgum
Mike Pence
Former Arkansas Gov. Asa Hutchinson did not make the cut this time. Instead of the debate, he'll also be in Michigan on Wednesday, holding a press conference his campaign describes as "calling out Donald Trump's false promises."
RELATED: Second GOP primary debate: A look at the net worth, backgrounds of top candidates
This story was reported from Detroit. The Associated Press and FOX Business contributed.