Hawaii officials urging families of people missing after deadly wildfires to give DNA samples
LAHAINA, Hawaii - Authorities in Hawaii pleaded with relatives of those missing after the deadliest U.S. wildfire in more than a century to come forward and give DNA samples, saying the low number provided so far threatens to hinder efforts to identify any remains discovered in the ashes.
Some 1,000 to 1,100 names remain on the FBI's tentative, unconfirmed list of people unaccounted for after wildfires destroyed the historic seaside community of Lahaina on Maui. But the family assistance center so far has collected DNA from just 104 families, said Julie French, who is helping lead efforts to identify remains by DNA analysis.
Maui Prosecuting Attorney Andrew Martin, who is running the center, said that the number of family members coming in to provide DNA samples is "a lot lower" than in other major disasters around the country, though it wasn't immediately clear why.
"That's our concern, that's why I'm here today, that's why I'm asking for this help," he said.
RELATED: 4 family members die in Hawaii wildfire: 'It's like a gut punch'
Martin and French sought to reassure people that any samples would be used only to help identify fire victims and would not be entered into any law enforcement databases or used for any other purpose. People will not be not asked about their immigration status or citizenship, they said.
"What we want to do — all we want to do — is help people locate and identify their unaccounted-for loved ones," Martin said.
Compounding the collection problems are scams that have popped up, county officials said Wednesday. The family assistance center received reports about people receiving calls from individuals or organizations claiming to be with "DNA Services," the county said in a statement. The center's staff members are not calling community members to request DNA samples, it said.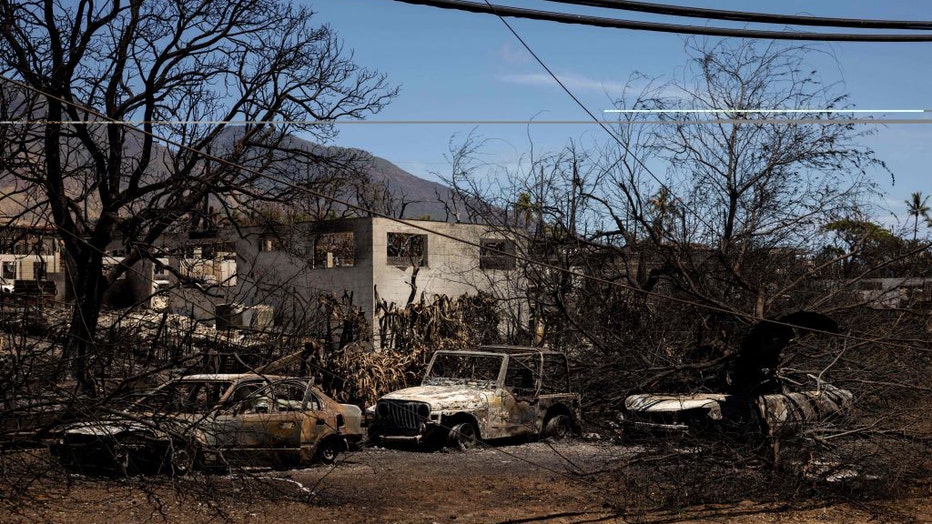 Destroyed buildings and cars are seen in the aftermath of the Maui wildfires in Lahaina, western Maui, Hawaii on August 17, 2023. (Photo by YUKI IWAMURA/AFP via Getty Images)
Two weeks after the flames tore through Lahaina, officials are facing huge challenges to determine how many people who remain unaccounted for perished and how many made it to safety but haven't checked in.
RELATED: Help will be provided 'for as long as it takes' to recover from Maui wildfires, Biden says
Something similar happened after a wildfire in 2018 that killed 85 people and destroyed the town of Paradise, California. Authorities in Butte County, home to Paradise, ultimately published a list of the missing in the local newspaper, a decision that helped identify scores of people who had made it out alive but were listed as missing. Within a month, the list dropped from 1,300 names to only a dozen.
Hawaii officials have expressed concern that by releasing a list of the missing, they would also be identifying some people who have died. In an email Tuesday, the State Joint Information Center called it "a standard held by all law enforcement and first responders here in Hawaii, out of compassion and courtesy for the families, to withhold the names until the families can be contacted."
There have been 115 confirmed dead, according to Maui police. All single-story, residential properties in the disaster area had been searched, and teams were transitioning to searching multi-story residential and commercial properties, Maui County officials said in an update late Monday.
Police Chief John Pelletier said Tuesday that his team faces difficulties in coming up with a solid list of the missing. In some cases people only provided partial names, and in other cases names might be duplicated. There was "no secrecy, no hiding things," he added.
RELATED: Pictures of Maui fire damage 'will shock you,' Hawaii governor says
"We want to get a verified list. The 1,100 names right now, we know that there's a margin of that that some of them have first names only and there's no contact number back. So there was a, 'John's missing,' and when we try to call back who said that, no one is answering," he said. "And so we're trying to scrub this to make it as accurate as we can."
Pelletier urged people to provide DNA and file a police report with as much information as possible if they have relatives unaccounted for.
"If you feel you've got a family member that's unaccounted for, give the DNA," he said. "Do the report. Let's figure this out. A name with no callback doesn't help anybody."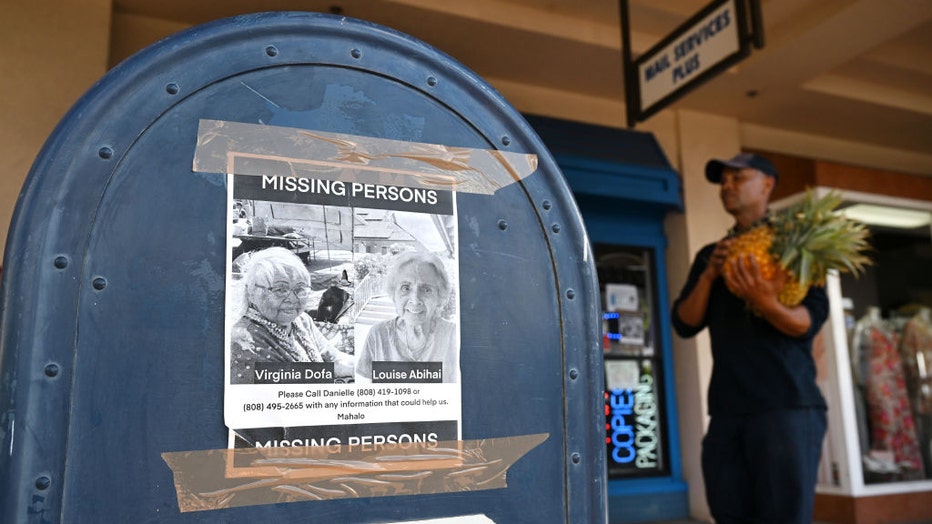 A missing persons sign is taped to a mailbox at Napili Plaza on Thursday August 17, 2023 in Napili, HI. (Photo by Matt McClain/The Washington Post via Getty Images)
One whose name was on the list was Roseanna Samartano, a resident of Lahaina, who didn't know anyone was looking for her until an FBI agent phoned her a few days ago.
"I was shocked. Why is the FBI calling me?" the 77-year-old retiree said. "But then he came out with it right away, and then I kind of calmed down."
It turned out a friend had reported her missing because he'd been unable to get in touch despite calling, texting and emailing. Her neighborhood of Kahana — which didn't burn — had no power, cellphone service or internet in the days after the fires.
Clifford Abihai came to Maui from California after getting nowhere finding answers about his grandmother, Louise Abihai, 98, by phone. He has been just as frustrated on the ground in Maui.
"I just want confirmation," he said last week. "Not knowing what happened, not knowing if she escaped, not knowing if she's not there. That's the hard thing."
As of Tuesday, he said, he still had learned nothing further. He did provide a DNA sample, he said.
Abihai's grandmother lived at Hale Mahaolu Eono, a senior living facility where another member of his extended family, Virginia Dofa, lived. Authorities have identified Dofa as one who perished. Abihai described Dofa and Louise Abihai as best friends.
He said his grandmother was mobile and could walk a mile a day, but it was often hard to reach her because she'd frequently turn off her cellphone to save battery power.
Confirming whether those who are unaccounted for are deceased can be difficult. Fire experts say it's possible some bodies were cremated by the intense heat, potentially leaving no bones left to identify through DNA tests. Three-quarters of the remains tested for DNA so far have yielded usable results, French said.
People who lived through other tragedies and never learned of their loved ones' fate are also following the news and hurting for the victims and their families. Nearly 22 years later, for example, almost 1,100 victims of the 9/11 terror attacks, which killed nearly 3,000, have no identified remains.
Joseph Giaccone's family initially was desperate for any physical trace of the 43-year-old finance executive, who worked in the World Trade Center's North Tower, brother James Giaccone recalled. But over time, he started focusing instead on memories of the flourishing man his brother was.
If his remains were identified and given to the family now, "it would just reinforce the horror that his person endured that day, and it would open wounds that I don't think I want to open," Giaccone said Monday as he visited the 9/11 memorial in New York.
___
Johnson reported from Seattle, and Kelleher reported from Honolulu. Associated Press writers Jennifer Peltz in New York, Janie Har in San Francisco and Becky Bohrer in Juneau, Alaska, contributed.