4 family members die in Hawaii wildfire: 'It's like a gut punch'
The community in the tropical paradise of Lahaina, Hawaii, is only beginning to assess the damage left by a wildfire that ripped through their northwest coastal town.
Lahaina native Jonathan Masaki Shiroma is mourning the loss of four family members, and said another is still missing. 
"It's like a gut punch," he told LiveNOW from FOX Saturday. 
"You hear the words of devastation and then you realize that the hometown that, as a child, (you were) playing in the cane fields and near what was the Pioneer Mill, you know, and then the hearing that family members lost their lives as they tried to leave the flames that just engulfed so quickly, and one still remained missing – it becomes so personal."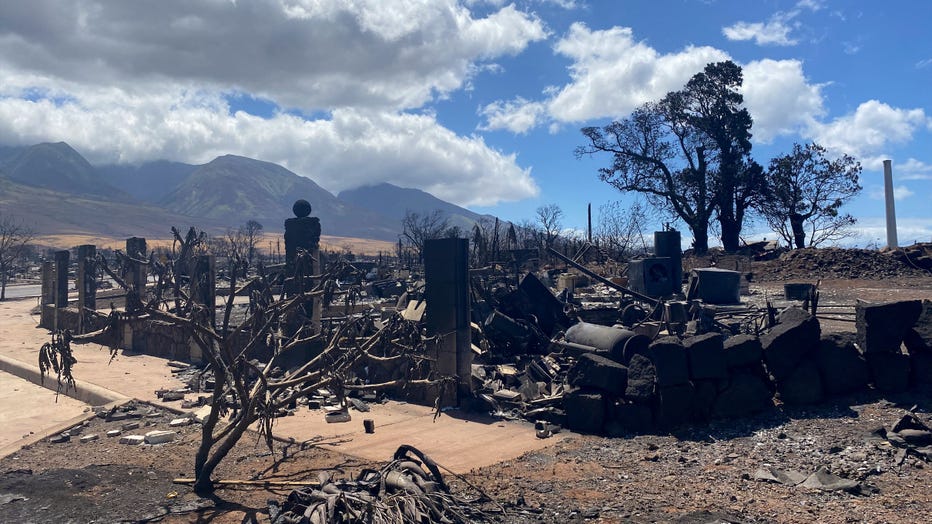 A destroyed house is pictured in the aftermath of a wildfire in Lahaina, western Maui, Hawaii on August 11, 2023. (Photo by Paula Ramon/AFP via Getty Images)
RELATED: Maui fires: Did Lahaina's historic banyan tree survive?
The retired Lt. Col. with the U.S. Army has been deployed to numerous fires during his time working with the California National Guard to help provide critical updates to media, and now his hometown has been virtually destroyed. 
"I've been on those wildfire coverages in California and seeing the devastation that occurs and cities burned to the ground – there's really no way to know how to respond in an emotional (way) and, quite frankly, in any type of way, because it happened so fast," he shared.
"With the magnitude of what's going on, everybody's trying to make heads or tails of what to do next. And I believe slowly but surely that that is starting to happen," he continued. "And it's just beyond, I guess, the scope of what we can sometimes fathom of dealing with things."
The fires nearly wiped out the historic town of 13,000 people and were still not fully contained Friday night on some parts of the island.
Maui County raised the number of confirmed deaths to 80 Friday night, and Gov. Josh Green warned that the toll would likely rise as search and rescue operations continue. 
RELATED: Pictures of Maui fire damage 'will shock you,' Hawaii governor says
"As as we look at just the magnitude of the devastation, I think what is important is that if we can go back to those memories to really think about what this area represents and how the Hawaiian people really used this land and this area as the capital of Hawaii, before it became a state," he said. 
Shiroma shared pictures of the Lahaina area before the fire's devastation. He currently lives in Honolulu and works for Hawaii News Now. 
An undated photo showing Lahaina, Hawaii, a tropical paradise on the northwest coast of Maui, before the fire devastation of August 2023. Image: Jonathan Masaki Shiroma
"When I look back as a child, you know, before you see all the big resorts that came in, it was a very simple plantation town that I remember running in the backyard of my great grandparents' house. They had this huge mango tree. They had a fish pond, and the cousins would all get together. 
"As we look at these images, that's what I remember – my Maui – and that's how I'm going to remember my Maui, because we were kids. We were in no shoes, and as we say, (we had) "puka holes" in our shirts and just really not caring about what we look like, but enjoying the fact that we grew up on this beautiful island."
Shiroma urged everyone to think of the warm and good memories they may have of Hawaii, and to donate to the Lahaina community if they can. 
You can see a list of reputable resources accepting donations here. 
RELATED: Hawaii wildfires: How to help those impacted on Maui, Big Island
Shiroma also remained hopeful that the spirit of "ohana" – or, family – is alive and well on the island in the midst of tragedy. 
"It's amazing that in Hawaii, even in the midst of just everyday life, there's always a sense of ohana. So you may not necessarily know someone very well, but if you see someone on the street that is hungry and (you say), 'Auntie, sister, you know, uncle, come; come eat,' – I know that's going on over there. I know that the extension of that extended family (is happening) because family is so big on the island."
This story was reported from Orlando and Detroit.