'Took everything with it': Maui resident recounts escape from raging wildfires
Despite a raging apocalyptic firestorm, one Maui resident valiantly went out of his way to assist anyone he encountered as he ran down the beach to escape the inferno.
Dustin Johnson captured dramatic footage Tuesday of Lahaina Harbor's pier engulfed in smoke from an approaching wildfire while working on the Scotsman's 2, a two-hour sailing charter.
He could be seen and heard in the video running up and down the pier, repeatedly warning individuals who might still be there to leave immediately.
"If anybody is still out here, it's time to go," he could be heard yelling on the video. "The fire is on Front Street. It's time to go."
Flyovers of Lahaina by the U.S. Civil Air Patrol and Maui Fire Department showed that more than 271 structures have been impacted since the fire broke out Tuesday evening.
Johnson said he was the last one off the dock as a storm of fire swept over the town through the landmark Lahaina Banyan Tree and approached the historic harbor.
"Took everything with it," he said from Kahului Airport as he evacuated the island Wednesday. "I just ran after it very hard. So I just helped everybody I could along the way. You got to know when you can."
36 DEAD IN CATASTROPHIC HAWAII WILDFIRES AS HURRICANE-FORCE WINDS SLOWLY DECREASE THURSDAY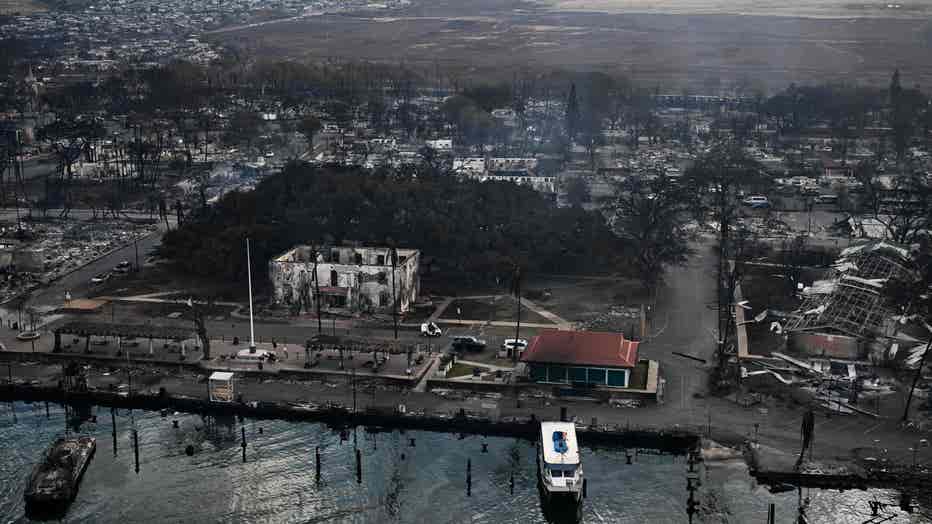 An aerial view shows the historic Banyan Tree along with destroyed homes, boats, and buildings burned to the ground in the historic Lahaina town in the aftermath of wildfires in western Maui in Lahaina, Hawaii, on August 10, 2023. (Photo by PATRICK T
The fast-moving wildfires caused chaos on Maui, resulting in 36 confirmed deaths. Officials fear that the number of deaths may increase.
Some Maui residents were forced to jump into the ocean to avoid the smoke and fire, leading to a U.S. Coast Guard rescue operation.
Some areas in Maui were also affected by a power outage that left 14,500 customers without power, FOX News reported. Additionally, cell service and phone lines were down in certain locations.
As fires still burn Thursday, there are no containment numbers at this time, officials stressed. 
As far as the weather conditions, the winds will slowly decrease Thursday across the islands as strong high pressure to the north will continue to weaken and move westward, the FOX Forecast Center said.
It's unclear what sparked these fires, but leaders said that conditions have been arid and that winds from passing Hurricane Dora hundreds of miles to the south and a strong ridge of high pressure to the north enhanced the multiple wildfires and caused them to spread quickly.