Gerber Baby 2023 winner revealed: See the adorable mother-daughter lookalike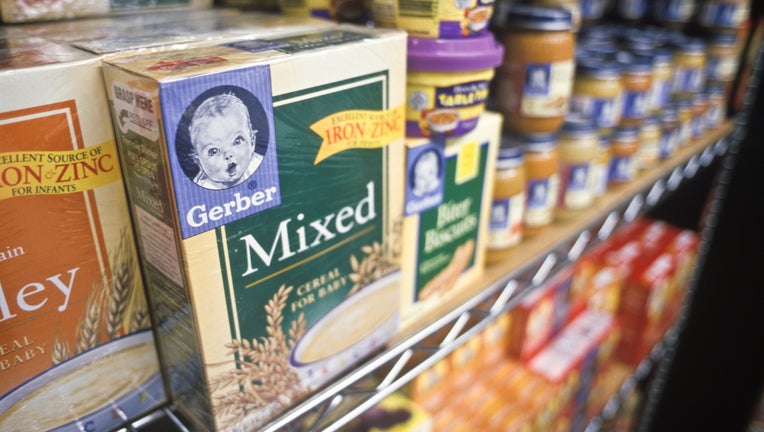 article
Gerber has announced the winner of its iconic annual baby photo contest.
For its 13th Gerber Baby promotion, the baby food company did something a little different, inviting parents to share their own childhood photos "as a throwback to their Gerber Baby days," along with photos of their little ones.
"This year's program honors the full-circle journey from baby to parent in a fun way, uniquely connecting parents with their little ones," Angela Madlangbayan, Gerber's vice president of marketing, said in a statement when announcing this year's contest. 
Who is the 2023 Gerber Baby?
Maddie, a 10-month-old from Colorado, is the 2023 Gerber baby.
"Just like mom, Maddie came into this world with a full head of hair, captivating expression and the most joyful attitude," Gerber said in the announcement.
For their submission, Maddie's parents sent an adorable photo of Maddie smiling with her hair pulled on top of her head, an homage to a nearly identical photo taken of her mother when she was a baby.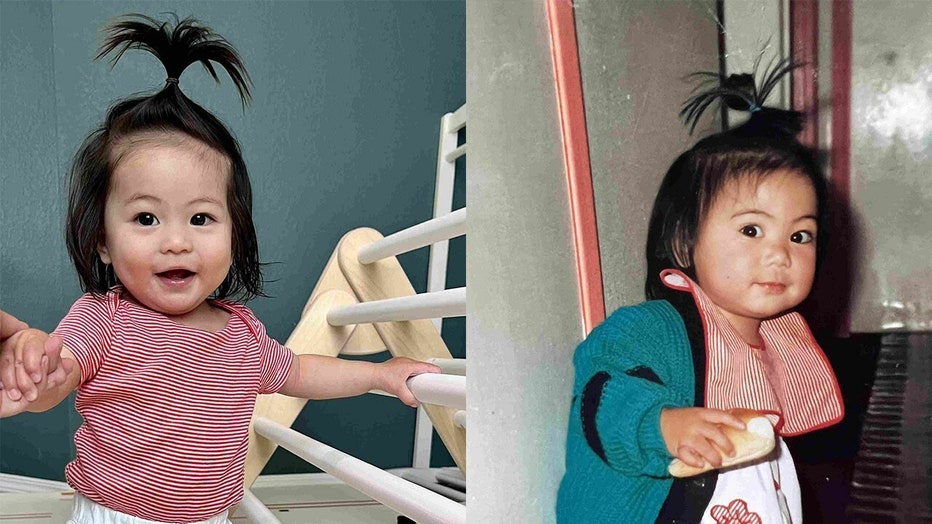 2023 Gerber Baby and Photo Search Winner Maddie Mendoza and her mom, Crystal Mendoza
Maddie's mom Crystal said her daughter is a "rainbow baby," or a healthy baby born after losing a baby due to miscarriage, infant loss, stillbirth or neonatal death, according to the American Pregnancy Association.
"Maddie has brought us immeasurable joy with every milestone, snuggle and moment spent with her enriching our lives and making every day more meaningful and beautiful," said Crystal Mendoza. "We look forward to witnessing her grow into a kind, compassionate, strong, independent and worldly individual as we hope to be stationed overseas again to teach Maddie about all the different parts of the world."
Maddie's parents are from first-generation Filipino families, "with both of Maddie's grandfathers having served in the U.S. Navy and coming to America with very little."
READ MORE: Florida firefighter adopts baby left in safe haven box
"Their journeys are a testament to resilience and love," Gerber said.
Maddie's mom is a dentist, and her father is a lieutenant colonel physician in the U.S. Air Force who's been serving for 16 years.
"Gerber has always believed in the magic of babies, and Maddie's story, filled with love, resilience, and adventure, embodies the spirit of generations of Gerber babies," said Tarun Malkani, Gerber President & CEO. "The throwback submission of Maddie and her mom brought a smile to the judges' faces and perfectly captured the spirit of this year's program. We're excited to partner with Maddie and her family throughout the next year to highlight the full-circle journey from baby to parent."
As the 2023 Gerber Baby, Maddie will be featured on Gerber's social media channels and marketing campaigns throughout the year. Maddie and her family also got a $25,000 cash prize, free Gerber products for up to one year, a new wardrobe provided by Gerber Childrenswear and other perks.
Gerber will also match Maddie's cash prize with a donation to support March of Dimes' maternal and infant health programs.
The 2022 Gerber Spokesbaby was Isa Slish, a baby from Oklahoma whose "overwhelming happiness and bright, shining personality" melted the judges' hearts.
FOX's Kelly Hayes contributed to this report.