Why isn't Trump attending the GOP's first presidential debate in Milwaukee?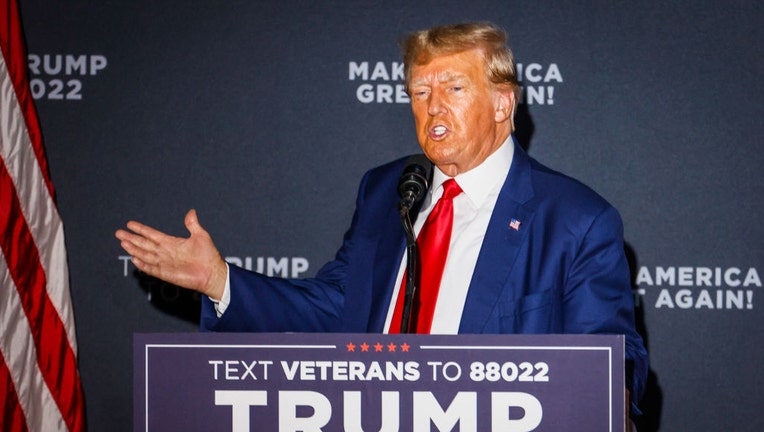 article
MILWAUKEE - He'll be missing from the stage, but Donald Trump will still be a central figure at the first Republican presidential primary debate Wednesday night as the remaining candidates hoping to take on President Joe Biden confront each other in person for the first time.
The eight contenders who are scheduled to attend the Milwaukee debate hosted by Fox News will likely face pressure to articulate how they would differ in style and substance from Trump, who holds a commanding early lead in the race. That could be a delicate task, forcing candidates to decide how closely to align themselves with the former president's most outlandish positions, including his lies about widespread fraud during the 2020 election.
With less than five months until the Iowa caucuses jumpstart the GOP presidential nomination process, the debate is a critical opportunity for lower-polling candidates to introduce themselves to millions of voters, many of whom are just beginning to pay attention to the race. The pressure is perhaps greatest for Florida Gov. Ron DeSantis, who announced his campaign in May to great fanfare but has since struggled to gain traction and is now fighting to maintain his distant second-place status.
RELATED: 1st Republican debate: Which 2024 presidential candidates qualify
"It's really important for the whole crowd and an opportunity for them to connect," said former Maryland Republican Gov. Larry Hogan, who passed on a run of his own. But the stakes, he said, are highest for DeSantis.
"It's really do or die for him, make or break. Finally time to show that he's a capable candidate. And if he doesn't," he added, "I think this could be the end."
Beyond DeSantis, the debate will include South Carolina Sen. Tim Scott, former U.N. Ambassador Nikki Haley, biotech entrepreneur Vivek Ramaswamy, former New Jersey Gov. Chris Christie, North Dakota Gov. Doug Burgum, former Vice President Mike Pence and former Arkansas Gov. Asa Hutchinson.
The primetime event will unfold at a moment of reckoning for the Republican Party.
Trump is now the prohibitive early front-runner in the race, raising serious questions about whether the party will have much of a competitive primary. Yet Trump's vulnerabilities in a general election are clear, particularly in the wake of four criminal indictments that charge him with everything from hoarding classified documents, conspiring to overturn the 2020 election and making hush money payments to a porn actress and other women.
RELATED: Trump to surrender at Georgia's Fulton County Jail on Thursday
The debate will take place a day before Trump is set to travel to Georgia to again be booked on criminal charges.
Yet Trump's standing in the primary has only increased as the charges have mounted, leaving the GOP on track — barring a stunning realignment — to nominate a candidate who would enter the race against Biden in a potentially weak position. Polling this month from The Associated Press-NORC Center for Public Affairs Research found 64% of Americans are unlikely to support Trump if he is the GOP nominee, including 53% who say they would definitely not support him and 11% who say they would probably not support him in November 2024.
At Fiserv Forum in downtown Milwaukee, metal barricades were in place outside the arena that is home to the Milwaukee Bucks basketball team Tuesday evening. At least one bar near the stadium had a scrolling sign welcoming Republicans to the heavily Democratic city along Lake Michigan.
Republican National Committee Chairwoman Ronna McDaniel, along with Milwaukee officials, planned an event for Wednesday to showcase local businesses ahead of next summer's convention, which will also be held in the city in a sign of the state's premier battleground status. Democrats were planning to hold rival events.
RELATED: Can Donald Trump still run for president despite indictment?
The RNC had set polling and donor thresholds and required participants to sign a loyalty pledge in order to qualify for the debate, which will be moderated by Fox's Bret Baier and Martha MacCallum.
Trump had long said he felt it would be foolish to participate, given his dominant lead in the race. But his decision to boycott is nonetheless a blow to the network, which had wooed him privately and publicly on air to appear. Instead, Trump has pre-recorded an interview with ex-Fox host Tucker Carlson that is expected to be broadcast on the platform formerly known as Twitter as the debate takes place.
But even in his absence, Trump's presence is expected to be felt at the debate. MacCallum has made clear she will press his rivals to respond to Trump's indictments, telling Vanity Fair that, "It will absolutely be incumbent upon them to address" them.
So far, the candidates have been reticent to take Trump on directly, given his broad support from the GOP base, and one key question will be how aggressively his rivals take him on.
In his absence, DeSantis' campaign is preparing for the Florida governor to be the debate's top target as the front-runner on stage.
In a memo sent to donors and supporters over the weekend, DeSantis campaign manager James Uthmeier said they "are fully prepared for Governor DeSantis to be the center of attacks" because, he said, "this is a two-man race for the Republican nomination between Governor DeSantis and Donald Trump."
Uthmeier said DeSantis would try to remain above the fray, and that his "objective in this debate will be to lay out his vision to beat Joe Biden, reverse American decline, and revive the American Dream."
Dan Eberhart, a Republican donor and DeSantis supporter, said DeSantis will have to be prepared to fend off attacks from the rest of the field, but "should focus on policy and what he's going to do for voters — and not let the debate be all about the one candidate who is not on the stage."
"The stakes," he added, "are huge for Gov. DeSantis. He will be the front-runner on the stage and everyone has to go through him to eventually take on Trump."
Ken Cuccinelli, a leader of Never Back Down, the Super PAC supporting DeSantis, maintained that DeSantis remains best positioned among Trump's rivals to outlast him and framed the debate as a chance for DeSantis to speak directly to viewers at home.
"People want blood sport to a certain extent, and they associate that with Trump," he said. "But to me the value of it is the unfiltered-by-the-media personal introduction. It won't be (DeSantis') individual interactions with any particular candidate. It's the whole package, the introduction to voters who are tuning into all this for the first time."
But Georgia Rep. Marjorie Taylor Greene, who is among the long list of Trump supporters who traveled to Milwaukee to back him in his absence, called Wednesday's debate "a waste of time" given Trump's lead in polls.
"It's pointless," she said. "He's over 40 points ahead ... I believe the primaries are over. ... We're just watching people try out for the cabinet."
Most of the field has been reluctant to attack Trump on the campaign trail so far. But some, including Hutchinson, have been vocal in their opposition. Pence has criticized Trump over his efforts to overturn the election, while Christie has positioned himself as the most anti-Trump candidate and called the former president a "coward" for refusing to participate in the debate.
Christie, who in earlier campaigns had helped Trump prepare for his debates by playing the role of Trump's opponents, offered a preview of punches he may land as he campaigned in Atlanta over the weekend.
"When are we going to allow our country to understand again that nominating someone who's out on bail in four jurisdictions is not a winning formula?" he asked.
Democrats meanwhile, dismissed the field as extreme and divisive, even without Trump on stage.
"The truth is, it doesn't matter who wins the debate," said Biden-Harris Campaign Co-Chair Rep. Cedric Richmond in a call with reporters. "They're all playing out of the same playbook, and they're all espousing the same unpopular positions that Donald Trump led with and he continues to drag this party to the extreme."
Colvin reported from Washington. Associated Press writers Bill Barrow in Atlanta and Steve Peoples in New York contributed to this report.