Trump to surrender at Georgia's Fulton County Jail on Thursday
FULTON COUNTY, Ga. - After receiving his consent bond order from a Fulton County judge, it appears former President Donald J. Trump will surrender at the Fulton County Jail this Thursday. He announced his intention to turn himself in via his social platform, Truth Social.
"Can you believe it? I'll be going to Atlanta, Georgia, on Thursday to be ARRESTED by a Radical Left District Attorney, Fani Willis, who is overseeing one of the greatest Murder and Violent Crime DISASTERS in American History," the former president posted. "In my case, the trip to Atlanta is not for 'Murder,' but for making a PERFECT PHONE CALL!'"
The 'perfect phone call' he mentions refers to a recorded phone conversation between Trump and Georgia's Secretary of State Brad Raffensperger in which the former president asked Raffensperger to help "find" the votes needed to overturn his narrow loss to Democrat Joe Biden. The call took place January 2021.
A statement released on Tuesday from the Atlanta mayor's office refutes Trump's claims:
"The Mayor is an engineer by trade and is focused on facts and data—not empty rhetoric.
"While one homicide in Atlanta is one too many, as of Friday, homicides are down 26% compared to this time last year. As of last week, overall crimes against persons are down 23% compared to this time last year.
"Atlanta continues to attract corporations and major events like the 2026 FIFA World Cup and was named the best place to live by Money magazine. Mayor Dickens' whole of government approach for public safety is working and he will continue to leverage all available resources to keep our communities safe.'
While Trump did not mention what time he would be arriving to the Fulton County Jail, he posted on Wendesday morning that he "will proudly be arrested tomorrow afternoon."
Meanwhile, a spokesperson for the facility warned the media there would be a hard lockdown on the area surrounding the facility that day.
FOX 5 Atlanta is working on receiving a map of the exact lockdown perimeter.
What charges does Trump face in Georgia?
Trump faces 13 charges, including one for racketeering, a charge that was originally created to indict mobsters. The bond on that RICO charge was set at $80,000.
JUDGE SETS BOND FOR TRUMP ALLIES IN GEORGIA ELECTION INTERFERENCE CASE
His other charges include three counts of criminal solicitation, six counts of criminal conspiracy, two counts of false statements and one count of filing false documents. The bond on those charges was set at $10,000 a piece.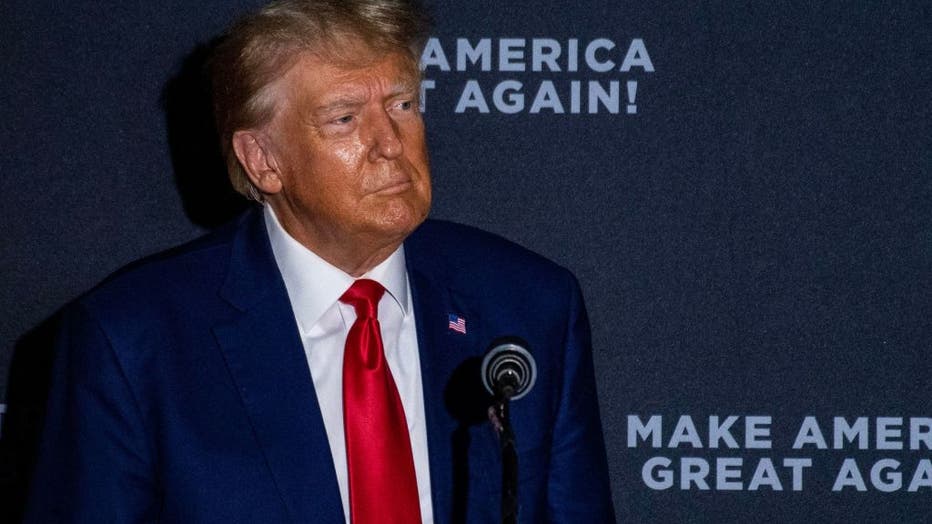 Former US President and 2024 presidential hopeful Donald Trump speaks during a campaign rally at Windham High School in Windham, New Hampshire, on August 8, 2023. (Photo by Joseph Prezioso / AFP) (Photo by JOSEPH PREZIOSO/AFP via Getty Images)
He and 18 other associates were indicted in Georgia last week as part of a sweeping case alleging they all schemed to illegally overturn his 2020 election loss and stop the peaceful transition of power to President Joe Biden.
WHAT'S NEXT FOR FORMER PRESIDENT DONALD TRUMP, CO-DEFENDANTS IN FULTON COUNTY 
The indictment, brought by Fulton County District Attorney Fani Willis, follows an investigation that lasted more than two years and marks the fourth criminal case brought against the former president.
This story is breaking. Check back for details. If you have additional information, pictures, or video email newstipsatlanta@fox.com.