Disney raises prices at California, Florida theme parks
Visitors to Disneyland and Disney World will now spend more money on tiered tickets and parking, the company confirmed to FOX Business on Wednesday.
Ticket prices at Disneyland are up nearly across the board. The price of a ticket on the busiest days at Disneyland will now cost parkgoers $194, an increase of more than 8%. The cost for a five-day ticket climbed by nearly 16% to $480.
Meanwhile, the park's lowest-tier single-day ticket price is holding steady at $104.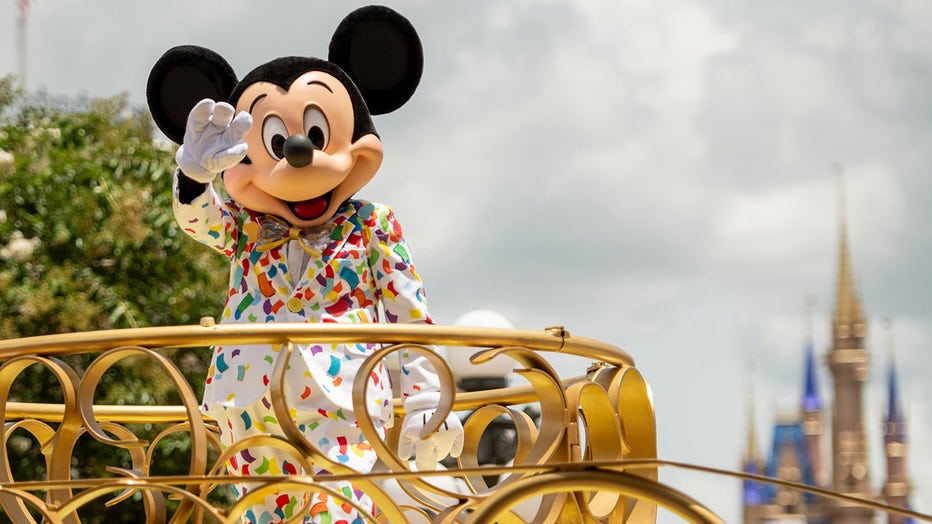 Mickey Mouse stars in the "Mickey and Friends Cavalcade on July 2, 2020 in Lake Buena Vista, Florida. (Credit: Kent Phillips/Walt Disney World Resort via Getty Images)
Tier Package Price Hikes at Disneyland 
Tier 0: no increase, $104
Tier 1: $5 increase to $119
Tier 2: $5 increase to $134
Tier 3: $10 increase to $154
Tier 4: $10 increase to $169
Tier 5: $15 increase to $184
Tier 6: $15 increase to $194
Prices for Disneyland's Magic Key annual pass are also higher, as are most Park Hopper add-ons and parking.
Magic Key Pass Price Hikes at Disneyland
Inspire: $50 increase to $1,649
Believe: $150 increase to $1,249
Enchant: $150 increase to $849
Imagine: $50 increase to $499
Multi-Day Ticket Price Hikes at Disneyland 
Two-day: $25 increase to $310
Three-day: $30 increase to $390
Four-day: $50 increase to $445
Five-day: $65 increase to $480
DISNEY FACING ACTIVIST INVESTOR NELSON PELTZ AGAIN
At Disney World in Florida, the cost of a one-day, one-park ticket will remain at $109. However, the theme park increased prices for annual passes and parking.
DISNEYLAND AND DISNEY WORLD CUTTING CHILD TICKET PRICES IN UPCOMING DEALS
"We are constantly adding new, innovative attractions and entertainment to our parks and, with our broad array of pricing options, the value of a theme park visit is reflected in the unique experiences that only Disney can offer," a Disney spokesperson said Wednesday.
DISNEY+ BEGINS CRACKING DOWN ON PASSWORD SHARING
In addition to the price increases at both parks, Walt Disney World Resort announced Wednesday that it is bringing back all-day park hopper access beginning Jan. 9, while Disneyland Resort is adding two family-friendly rides to the Disney Genie+ bundle and extending the theme park reservation calendar booking window to 120 days. 
All ticket and parking price increases went into effect on Wednesday.