Recalled Boppy Newborn Lounger now linked to at least 10 deaths: 'Stop using'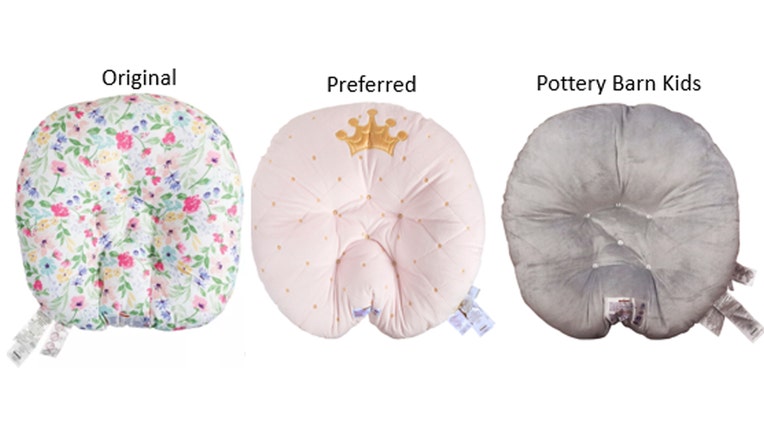 article
WASHINGTON - Boppy's Newborn Loungers, a popular pillow-like product that allows infants to sit at an elevated angle but recalled in 2021, has now been linked to at least 10 infant deaths, U.S. consumer safety officials said this week. 
More than 3.3 million Boppy loungers were recalled across the U.S. and Canada in September 2021 after eight reports of infant deaths associated with them, the U.S. Consumer Product Safety Commission (CPSC) said. 
The infants reportedly suffocated after being placed on their back, side or stomach on the lounger and their breathing became obstructed, the agency said.
In a notice posted on Tuesday, the CPSC said two more infants have died since the 2021 recall and urged parents and caregivers to "stop using" the products. 
One death was reported in October 2021, in which the infant was reportedly placed on the lounger for sleep and then rolled underneath a nearby adult pillow. The cause of death was positional asphyxia, the CPSC said.
In November 2021, an infant was again "placed on a Newborn Lounger in an adult bed with a parent and soft bedding and was later found deceased on the lounger," the agency said, noting that the cause of death was undetermined. 
Consumers can contact The Boppy Company, based in Golden, Colorado, for instructions on how to dispose of the product and get a refund at (800) 416-1355 from 9 a.m. to 5 p.m. ET Monday through Friday or online at www.boppy.com.
Recalled loungers being sold on Facebook Marketplace, CPSC says
The CPSC said that the loungers, which include the Boppy Original Newborn Loungers, Boppy Preferred Newborn Loungers, and Pottery Barn Kids Boppy Newborn Loungers, have not been legal for sale since the recall was issued. However, several of these recalled products have continued to appear for sale on Facebook Marketplace and other online sites. 
Separately, the CPSC sent a letter on Tuesday to Facebook's parent company Meta and CEO Mark Zuckerberg to address the issue, saying the platform is putting users at risk.
"In the past year, CPSC has formally requested – on average about one thousand times a month – that Meta take down listings for the Boppy Newborn Lounger from Facebook Marketplace," the letter states. 
"Despite these repeated requests, sales of the Boppy Newborn Lounger on the platform continue," it adds.
Meta's policies prohibit the sale of recalled goods on its platform and the company says it regularly removes product listings.
"Like other platforms where people can buy and sell goods, there are instances of people knowingly or unknowingly selling recalled goods on Marketplace," a Meta spokesperson told FOX Television Stations in a statement. "We take this issue seriously and when we find listings that violate our rules, we remove them." 
Meta said it has also been in contact with Boppy and is working with the company to remove any flagged listings, including adding dedicated employees who work on such issues and formal channels to report them. 
Safe sleep recommendations for baby
Roughly 3,500 infants die from sleep-related infant deaths annually in the United States, according to the American Academy of Pediatrics. 
The AAP offers safe sleep recommendations, in which it stresses how "back is best." 
Babies should sleep on their backs on flat, non-inclined surfaces without soft bedding in any infant sleep product that meets existing federal safety standards for cribs, bassinets, play yards, and bedside sleepers. Parents should not use products for sleep that aren't specifically marketed for sleep, the AAP says. 
Sitting devices, like car seats, strollers, swings, and infant carriers, are not recommended for routine sleep – particularly for infants younger than 4 months, it adds.
The AAP also recommends that parents sleep in the same room – but not in the same bed as a baby – for at least the first six months.
This story was reported from Cincinnati.