Bob Barker, television's iconic game show host, dies at 99
Bob Barker, the man known for his bright personality and charm as the iconic game show host on "The Price Is Right", has died. He was 99.
A representative for Barker confirmed the news of his passing to FOX News Digital Saturday. "It is with profound sadness that we announce that the World's Greatest MC who ever lived, Bob Barker has left us," publicist Roger Neal said. 
He made the announcement on behalf of Barker's longtime friend Nancy Burnett who has overseen Barker's care and has "kept him thriving and healthy for many years." She is the co-executor of Barker's Estate, FOX News Digital reported. 
Barker is said to have died of natural causes in his longtime Hollywood Hills home.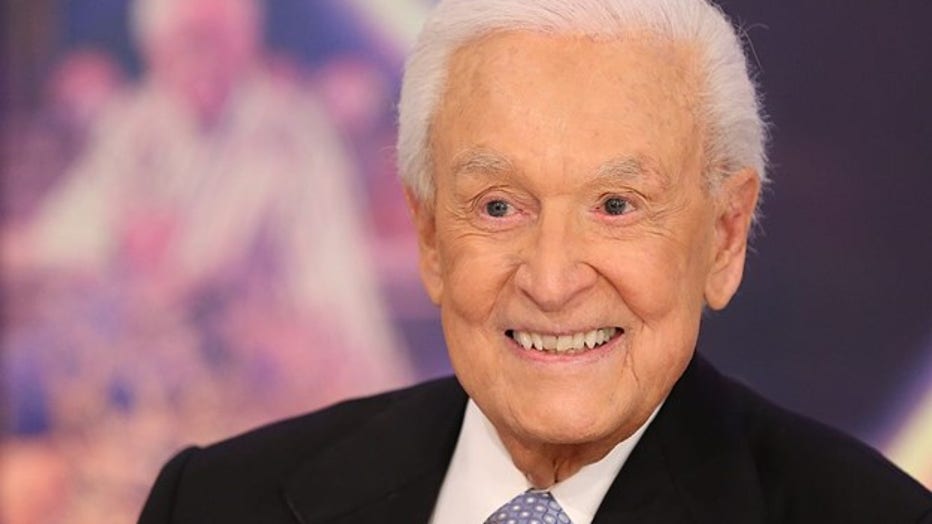 Bob Barker attends the set of The Price Is Right at CBS Television City on November 5, 2013 in Los Angeles, California. (Photo by JB Lacroix/WireImage via Getty Images
Barker was born on Dec. 12, 1923 in Darrington, Washington.
Barker got his start in entertainment with his own radio show in 1950, called "The Bob Barker Show." Barker would eventually join the popular television game show, "The Price Is Right" in 1972, of which he was host for nearly 35 years.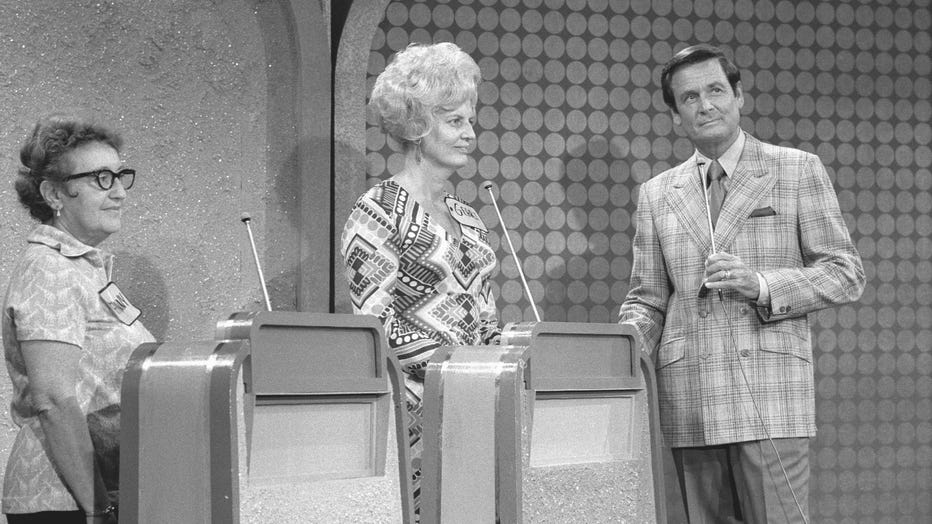 American game show host Bob Barker and two unidentified contestants listen to an unseen announcer during the final 'Showcase Showdown' portion of the CBS game show 'The New Price is Right,' Studio 33, Television City, Los Angeles, California, August
RELATED: 'Very sad day': Drew Carey, Adam Sandler react to Bob Barker's death at 99
By the time of his retirement from the show in 2007, "The Price Is Right" became both the first hour-long game show and the longest-running daytime game show in television history. After his retirement, Barker made a surprise appearance on the show's April Fool's Day episode in 2015, where he took the place of the current host Drew Cary.
Barker spent much of his early life on the Rosebud Indian Reservation in Mission, South Dakota. His mother, Matilda Tarleton, was a school teacher, and his father, Byron John Barker, was an electrical foreman for the state of Washington. His father died in 1930 in a work accident and the family moved to Springfield, Missouri.
Barker graduated from high school in the early 1940s and attended Springfield's Drury College on a basketball scholarship. He would eventually leave school in 1943 to train as a fighter pilot in the United States Naval Reserve, and was awaiting assignment to a squadron heading overseas when World War II ended.
Barker returned to Drury, graduating in 1947 with a degree in economics, married his high school sweetheart, Dorothy Jo, and eventually got a job at local radio station, KTTS, in Springfield working as a sportscaster, news writer, announcer and deejay. In the early 1950s, Barker eventually moved to California to pursue a career in broadcasting. He was given his own radio show, "The Bob Barker Show" for KWIK radio in Burbank, which lasted for six years.
RELATED: Hersha Parady, 'Little House on the Prairie' actress, dead at 78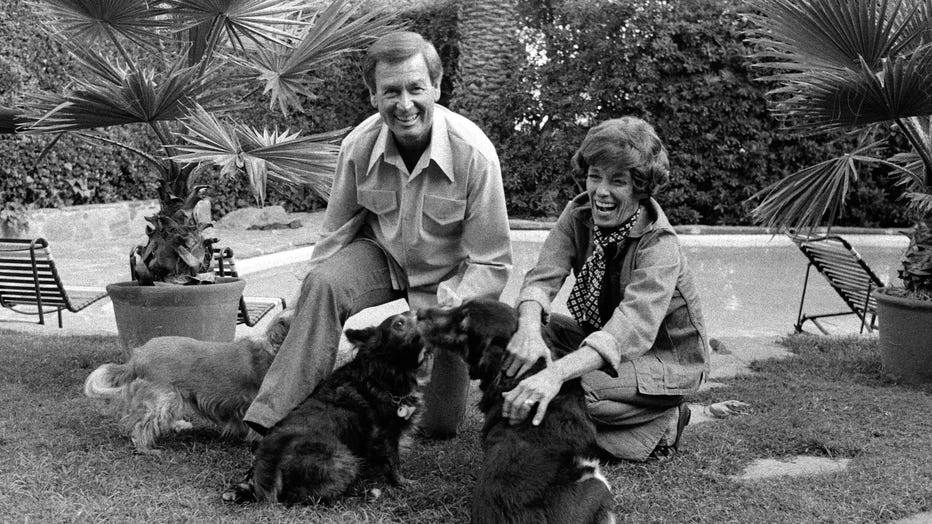 American game show host Bob Barker and his wife Dorothy Jo (1924 - 1981) play with three dogs in their back yard, November 4, 1977. (Photo by CBS Photo Archive/Getty Images)
Barker's big break came when he was hired as a host on the daytime television version of the long-running radio quiz show, "Truth or Consequences," which aired on NBC. The show would force contestants to perform bizarre and embarrassing stunts if they failed to answer a question within seconds, and was syndicated in 1966. Barker would stay as the show's host until 1974 when it was taken off the air.
Before departing "Truth or Consequences," Barker began hosting "The Price Is Right." The show had been airing since 1950 on NBC, and ABC before making its revival on CBS in 1972 with the arrival of Barker. Barker eventually became the show's executive producer, banning animal products and introducing several new specials. He would host "The Price is Right" for the next 35 years and in 2006, won an Emmy Award for Lifetime Achievement eventually announcing his retirement from the show that same year.
In addition to hosting game shows, Barker was also known for hosting the Miss Universe and Miss USA pageants from 1966 to 1988. An ardent animal rights activist, Barker eventually resigned as host after pageant executives refused to remove fur coats from the prize packages received by the winners, as he had requested.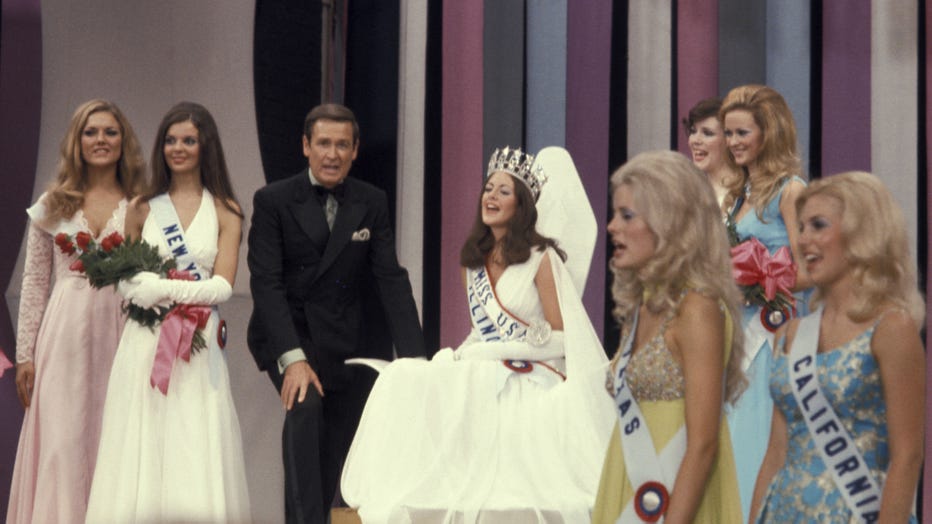 Bob Barker, the winner of The Miss USA Pageant Amanda Jones (Miss Illinois), and Miss USA contestants (Photo by Ron Galella/Ron Galella Collection via Getty Images)
RELATED: Vanna White misses 'Wheel of Fortune' for first time in 30 years: Her upcoming absence explained
Barker founded the DJ&T Foundation in 1995, an organization aimed at reducing the overpopulation of domestic animals by providing free or inexpensive sterilization for cats and dogs. Barker would end every episode of "The Price Is Right" by saying, "Help control the pet population, have your pets spayed or neutered," a tradition that has been continued by the current host, Drew Carrey. The organization was named after his wife, Dorothy Jo Gideon, and his mother. Gideon produced her husband's game shows until her death, in 1981, from cancer.
Barker returned to The Price is Right in 2013 to celebrate his 90th birthday, and again in 2015 with a surprise appearance for an April Fool's Day episode. 
In 2015, Barker was hospitalized after a nasty fall just outside his home in Hollywood. Fortunately, two Los Angeles Police officers were passing by to witness the incident and call for an ambulance. Barker received stitches on his forehead, but made a speedy recovery. 
In October 2018, Barker was hospitalized for back pain. He has since had a good recovery and celebrated his 99th birthday in December 2022.