Biden falls on stage at US Air Force Academy graduation
COLORADO SPRINGS, Colo. - President Joe Biden fell on stage Thursday after giving a commencement speech at the U.S. Air Force Academy.
Video shows the 80-year-old Biden trip on a black sandbag as he walked off the stage at Falcon Stadium in Colorado. He was immediately flanked by Air Force officials who helped him up.
White House pool reports said he appeared to be OK after the fall and continued to stand until the ceremony ended a few minutes later. A White House spokesperson later said "he's fine."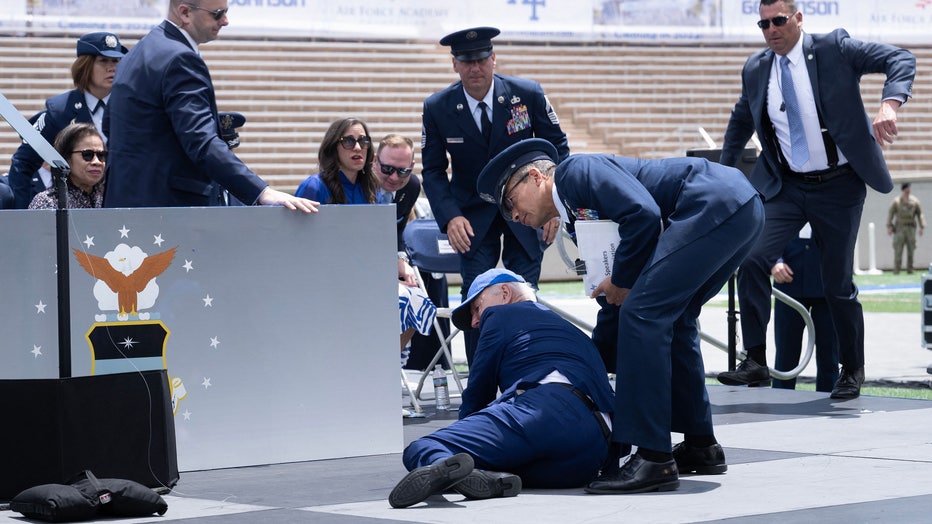 US President Joe Biden is helped up after falling during the graduation ceremony at the United States Air Force Academy, just north of Colorado Springs in El Paso County, Colorado, on June 1, 2023. (Photo by BRENDAN SMIALOWSKI/AFP via Getty Images)
The oldest president in U.S. history, Biden's age has come into focus as he embarks on his reelection campaign. He would be 82 on Inauguration Day in January 2025, and 86 at the end of a second term.
READ MORE: Who is running for president in 2024? Meet the candidates
Biden's personal doctor said after the president's most recent physical exam in February that Biden "remains a healthy, vigorous 80-year-old male, who is fit to successfully execute the duties of the Presidency." Dr. Kevin O'Connor also documented the president's stiffened gait, which O'Connor said was the result of spinal arthritis, a previously broken foot and neuropathy in the Biden's feet.
Biden has stumbled before going up the stairs and onto Air Force One and he once got caught up in his bike pedals while stopping to talk to reporters near his home in Rehoboth Beach, Delaware.
He is far from the first national political figure to stumble in public.
President Gerald Ford fell down while walking off Air Force One in 1975. GOP Sen. Bob Dole of Kansas, the GOP presidential nominee at the time, fell off the stage at a campaign rally in 1996. President Barack Obama tripped walking up the stairs to a stage at a 2012 event. "I was so fired up, I missed a stair" he told the crowd.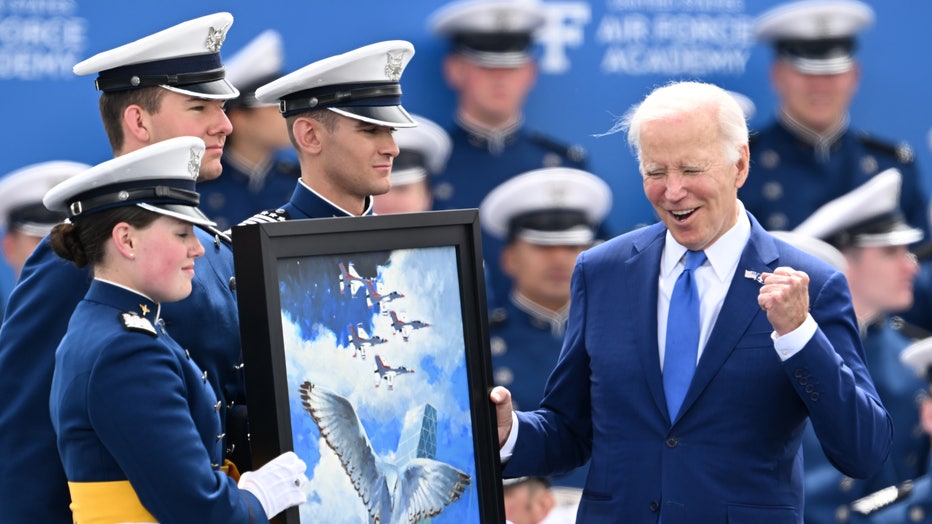 United States President Joe Biden is given a gift by the class of 2023 as a thank you him for giving the commencement address at the Air Force Academy graduation at Falcon Stadium on June 1, 2023 in Colorado Springs, Colorado. (Photo by RJ Sangosti/M
President Donald Trump's gingerly walk down a ramp at the 2020 West Point commencement also sparked concerns about his health.
In his commencement speech, Biden thanked the Air Force Academy graduates for choosing "service over self" but said they now have the "great privilege" of leading in a world that will only get more confusing in the years to come.
READ MORE: Biden gets low approval ratings on economy, guns and more in latest AP-NORC poll
"Graduates, you made a noble choice to lead a life of service," Biden told more than 900 cadets. "Now you also shoulder a great privilege and a mighty responsibility. Leadership, yeah leadership."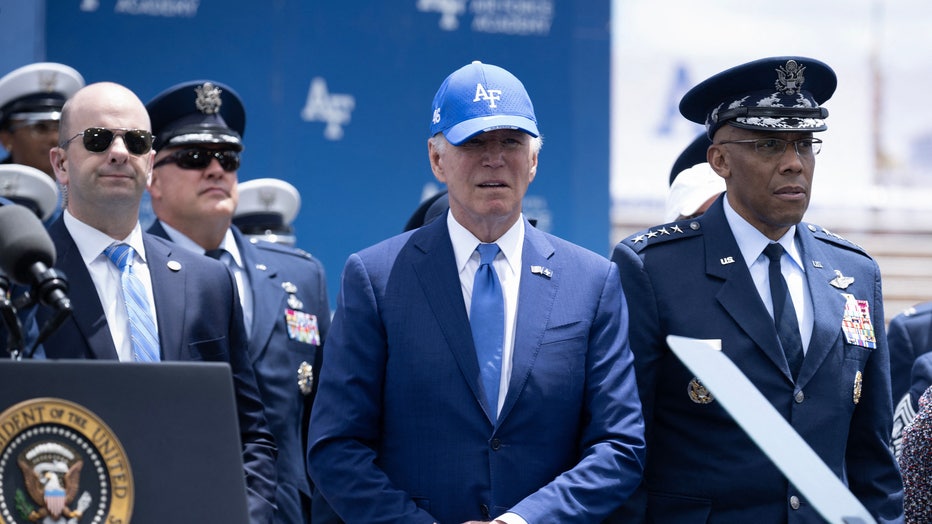 US President Joe Biden waits to watch the Thunderbirds after falling during the graduation ceremony at the United States Air Force Academy, just north of Colorado Springs in El Paso County, Colorado, on June 1, 2023. (Photo by Brendan Smialowski / AF
"In the years ahead, your airmen and guardians are going to look to you for guidance and inspiration because the world is going to get more confusing," he added. "They'll put their trust in you. You, in turn, must strive to always be worthy of their confidence."
The Associated Press contributed to this report.