Atlanta shooting: Deion Patterson arrested, charged with murder after multi-county manhunt
ATLANTA - Deion Patterson, the 24-year-old suspect who police say opened fire at Midtown Atlanta's Northside Hospital will not face a judge the day after he was arrested in Cobb County.
Patterson now faces four counts of aggravated assault and one count of murder. He's currently booked into the Fulton County Rice Street Jail is and being held in the jail's medical observation unit.
Officials have confirmed with FOX 5 that Patterson was scheduled to go before a Fulton County judge at 11:30 a.m. Thursday. He has since waived his appearance.
Police say Patterson fired multiple shots in the waiting room of an Atlanta medical practice around noon Wednesday - leading authorities to swarm the Midtown neighborhood shortly search of the shooter.
Using surveillance video, authorities say they identified the suspect as Patterson, who was discharged from active duty by the Coast Guard in January 2023. 
RELATED: Victims of the Midtown Atlanta hospital shooting identified
Cobb County Police Chief Stuart VanHoozer said while technology played a very instrumental role in tracking Patterson, he also credits the timeliness of his capture to the hardworking people analyzing footage and looking for clues.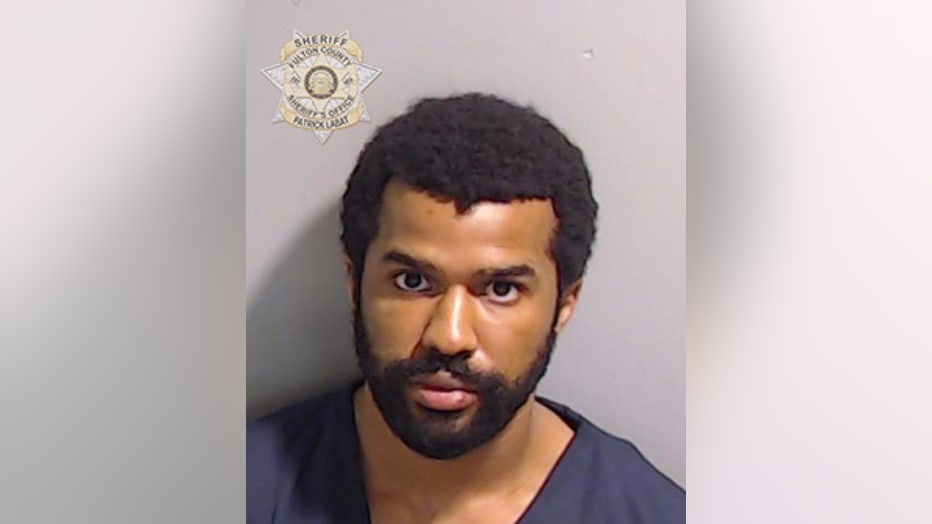 Deion Patterson (Fulton County Sheriff's Office)
"We had a lot of clues, real-time center and Flock, and had a pretty good instinct on where he was," he said. 
VanHoozer said an operator in Cobb County's Real Time Crime Center saw a 911 call come in that they suspected to be the gunman. The operator shared that information with officials who were able to track the caller down to a specific location. From there, a plainclothes officer with the Cobb County Sheriff's Violent Crime Bureau saw and made contact with the suspect at the Waterford Place condo complex near Truist Park as uniformed officers closed in and made the arrest. 
Patterson was apprehended without incident. Officials say he was armed when he was arrested.
"He will be charged and stand trial for his crimes," Atlanta Mayor Andre Dickens said at a press conference after Patterson was taken into custody.
Calling the events "traumatic" for the metro Atlanta area, Dickens stressed the importance of police training and expressed his desire for tougher gun laws.
"I hope the city, the region, rests easy that he is in custody, but I also hope that we will stay vigilant to continue to look at a future where individuals who shouldn't have a gun in possession won't have one, and also that individuals are brought to justice, and also that we deal with these things that are mental health or easy access to guns," Dickens said.
While rumors circulated revolving around the suspect's mental health status, Atlanta Deputy Chief Charles Hampton said the department would not be releasing any information regarding that. He did, however, confirm the suspect was at Midtown Atlanta's Northside Hospital Wednesday for an appointment.
Atlanta police said Patterson was only inside the hospital for two minutes before he left on foot. Once Atlanta Police confirmed he was no longer in the Midtown area, they lifted a shelter-in-place advisory and contacted outside law enforcement. They have since confirmed a video circulating online showing a man on a roof of a building in Midtown was not a video of the suspect.
FULL PRESS CONFERENCE
RELATED: What we know about the suspect in the Midtown Atlanta active shooting
Atlanta Chief of Police Darin Schierbaum released the following information during a 3 p.m. press briefing:
Schierbaum said they received a call about a shooting inside a medical building in the 1100 block of Peachtree NW shortly after noon. Police soon discovered that five people had been shot in the waiting area of the building. The five victims that were shot were a 38-year-old female, a 39-year-old female, a 71-year-old female, a 56-year-old female, and a 25-year-old female.  Schierbaum did not reveal if the victims were patients or employees.
Wednesday night, the Fulton County Medical Examiners' Office identified the deceased victim as 38-year-old Amy St. Pierre of Atlanta, an employee at the Centers for Disease Control and Prevention. The next day, arrest warrants for the suspected shooter as revealed the four other victims as Lisa Glynn, Georgette Whitlow, Jazzmin Daniel and Alesha Hollinger.
Schierbaum also revealed that the suspect's mother was with him at the time of the shooting. She was not injured and the family is cooperating with police, said the police chief.
After the shooting, the suspect apparently carjacked a vehicle near 14th and Williams street after the shooting. Initially, police believed they found the carjacked vehicle in the Smyrna area at a school. However, that was not the case. Cobb County Police Department tweeted at about 3:30 p.m. that the suspect may be in Cobb County. They advised residents that portions of Cobb County that border Atlanta may see heavier than normal presence.
Cobb County Police then tweeted at 3:49 p.m. that they are searching near Truist Park. During the search, they closed roads in the area. At around 4:30 p.m., they said reports of shots fired in the 200 block of Galleria Parkway were a false alarm. During a briefing at 6 p.m., Cobb County Police said that images of the suspect and the carjacked vehicle were captured by a Department of Transportation camera in their area around 12:30 p.m. However, they did not see those images until around 2:30 p.m. The stolen vehicle was recovered in the area. 
RELATED: Reactions to Wednesday's shooting of 5 people in Midtown Atlanta
Multiple police agencies participated manhunt for the shooter, including the GBI, FBI, Secret Service, Georgia Tech police officers, Cobb County Police, Atlanta Public Schools Police and others. 
(Atlanta Police Department)
Northside Hospital confirmed that the shooting took place in their Midtown location.
Northside Medical Midtown then announced it will be closed on May 4.
According to Grady Memorial Hospital, they are treating the four gunshot patients. Two of the victims were taken into surgery immediately upon arrival. As of 6 p.m., both patients were out of surgery and are recovering in the intensive care unit. The third patient was treated by interventional radiology to repair blood vessels and is also in the intensive care unit. The fourth person was treated in the Trauma Center and is stable. The first three patients are still in serious condition. 
Atlanta Public Schools sent the following message to parents and families of students on Wednesday afternoon: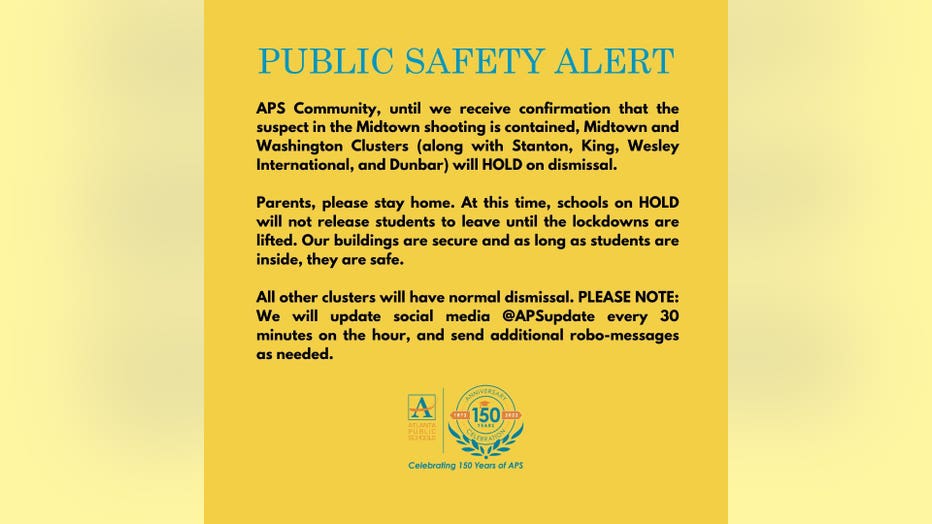 Georgia Tech also sent a message to its students, encouraging students to reschedule any exam they may have missed on Wednesday afternoon because of the shooting.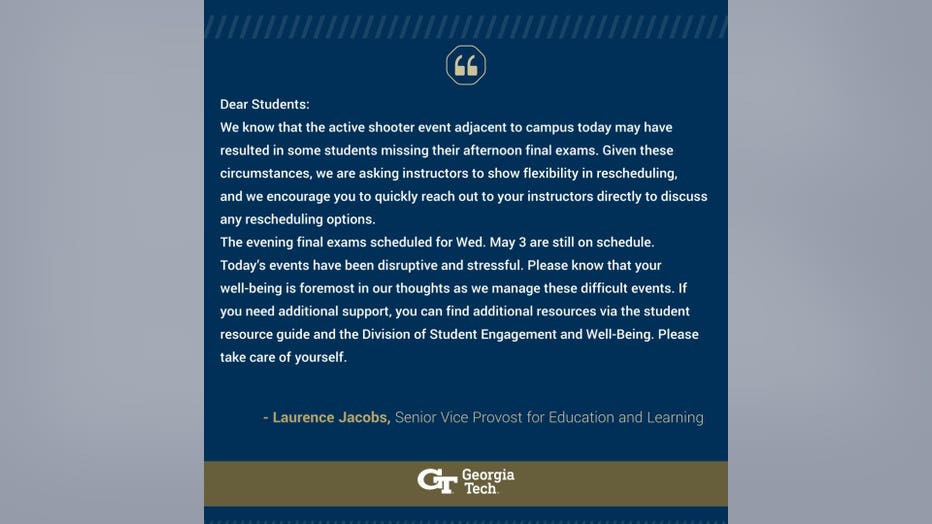 Crime Stoppers offered a reward of up to $10,000 to anyone who can provide information that will lead to the arrest and indictment of the suspect. 
During today's White House press briefing, White House press secretary Karine Jean-Pierre told reporters that President Joe Biden and Vice President Kamala Harris are aware of and are following news about the shooting.
Calling the situation "very fluid," Jean-Pierre said that the administration is urging Atlanta residents to follow instructions from local officials and keep safe.
Atlanta Mayor Andre Dickens tweeted that he was in close contact with Atlanta Police.
This story is developing. Check back for updates. If you have additional information, pictures, or video email newstipsatlanta@fox.com.