Women's World Cup stars juggle parenthood while playing on the world stage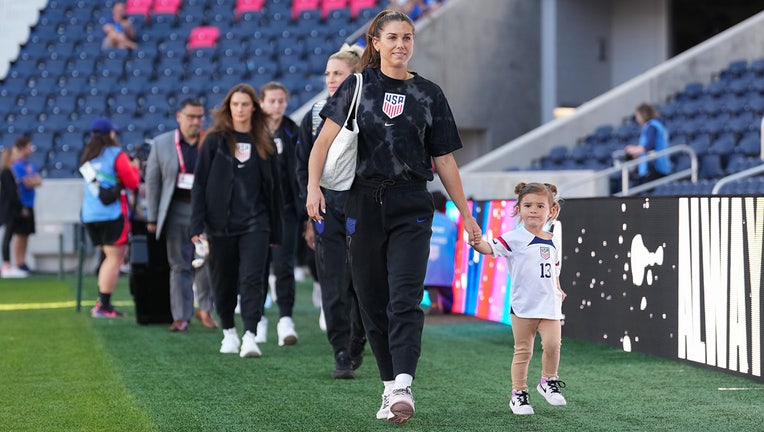 article
Alex Morgan was speaking to reporters at the Women's World Cup when she had to excuse herself to Facetime her young daughter before the toddler's bedtime back home in the United States.
Just another day for a working mom.
Forget about orange slices, players such as Morgan, Katrina Gorry of Australia and Cheyna Matthews of Jamaica are redefining what it means to be a "soccer mom."
There have been plenty of elite athletes who have also juggled parenthood, but the level of support the mothers are receiving while on the job at the Women's World Cup is improving.
Morgan's daughter, Charlie, has now joined her mother at the World Cup as the United States prepares for a Round of 16 match against Sweden on Sunday in Melbourne, Australia.
Morgan has been reflective about being both a parent and a player at soccer's biggest international tournament. In 2019, when the United States won its second straight World Cup trophy and fourth overall, now 3-year-old Charlie hadn't even been born.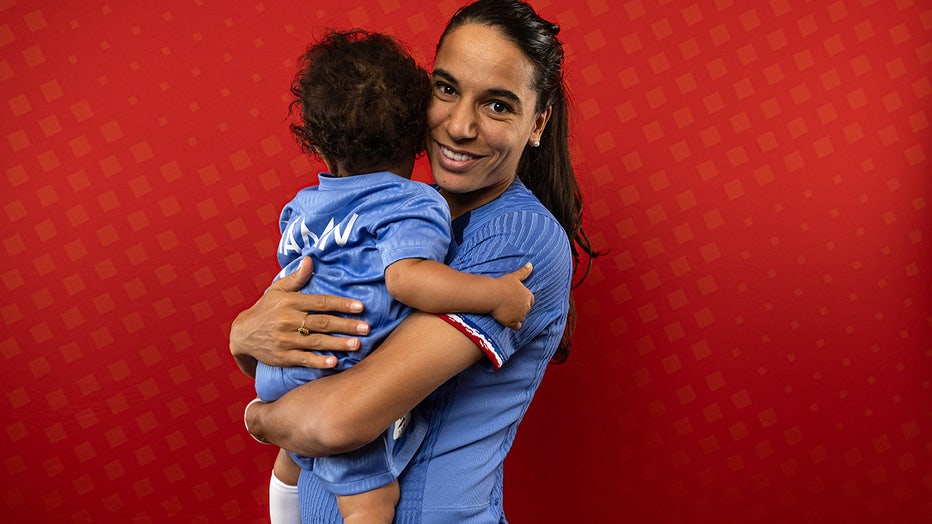 Amel Majri of France poses for a portrait during the official FIFA Women's World Cup portrait session on July 16, 2023 in Sydney, Australia. (Photo by Maddie Meyer - FIFA/FIFA via Getty Images)
Now that the American star has a daughter, she's had to balance her job with trying to lead the United States to an unprecedented third consecutive World Cup title.
"I have become a little bit more patient with my daughter and in life in general. But I think the biggest thing about it is that I get to bring my daughter with me. On all of these trips, I get to show her what mom does and surround her by just so many strong and confident women," Morgan said.
There are three moms on the U.S. team: Morgan, Crystal Dunn and Julie Ertz. Other moms at this World Cup include Konya Plummer of Jamaica, Amel Majri of France, Vanina Correa of Argentina and Melanie Leuopolz of Germany.
Morgan, Ertz and Dunn have all become mothers since winning the World Cup in 2019, and all three are benefitting from the battles that prior players fought to make sure that moms — and their kids — were supported while representing the United States abroad.
The U.S. women have enjoyed subsidized child care at tournaments for 25 years, but now, thanks to collective bargaining agreements that were struck last year with U.S. Soccer, the men have it, too. Those agreements guaranteed that both national teams were paid equally and received similar benefits.
"It was important to us and to the women that everything was equal, and we were very transparent about that," said goalkeeper Matt Turner, who brought his wife and son to the men's World Cup in Qatar late last year. "We're going to take advantage of the different benefits that the other team might have had."
Majri is the mother of a 1-year old daughter, Maryam, who accompanied her to a training camp in April. Her daughter's presence was supported by French coach Herve Renard.
"There needs to be organized facilities, with a nanny. It won't affect the team, and psychologically speaking, it's very important. In order for her to have peace of mind and to perform well, the two need to be associated," Renard said. "There is progress to be made in terms of assistance. We're going to manage what they do in the USA. Maybe one day we'll end up with four or five kids among us, and if things run smoothly, it won't be an issue."
In 2020, FIFA adopted rules to protect women who choose to become parents, including mandatory maternity leave of at least 14 weeks, and continued pay at a minimum of two-thirds of their salary. The rules also require clubs to make sure women are reintegrated after childbirth and that they have necessary medical support.
"No female player should ever suffer a disadvantage as a result of becoming pregnant, thus securing greater employment protection for women in football," FIFA said in announcing the new rules.
While all of the Americans have their kids with them at the World Cup, others choose to leave them at home.
"Being a mom and leaving them at home is hard, but it is obviously a personal decision to be here. They are enjoying it from home, they didn't ask to come," said Correa, Argentina's goalkeeper, and the mother of twins. "They have told me they are proud that I'm here. I know they are with me and it gives me the energy and drive to be here."
Moms at the World Cup are helping show that parenting and soccer can mix, but some are slow to catch on. A television commentator came under fire for his comments about Gorry, who had IVF treatments and gave birth to her daughter, Harper, in 2021.
"Certainly motherhood has not blunted her competitive instincts, that's for sure," the Australian broadcaster said during the Matlidas' tournament-opener against Ireland.
Ertz gave birth to son, Madden, last year and worked hard to get back in time for the World Cup. It was tough for Ertz because she had not played for the team since the 2021 Olympics because of injuries and her pregnancy.
"I think the truth is, I had no idea what my timeline was going to be where typically, like, obviously, pregnancy changes for your body changes it for so long versus like an injury, which usually has a timeline," she said.
Madden has a village caring for him at the World Cup, including his dad, Arizona Cardinals tight end Zach Ertz — and of course all his `aunts' on the U.S. team.
"Like anything else in life, you figure it out, and we're doing it together as a family," Julie Ertz said. "It's just a really cool opportunity to be able to share with them."