Women's World Cup: USA kicks off its hunt for a three-peat with a victory over Vietnam | July 21, 2023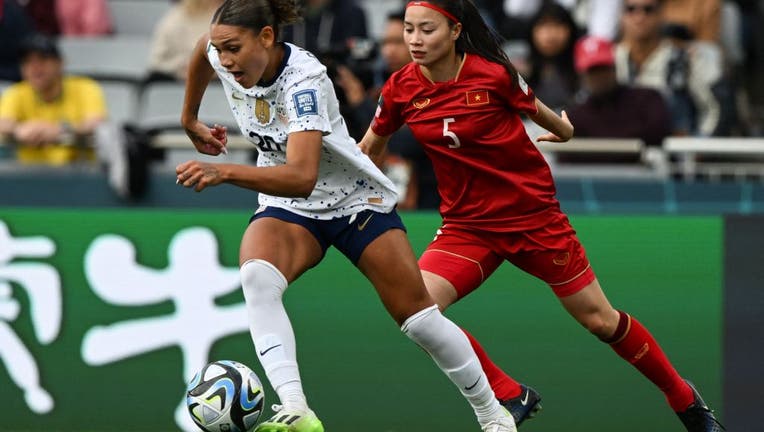 article
CHICAGO - The FIFA Women's World Cup only happens once every four years, and whether you're a soccer devotee or someone who just tunes in when the Cup comes around, you won't want to miss the action. Never fear: We've got you covered.
Every day through the Final on August 20, FOX Digital will be breaking down the details on all the can't-miss matches, players to watch and other essential details. First up: The quest for a three-peat begins!  
Watch the 2023 FIFA Women's World Cup only on FOX and FS1.
Women's World Cup matches on July 21, 2023
Day two features three matches, including one that has, as of this writing, already started. Time zones are weird!
Nigeria vs. Canada, 10:30 p.m. EST on July 20 - Final score: 0-0
          Watch the replay of Nigeria vs. Canada match here.
Philippines vs. Switzerland, 1 a.m. EST-Final score: Switzerland 2 Philippines 0
          Watch the replay of the Switzerland vs. Philippines match here.
Spain vs. Costa Rica, 3:30 a.m. EST-Final score: Spain 3 Costa Rica 0
          Watch the replay of the Spain vs. Costa Rica match here.
In addition to those three matches, the first match of the next day will be airing while it's still the 21st stateside – and it's the headliner!
USA vs. Vietnam, 9p.m. EST (FOX, FOX Sports app) - Final score: United States 3 Vietnam 0
Watch the replay of the USA vs. Vietnam match here. 
For details on the results of concluded matches, scroll down to the 'Soccer spoilers' section. 
Match spotlight: USA vs. Vietnam
Sophia Smith scored twice for the United States in the opening half and the two-time defending champions kicked off the Women's World Cup with a 3-0 victory over tournament first-timers Vietnam on Saturday.
Lindsey Horan added a goal for the favored Americans, who have won four World Cups overall and are vying for an unprecedented three-peat in this year's tournament.
Vietnam drew comparisons to Thailand, the team the Americans routed 13-0 in in their 2019 World Cup opening game. But Vietnam was surprisingly resilient, kept the game closer than expected, and goalkeeper Tran Thi Kim Thanh stopped Alex Morgan's first-half penalty attempt.
Morgan was knocked to the field clutching her calf after trying for the rebound off her missed penalty, but she quickly returned. It was just her second penalty miss for the United States.
Smith, one of 14 Americans playing in their first World Cup, showed why she was named both U.S. Soccer's Player of the Year and the National Women's Soccer League MVP last year with her two first-half goals.
RELATED: 8 teams that could stop USWNT from three-peating at 2023 World Cup
Players to watch on July 21, 2023
USA: Sophia Smith, left-winger/striker
This 23-year-old superstar is likely to become an even bigger name after her first Cup appearance. Smith led the Portland Thorns to a 2022 championship, and was named MVP of the National Women's Soccer League. FIFA calls her "one of the best and most complete forwards on the planet," while FOX Sports put it this way: "She is sensational with the ball at her feet and a superior finisher. This is her first World Cup, and she is primed for a breakout on the global stage."
Philippines: Sarina Bolden, forward
FIFA calls this seasoned player a "cold-blooded goalscorer with razor-sharp instincts inside the box" with "impressive physical strength." She's also got something of a home-turf advantage: When not repping her home country, Bolden plays for Australia's Western Sydney Warriors.
Switzerland: Leah Walti, midfield
The Swiss captain had to fight her way to this WWC appearance, thanks to a serious injury in May. But the Arsenal star is fit and ready to propel her team to victory; FIFA notes that as the "link-up player between defense and attack, it will be up to Walti to thread passes through to her team-mates as well as stymying opposition attacks before they happen in the middle of the park."
Nigeria: Asisat Oshoala, forward
The player FIFA calls "Africa's all-time female GOAT" is not one to sleep on: the versatile Barcelona superstar and Ballon d'Or nominee has championship wins in her past, determination to spare and a mighty skill set. She'd been named CAF African Women's Footballer of the Year a record five times, and FIFA notes that she's somehow averaged roughly a goal per game in her four-plus seasons in Barcelona. Coach Randy Waldrum put it this way to FIFA: "When you have Oshoala, you have a chance against any team."
Canada: Christine Sinclair, forward
FOX Sports, who says the 40-year-old Canadian captain is "one of the greatest soccer players of all time," has some mind-bending stats that should make her importance clear: She "currently holds the record — in men's and women's soccer — with 190 international goals in more than 300 matches." She's also hoping to become the first player, male or female, to score in six editions of the Cup (Brazilian legend Marta is chasing the same record). She and her team are also coming off a gold medal in the 2021 Summer Olympics. Icons have a tendency to be iconic!
Vietnam: Huynh Nhu, forward
If Vietnam beats the odds and makes it out of the group stage in their debut Cup appearance, odds are it'll be thanks to their lightning-fast team captain. FIFA notes that the Lank Vilaverdense star "is her country's all-time record goalscorer – she has netted at a rate of almost a goal per game at international level – and last year became first female Vietnamese player to join a professional European club."
Spain: Alexia Putellas, midfielder
This back-to-back Ballon d'Or winner is one of the best players on the planet, period. FIFA calls her a "skillful playmaker [who is] equipped with a mesmerizing left foot and an unerring ability to decisively affect matches by creating viable scoring opportunities for herself and her team-mates," while FOX Sports says that, like Beyoncé, Britney and Cher, "her one-name status as 'Alexia' is well-earned."
Costa Rica: Raquel Rodriguez Cedeno, forward
Portland Thorns star, Cedeno, a.k.a. "Rocky," is her country's all-time leading scorer. FOX Sports says she's "in the prime of her career and a game-changer in central midfield," while FIFA calls her "the undisputed star of the Tica squad."
Where is the 2023 Women's World Cup taking place?
The eyes (and cameras) of the world have turned toward host countries Australia and New Zealand. 
In what time zone is the Women's World Cup taking place?
Well, there's more than one time zone involved, as the battles for the Cup will take place in 10 stadiums in two countries. But suffice it to say that you're looking at times that are anywhere from 12 hours (for matches in Perth, Australia) to 16 hours (all New Zealand-based matches) ahead of EST. 
That means some matches – like Nigeria vs. Canada, the first match of day two (July 21) – will be played early in the day locally but air on what's technically the evening before in the U.S. (in this case, July 20). Who said there's no such thing as time travel?
RELATED: Who could be the breakout star for this young, talented USWNT squad?
Where can you stream the FIFA Women's World Cup?
We're living in the future, baby! All matches will be live-streamed on FOXSports.com and via the FOX Sports app, and full replays will also be available. So if you're not into watching soccer at 3 a.m., you're covered! 
How can I watch the FIFA Women's World Cup on live TV?
The FIFA Women's World Cup will air on FOX and FS1. The complete schedule awaits your perusal at FOXSports.com. In addition to all FIFA Women's World Cup matches, head to your preferred FOX platform for game highlights, replays, stats, player stories, analysis and more. 
How does the elimination round work in the Women's World Cup?
Good question! As with the men's World Cup, it's a wee bit complicated. The 32 qualifying teams have been split into eight groups, each assigned a letter (A-H). In the first round, the groups compete against each other: each "side" (team) will participate in three in-group matches. A win is worth three points, a draw worth one point and a loss is worth (you guessed it) zero points. 
At the end of the round, the top two teams (as determined by point total) in each group proceed to the knockout round. That's 16 teams total. 
RELATED: 2023 Women's World Cup betting primer: How to bet on soccer
When does Team USA play next?
After their showdown with Vietnam, Morgan, Horan and company will square off against the Netherlands on July 27.
Soccer spoilers: day two results
Canada vs. Nigeria: Olympic champion Canada was held to a 0-0 draw by Nigeria in its Women's World Cup opener after Nigerian goalkeeper Chiamaka Nnadozie made several key saves, including one on a penalty from Christine Sinclair. 
It was a crucial miss for the Canadian veteran, who is the leading all-time scorer in international soccer, men or women, with 190 goals. Sinclair lined up for the shot in the 50th minute but couldn't beat a diving Nnadozie.
Switzerland vs. Philippines: Switzerland forward Ramona Bachmann converted a penalty kick to put her team up 1-0 ahead of the break. Midfielder Seraina Piubel helped the Swiss jump out to a 2-0 lead in the second half.  Forward Alisha Lehmann tried to make it 3-0 late in the second half, but her shot was blocked, and things ended there.
Spain vs. Costa Rica: Spain's pressure paid off, as a cross bounced off a Costa Rica defender's boot and into the net for an own goal giving Spain a 1-0 lead. Spain then pushed its lead to 2-0 on a left-footed blast from Aitana Bonmati. Then Spain's Esther Gonzalez made it 3-0, collecting a loose ball and shoving it into the net.
USA vs. Vietnam: Sophia Smith scored twice for the United States in the opening half and the two-time defending champions kicked off the Women's World Cup with a 3-0 victory over tournament first-timers Vietnam on Saturday. 
Tune back to this section for results of future matches!
Watch the 2023 FIFA Women's World Cup only on FOX and FS1.