Women's World Cup: Colombia and France advance to quarterfinals | August 8, 2023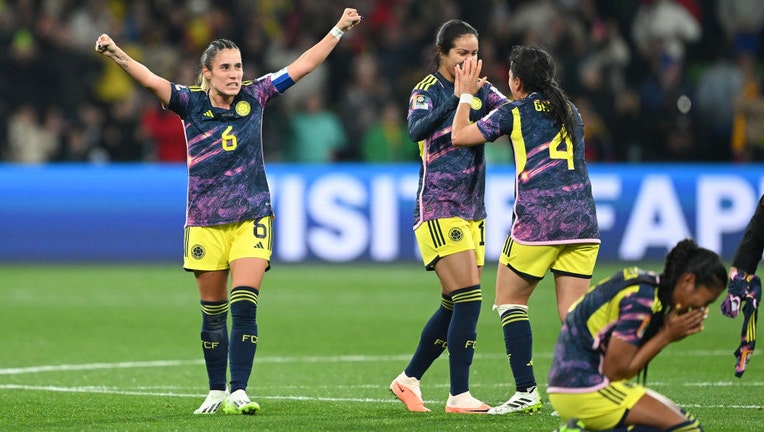 article
CHICAGO - The FIFA Women's World Cup only happens once every four years, and whether you're a soccer devotee or someone who just tunes in when the Cup comes around, you won't want to miss the action. Never fear: We've got you covered.
Every day through the Final on August 20, FOX Digital will be breaking down the details on all the can't-miss matches, players to watch and other essential details. What's next: Two countries poised to make history square off, while Morocco's remarkable debut World Cup team comes crashing into France's Les Bleues. 
Watch the 2023 FIFA Women's World Cup only on FOX and FS1.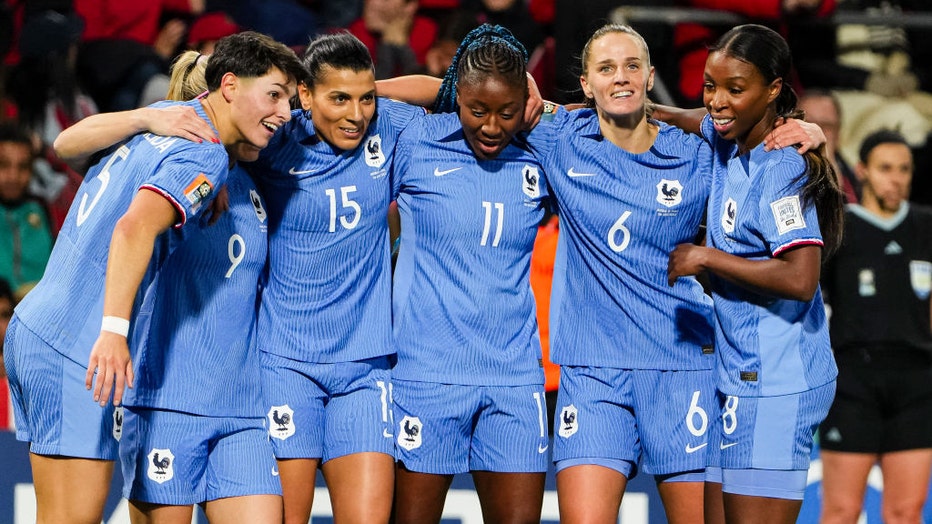 Kadidiatou Diani of France (C) celebrating her goal with her teammates during the FIFA Women's World Cup Australia & New Zealand 2023 Round of 16 match between France and Morocco at Hindmarsh Stadium on August 8, 2023 in Adelaide, Australia.
Women's World Cup matches on August 8, 2023
Day 20 of the 2023 FIFA Women's World Cup features two matches.
Colombia (winner of group H)  vs. Jamaica Final score: Colombia 1 Jamaica 0
         Watch the replay of Colombia vs. Jamaica here 
France (winner of group F) vs. Morocco Final score: France 4 Morocco 0
         Watch the replay of France vs. Morocco here 
For details on the results of concluded matches, scroll down to the 'Soccer spoilers' section. 
RELATED: Women's World Cup power rankings: Sam Kerr, Australia jump into top 5
Match spotlight: Colombia vs. Jamaica 
It will only get more difficult to pick just one Women's World Cup match to spotlight as the 2023 tournament continues – but even in the round of 16, it's a tough job. All that is to say that while you'll read more about Colombia vs. Jamaica in just a moment, it's worth noting that France, currently ranked fifth in the world by FIFA, is facing off against Morocco, ranked 72nd – and while France is highly favored to win, the Atlas Lions have already notched two Ws in this tournament, losing only to the since-eliminated German team. Of the eight countries debuting in the 2023 Women's World Cup, only Morocco remains. A win here would be a huge upset – and a heck of a Cinderella story. 
RELATED: Colombia, Jamaica and Morocco seek quarterfinal spots at Women's World Cup
While Colombia and Jamaica aren't new to the World Cup, both teams are looking to make a little history of their own: Neither country has ever made it past the round of 16. And if you think that sounds like a recipe for a dull match, think again. 
"Two of the most dynamic scorers in the game meet Tuesday when Jamaica plays Colombia," writes the Associated Press of the matchup. Colombia's Las Cafeteras have "sensational youngster Linda Caicedo, 18," writes FOX Sports of the star striker, "[who] has scored in both games for Colombia, with her strike against Germany being a strong contender for 'Goal of the World Cup.'"
 Meanwhile, Jamaica's Reggae Girlz have Manchester United's Khadija "Bunny" Shaw, an electrifying player to watch – and Jamaica has yet to concede a single goal in this tournament.
Four great teams. Three poised to make history. Sounds like the makings of a good day for sports fans.
Players to watch on August 8, 2023
Colombia: Linda Caicedo, forward
Caicedo's stunning World Cup performance this year has been dimmed by general concerns over her health. One video showed Caicedo dropping to the ground while grabbing her chest at one point during the tournament. But head coach Nelson Abadía said it was a culmination of stress and fatigue, adding there was "no problem." There was a similar explanation on Sunday after another incident involving Caicedo. Let's hope for more exhilarating play – and no more worrying health moments.
Morocco: Nouhaila Benzina, defender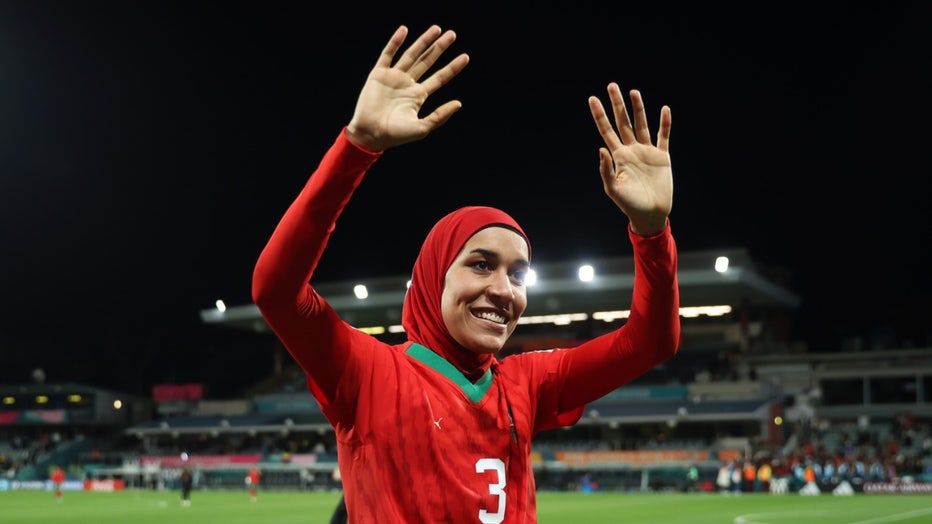 PERTH, AUSTRALIA - AUGUST 03: Nouhaila Benzina of Morocco applauds fans after advancing to the knock out stage after the 1-0 victory in the FIFA Women's World Cup Australia & New Zealand 2023 Group H match between Morocco and Colombia at Perth Re (Getty Images)
When Nouhaila Benzina stepped onto the field for Morocco's first match of the Women's World Cup against Germany, she made history — and not just as a player for the first Arab or North African nation ever in the tournament. The 25-year-old defender was the first player to wear the Islamic headscarf at the senior-level Women's World Cup.
France: Wendie Renard, defender
The captain of the French, the imposing Renard (she's over six feet tall!) will be participating in her fourth World Cup, with an impressive 34 goals to her name and an even-more staggering 144 appearances with Les Bleues. She's a towering figure – and not just because she's so darned tall. Expect big things from le capitaine.
Jamaica: Khadija "Bunny" Shaw, forward
A record-smashing star with Manchester United, this seemingly inexhaustible athlete "combines aerial prowess with a killer instinct in front of goal, an ability to play off either foot and, with nine assists to her name during the 22/23 campaign, is more than capable of bringing others into play." She's been one of the breakout stars of the tournament so far.
RELATED: Golden Boot race tracker: 2023 Women's World Cup top scorers
What teams are still in the 2023 Women's World Cup?
Advanced to quarterfinals
Spain
The Netherlands
Japan
Sweden
Colombia
England
France
What teams have been eliminated in the knockout phase of the 2023 Women's World Cup? 
Switzerland
South Africa
Norway
United States
Denmark
Nigeria
Jamaica
Morocco
Where is the 2023 Women's World Cup taking place?
The eyes (and cameras) of the world have turned toward host countries Australia and New Zealand. 
In what time zone is the Women's World Cup taking place?
Well, there's more than one time zone involved, as the battles for the Cup will take place in 10 stadiums in two countries. But suffice it to say that you're looking at times that are anywhere from 12 hours (for matches in Perth, Australia) to 16 hours (all New Zealand-based matches) ahead of EST. 
That means some matches – like Nigeria vs. Canada, the first match of day two (July 21) – will be played early in the day locally but air on what's technically the evening before in the U.S. (in this case, July 20). Who said there's no such thing as time travel?
RELATED: Who could be the breakout star for this young, talented USWNT squad?
Where can you stream the FIFA Women's World Cup?
We're living in the future, baby! All matches will be live-streamed on FOXSports.com and via the FOX Sports app, and full replays will also be available. So if you're not into watching soccer at 3 a.m., you're covered! 
How can I watch the FIFA Women's World Cup on live TV?
The FIFA Women's World Cup will air on FOX and FS1. The complete schedule awaits your perusal at FOXSports.com. In addition to all FIFA Women's World Cup matches, head to your preferred FOX platform for game highlights, replays, stats, player stories, analysis and more. 
How does the knockout phase work in the Women's World Cup?
Good question! It's a lot simpler than the knockout phase. From here on out, every match is a "get it done or go home" situation – a loss means it's the end of the line. 
But what does that mean in a sport that often ends in a tie, and in a tournament that's seen plenty of them? It still means every showdown is a must-win – it's just that the matches will last longer. Here's the exact rule, per FIFA: 
"In the knockout stages, if a match is level at the end of normal playing time, extra time shall be played. Extra time shall consist of two 15-minute periods, with an interval not exceeding five minutes before the first period of extra time begins and a short drinks break (interval) not exceeding one minute at half-time. The players shall remain on the pitch during both of these intervals. 
"If the score is still level at the end of extra time, kicks from the penalty mark shall be taken to determine the winner, in accordance with the procedure specified in the Laws of the Game."
In short, play continues for up to another 30 minutes, and if it's still tied at the end of that half-hour, it's time for penalty-kick-a-palooza.
RELATED: 2023 Women's World Cup betting primer: How to bet on soccer
When does Team USA play next?
In the Women's World Cup? 2027. 
Soccer spoilers: today's results
France vs. Morocco: France scored its first three goals early in the first half. Following her hat trick in the group stage finale, forward Kadidiatou Diani opened the scoring by netting a goal in the 15th minute. Kenza Dali added the second goal of the match in the 20th minute, before Eugénie Le Sommer scored in the 23rd minute.  Le Sommer added a second goal in the second half to seal the win for France and end Morocco's miracle run to the knockout round. 
Colombia vs. Jamaica: Colombia was able to continue its surprise run in the tournament when Catalina Usme scored the lone goal in the 51st minute, scoring off a cross. It was the first and only goal that Jamaica conceded in the tournament. The next opponent for Colombia is England, who defeated Nigeria in penalty kicks. The two nations will face off in the quarterfinals on Saturday.
Watch this space!
Watch the 2023 FIFA Women's World Cup only on FOX and FS1.