Women's World Cup: Sweden advances to play USA in round of 16 | August 2, 2023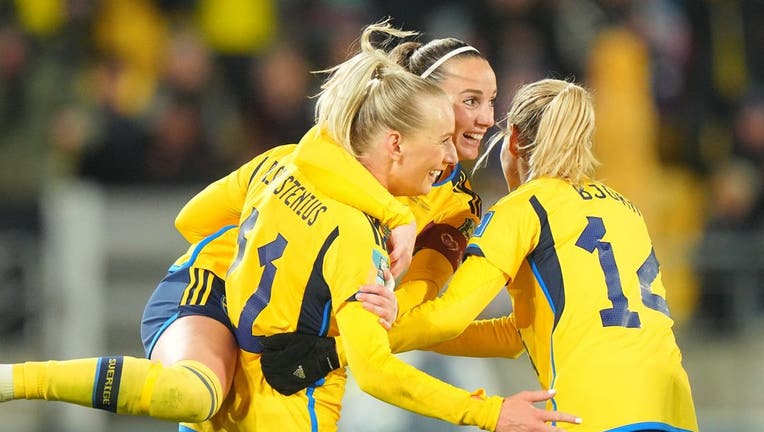 article
CHICAGO - The FIFA Women's World Cup only happens once every four years, and whether you're a soccer devotee or someone who just tunes in when the Cup comes around, you won't want to miss the action. Never fear: We've got you covered.
Every day through the Final on August 20, FOX Digital will be breaking down the details on all the can't-miss matches, players to watch and other essential details. What's next: Sweden looks to launch itself into the knockout phase with yet another victory. 
Watch the 2023 FIFA Women's World Cup only on FOX and FS1.
Women's World Cup matches on August 2, 2023
Day 14 of the 2023 FIFA Women's World Cup features four matches.
Argentina (0 wins, 1 loss, 1 draw)  vs. Sweden (2-0-0) Final score: Sweden 2 Argentina 0
          Watch the replay of Sweden vs. Argentina here 
South Africa (0-1-1) vs. Italy (1-1-0) Final score: South Africa 3 Italy 2 
          Watch the replay of South Africa vs. Italy here
Jamaica (1-0-1) vs. Brazil (1-1-0) Final score: Jamaica 0 Brazil 0
          Watch the replay of Jamaica vs. Brazil here
Panama (0-2-0) vs. France (1-0-1) Final score France 6 Panama 3 
          Watch the replay of Panama vs. France here 
For details on the results of concluded matches, scroll down to the 'Soccer spoilers' section. 
RELATED: Women's World Cup power rankings: USA falls after draw; Japan, Netherlands on top
Match spotlight: Argentina vs. Sweden
After a discouraging draw that nevertheless got Team USA through to the round of 16, it's time for fans of USWNT to look ahead toward the team's likeliest foes. Enter Sweden.
The Swedish side is poised to win group G, having already guaranteed itself a place in the knockout stages with its two wins (against Italy and South Africa). There's a chance that Italy could still take the top slot in the group, but it's unlikely – they'd need to best South Africa and Sweden would need to lose to Argentina, and even then they'd need to beat Sweden in the tiebreaker categories. 
RELATED: Women's World Cup Group scenarios: How each team advances to round of 16
And because the U.S. came in second to the Netherlands in group E after its draw against Portugal on Tuesday, it will next face the team that wins group G. Odds are, that'll be Sweden, the third-ranked team in the world and the sixth-ranked team (one ahead of the U.S.) in the FOX Sports power ranking. 
So when the Swedes square off against the Argentines, it'll determine who the U.S. faces first in the round of 16. And it's also a chance for fans to get a good luck on what's likely to be the first team to stand in the way of the three-peat. Get your coffee ready – the match starts at 3 a.m. EST, airing only on FOX. 
RELATED: 8 teams that could stop USWNT from three-peating at 2023 World Cup
Players to watch on August 2, 2023
Argentina: Vanina Correa, goalkeeper
Called "an undisputed pioneer of Argentinian women's football" by FIFA, this Argentine vet has stopped a lot of goals in her two decades of play for the Argentine women's national team ("Las Albicelestes"). This is her third cup appearance; during the 2019 tournament in France, she kept the English to a single goal and led her team to a draw with the impressive Japanese side. There will be a lot of talk of legendary players making what could be their final Cup appearances throughout this tournament; when you hear talk of Rapinoe, Sinclair and Marta, know that Correa belongs in that conversation.
Sweden: Stina Blackstenius, striker
"I always say that one of my best defenders is our center forward," FIFA quotes coach Peter Gerhardsson as saying of this versatile Arsenal star. The player soccer's governing body calls "the most potent attacker in Sweden's senior side" has dealt with some injuries of late, but "iif she can arrive at the Women's World Cup fit and firing, Sweden's opponents are all but certain to suffer the consequences."
South Africa: Hildah Magaia, forward
The player called "Breadwinner" after racking up two goals to guarantee South Africa's first-ever WAFCON championship, Magaia also shot home a goal in Banyana Banyana's tournament opener against the formidable Swedish side. While Sweden eventually struck back, finishing the match 2-1, South Africa's strong showing speaks well of the team's future – especially where their fiery forward is concerned.
Brazil: Marta, forward
Legendary Brazilian footballer Marta (one name only, like Beyoncé or Cher) is making her sixth Women's World Cup appearance in 2023. Like Megan Rapinoe, she's announced that the 2023 Cup will be her last. She has yet to win it all for Brazil, however, and that sets the stage for a Lionel Messi-esque storybook triumph. That Cup will be the main thing she's hunting in this tournament – but don't be surprised if she manages to smash a few records along the way.
France: Wendie Renard, defender
The captain of the French, the imposing Renard (she's over six feet tall!) will be participating in her fourth World Cup, with an impressive 34 goals to her name and an even-more staggering 144 appearances with Les Bleues. She's a towering figure – and not just because she's so darned tall. Expect big things from le capitaine.
What teams are in the next round of the 2023 Women's World Cup?
All group matches played 
Switzerland (won group A)
Norway
Australia (won group B)
Nigeria
Jamaica
France
South Africa
Japan (won group C)
Spain
England (won group D)
Denmark
The Netherlands (won group E)
United States
Guaranteed to advance with one match remaining
Sweden
What teams have been eliminated from the 2023 Women's World Cup? 
All group matches played 
New Zealand (first host nation eliminated in WWC history)
Philippines 
Canada (first reigning Olympic Champion to not advance to the knockout stage in the following Women's World Cup)
Ireland
Zambia
Costa Rica
China
Haiti
Vietnam
Portugal
Brazil
Cannot advance with one match remaining
Panama
Where is the 2023 Women's World Cup taking place?
The eyes (and cameras) of the world have turned toward host countries Australia and New Zealand. 
In what time zone is the Women's World Cup taking place?
Well, there's more than one time zone involved, as the battles for the Cup will take place in 10 stadiums in two countries. But suffice it to say that you're looking at times that are anywhere from 12 hours (for matches in Perth, Australia) to 16 hours (all New Zealand-based matches) ahead of EST. 
That means some matches – like Nigeria vs. Canada, the first match of day two (July 21) – will be played early in the day locally but air on what's technically the evening before in the U.S. (in this case, July 20). Who said there's no such thing as time travel?
RELATED: Who could be the breakout star for this young, talented USWNT squad?
Where can you stream the FIFA Women's World Cup?
We're living in the future, baby! All matches will be live-streamed on FOXSports.com and via the FOX Sports app, and full replays will also be available. So if you're not into watching soccer at 3 a.m., you're covered! 
How can I watch the FIFA Women's World Cup on live TV?
The FIFA Women's World Cup will air on FOX and FS1. The complete schedule awaits your perusal at FOXSports.com. In addition to all FIFA Women's World Cup matches, head to your preferred FOX platform for game highlights, replays, stats, player stories, analysis and more. 
How does the elimination round work in the Women's World Cup?
Good question! As with the men's World Cup, it's a wee bit complicated. The 32 qualifying teams have been split into eight groups, each assigned a letter (A-H). In the first round, the groups compete against each other: each "side" (team) will participate in three in-group matches. A win is worth three points, a draw worth one point and a loss is worth (you guessed it) zero points. 
At the end of the round, the top two teams (as determined by point total) in each group proceed to the knockout round. That's 16 teams total. 
RELATED: 2023 Women's World Cup betting primer: How to bet on soccer
When does Team USA play next?
Alex Morgan, Lindsey Horan and company next take the pitch at 5 a.m. EST on Sun August 6, against the winner of group G (most likely Sweden, possibly Italy). 
Soccer spoilers: today's results
Jamaica vs. Brazil: Jamaica has held Brazil to a 0-0 draw and advanced to the round of 16 of the Women's World Cup for the first time. It's the first time since 1995 Brazil has failed to advance out of the group stage. Both teams could've advanced to the next round with a win and both still had a chance to win Group F outright. 
Panama vs. France: While France was in control for much of the match, it was Panama that struck first. And it struck in a big way. In the second minute, Marta Cox scored arguably the goal of the tournament via a free kick from several yards outside the box, delivering Panama's first-ever goal in the Women's World Cup. But France turned the game around shortly after that. It scored five straight goals over the next five minutes of the match.  Kadidiatou Diani led the way for Les Bleus, scoring two penalty kicks to complete the hat trick. 
Sweden vs. Argentina: Sweden's second-string took care of business on Wednesday, securing a 2-0 victory against Argentina that comfortably clinched the top spot in Group G to set up an entertaining round of 16 clash against the United States on Sunday. The Scandinavian side had already guaranteed itself a place in the knockout round and also had a virtually unassailable hold on top spot, meaning head coach Peter Gerhardsson was able to rest nine of his starters with an eye on the USA matchup
South Africa vs. Italy: Thembi Kgatlana scored early in stoppage time to give South Africa a 3-2 win over Italy on Wednesday and a spot in the knockout rounds of a Women's World Cup for the first time. South Africa will play the Netherlands in a round of 16 match on Sunday.
Watch this space!
Watch the 2023 FIFA Women's World Cup only on FOX and FS1.