NBA to celebrate MLK Day with games, events Monday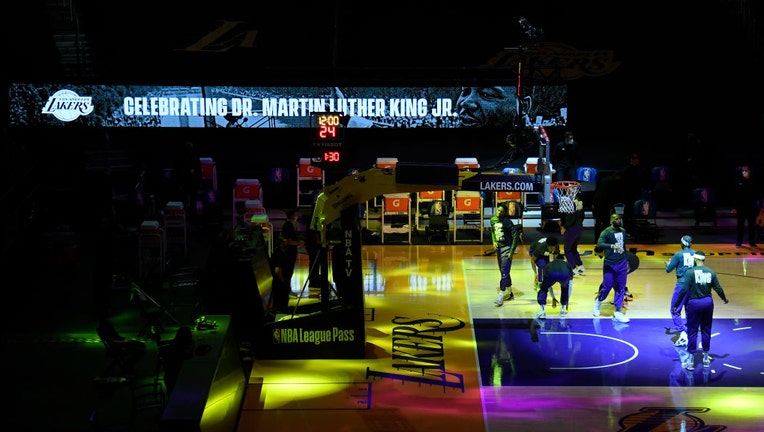 article
As the nation prepares to commemorate the life and legacy of the Rev. Martin Luther King Jr. with celebrations, the NBA will have its annual schedule of games on Monday, Jan. 16. 
The civil rights icon and Nobel Peace Prize winner dedicated his life to achieving racial equality. King would have celebrated his 94th birthday Monday. 
RELATED: What is King-Lee Day? History of the holiday still celebrated in 2 states
Nine NBA games are scheduled, including the traditional home games in King's birthplace of Atlanta and Memphis, where he was killed at the age of 39. The nationally televised games are listed below.
NBA MLK Day national television schedule
Boston Celtics vs. Charlotte Hornets-1 p.m. ET NBA TV
Indiana Pacers vs. Milwaukee Bucks-2:30 p.m. ET NBA League Pass
New Orleans Pelicans vs. Cleveland Cavaliers-3 p.m. ET NBA League Pass
Toronto Raptors vs. New York Knicks-3 p.m. ET NBA League Pass
Golden State Warriors vs. Washington Wizards-3 p.m. ET NBA League Pass
Miami Heat vs. Atlanta Hawks-3:30 p.m. ET TNT
Utah Jazz vs. Minnesota Timberwolves-4 p.m. ET NBA League Pass
Phoenix Suns vs. Memphis Grizzlies-6 p.m. ET TNT
Houston Rockets vs. Los Angeles Lakers-10:30 p.m. ET NBA TV
Several NBA teams will have celebrations and events on MLK Day. The Washington Wizards will wear "Now is the Time to Make Justice a Reality for All" warmup shirts. And the team will also honor Dr. King with a pregame panel, according to the team's website. 
RELATED: MLK holiday weekend to feature tributes, commitments to race equity
The Milwaukee Bucks are hosting a nonprofit fair during Monday's game inspired by King's "volunteerism and community advocacy," the Bucks shared on their website. In Memphis, the Grizzlies will host events honoring the legacy of King, and the Atlanta Hawks will have an event and a performance during the game as a tribute to the civil rights leader. 
This story was reported from Washington, D.C.