Megan Rapinoe's farewell begins with U.S. team's opening Women's World Cup match against Vietnam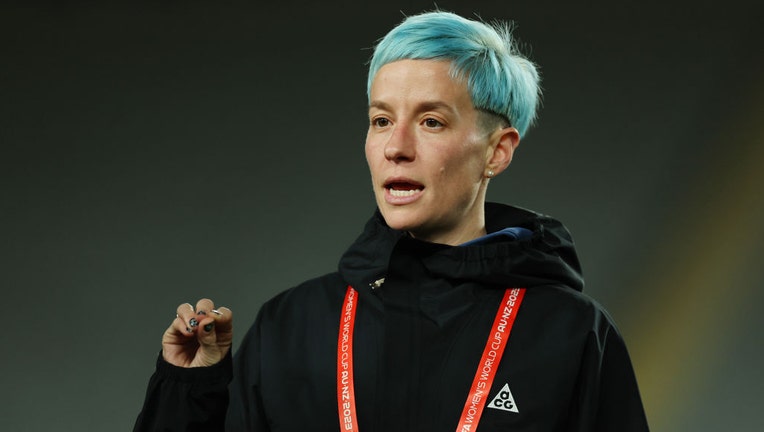 article
AUCKLAND, New Zealand - Megan Rapinoe's final run on the global stage begins Saturday when the United States opens its quest to win an unprecedented third consecutive Women's World Cup title.
The 38-year-old American said this month she will retire after the tournament — an announcement timed to help the squad avoid distracting questions about Rapinoe's future.
"I'm just grateful to be able to do it in this way," Rapinoe said. "I understand that it is incredibly rare for athletes of any stature to be able to go out in their own way, on their own terms, at the time that they want, in a way that feels really peaceful and settled for them."
Her final World Cup begins Saturday when the U.S. plays Vietnam in Auckland. Although it was Rapinoe's desire to help her teammates focus on the tournament and not her future, her looming sendoff has still weighed heavily on the squad.
RELATED: Women's soccer star Megan Rapinoe say she's retiring after this season
Kelley O'Hara nearly broke down in tears this week when asked what Rapinoe has meant to the team, and the game of soccer.
"I know that the world sees the Megan Rapinoe that the world sees, but we get to see her up close and personal, and the 'Pino' that the world sees is an incredible person and human and that is her. She brings a sense of humor and lightness, but intensity and empathy," O'Hara said. "She's one of a kind. There's never been one like her, there's probably never going to be one close to her.
"It's sad to think about this being her last, but she's done such incredible things for this team and for the world," O'Hara continued. "I hope that we all send her out on a high."
RELATED: Megan Rapinoe stands by her comments about trip to the White House
And midfielder Andi Sullivan said she's yet to accept that there will be a U.S. team that doesn't include Rapinoe whenever the Americans end the tournament.
"I don't really think about the team without her, and even as she announced it, she did it with such grace and humor and joy and light," Sullivan said. "We're trying to just soak up as much 'Pino' as we can."
Rapinoe isn't expected to have a major role for the Americans, and Vietnam should not be a tough challenge in its World Cup debut. Vietnam is one of eight nations making its first appearance at the tournament and has never played the United States.
RELATED: Megan Rapinoe named 2019 Sports Illustrated Sportsperson of the Year
The U.S., meanwhile, has never lost to an Asian nation in the World Cup.
Vietnam prepared for the tournament with a respectable 2-1 loss to Germany, but then lost to co-host New Zealand 2-0 and was routed by Spain 9-0.
England-Haiti
One of the tournament favorites faces a Women's World Cup newcomer when England plays Haiti in a Group D match in Brisbane, Australia.
England is the reigning European champion and trying to join Germany as the only teams to win the World Cup while holding that continental title. Germany did it in 2003 and 2007. The Lionesses have qualified for five consecutive World Cups and, along with the United States and Germany, is one of only three teams to make it to the quarterfinals in each of the last four tournaments.
England and the U.S. are the only two teams to reach the semifinals in the last two World Cups.
The match in Brisbane marks the first meeting between the two teams, and the Lionesses have never lost a group stage game against a CONCACAF team.
Haiti is another one of eight teams making its World Cup debut and qualified by beating Senegal and Chile in the inter-confederation playoffs. Haiti is led by Daelle Dumornay, who is also known as "Corventina." She scored both goals in Haiti's win over Chile.
Haiti is trying to become the first CONCACAF team to win a match in its first World Cup since the U.S. won all six games at the inaugural tournament in 1991. Four CONCACAF teams have tallied a combined three draws and nine losses in their first World Cups. And even though England is favored, the Lionesses have won only one of their last eight games against CONCACAF teams.
But Haiti arrived in Australia in a slump, losing four games over the last month.
Zambia-Japan
Zambia makes its Women's World Cup debut against Japan as a questionable participant in the elite tournament.
The Copper Queens qualified because of Africa's qualifying format. Because they are ranked 77th in the world, critics have questioned if the team would be here if it had competed for any other continental confederation.
But then Zambia surprised in a three-match tour through Europe, leading in every match while drawing against Switzerland before notching an upset win over Germany.
It's next challenge is a Group C match against Japan to be played in Hamilton, New Zealand. The group also includes Spain and Costa Rica.
Zambia has a long-term plan and only one player in its squad is over the age of 28. Barbra Banda, the captain and team's best player, is only 23 years old. She has scored 22 goals in 10 appearances for Zambia.
Zambia is not known for its defense and often seemed tired at the end of its recent matches, giving up eight goals on the European tour. The team also is shrouded in controversy amid reports coach Bruce Mwape has been accused of sexual misconduct. He has denied wrongdoing but FIFA is investigating.
Japan is clinging to its status as a powerhouse after winning the title in 2011 and making the final in 2015. Its squad is largely comprised of players that won the Under-20 Women's World Cup five years ago. More than half the roster is 24 or younger.
The veteran is 26-year-old Yui Hasegawa, a central midfielder who started each of Manchester City's 20 Women's Super League matches last season.
Denmark-China
China is making its third consecutive appearance at the Women's World Cup and opens with a Group D match in Perth, Australia, against Denmark, which is back in the tournament for the first time since 2007.
Denmark ended its 16-year absence by winning all eight of its qualifying games behind an impressive 40 goals scored. Denmark will have to continue that level of play to have a shot to advance out of its group — which also includes England and Haiti — for the first time since 1995.
China is making its eighth World Cup appearance after winning the Asian Cup for the ninth time. China, which has reached the knockout round in its previous seven World Cup appearances and lost in the 1999 final, has not won its opening match since 2007.
The Danes will be trying to go deep into the tournament as a send-off for coach Lars Søndergaard, who will end his nearly six-year run with the national team after the World Cup. He'll rely on captain Pernille Harder, who is making her tournament debut. Harder recently ended her time playing for Chelsea and signed with Bayern Munich.
China is led by striker Wang Shanshan, who was named the country's player of the year in April and scored five goals in the Asian Cup. She's also scored in a previous World Cup, with two goals in 2015.