Co-host Australia advances, knocking Canada out of the Women's World Cup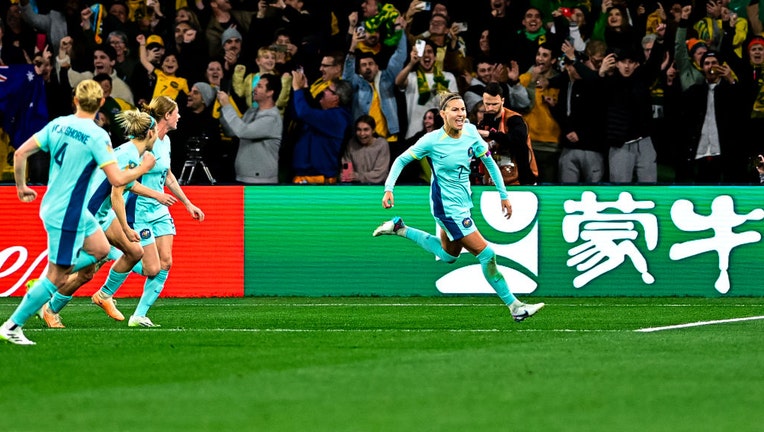 article
MELBOURNE, Australia - Haley Raso scored her first career Women's World Cup goals at just the right time, with a first-half brace in Australia's 4-0 win over Canada in Monday's pivotal group-stage finale.
The Matildas, who also got goals from Mary Fowler and Steph Catley in the second half, clinched the top spot in Group B and a place in the round of 16 at the expense of the Olympic champion.
Australia needed a win to guarantee progression to the next round. The co-hosts secured a resounding win. Canada, needing to avoid defeat to avoid elimination, is out of the tournament after slipping from the lead to third place in the group behind Australia and Nigeria.
After missing two group-stage matches with a calf injury sustained on the eve of the tournament, Australia's star striker Sam Kerr was available and on the bench but did not play in the match. The closest she got to the pitch was carrying drinks for her teammates.
RELATED: Women's World Cup: Australia, Zambia, Japan win their matches on Day 11 | July 31, 2023
In front of a vocal, pro-Australia crowd of 27,706 in Melbourne, Canada became the first reigning Olympic champion to be eliminated in group play in the subsequent Women's World Cup.
Australia's progression ensured this year's Women's World Cup would not be the first without a host nation in the knockout stage.
Key moments
Australia jumped out to an early lead in the ninth minute with Raso's first goal: a shot from the back post off a cross from Catley. Initially ruled offside, the goal held up under VAR review, and Raso fell to her knees to celebrate.
The Matildas responded to a disallowed goal from Australia forward Mary Fowler – ruled offside by VAR in the 34th minute – when Raso poked in a failed clearance after Kyra Cooney-Cross' corner, doubling Australia's lead in the 39th.
RELATED: Despite lack of time together, USA expects more cohesive unit vs. Portugal
Off another left-wing cross from Catley, Fowler added Australia's third goal in the 58th. She returned to the Matildas' starting lineup after missing their upset 3-2 loss to Nigeria last week with a mild concussion.
After two assists, Catley scored in stoppage time, burying her second penalty kick of the tournament after Canada midfielder Jessie Fleming fouled Katrina Gorry at the edge of the area.
Canada forward Adriana Leon, who scored Canada's clincher in a 2-1 win over Ireland, came off in the 64th minute with a head injury.
Why it matters
With its win over Canada and Nigeria's 0-0 draw with Ireland, Australia finished first in Group B with six points. Nigeria finished second with five points.
The Matildas, as hosts, stay alive in a tournament that has seen record-breaking ticket sales, especially in Australia's host cities and for the Matildas' matches. Home fans will look to see if Kerr will make her tournament debut in the round of 16.
Co-host New Zealand's 0-0 draw on Sunday with Switzerland eliminated the Football Ferns from knockout-round contention.
In their own words 
"Proud, and privileged. These players, the way they performed tonight … and all the talk about Sam (Kerr). The way they went out and played the game, stayed true to who they are, the pressing game, the attacking game. To beat Canada, the Olympic champions, 4-nil, in a do-or-die game." — Tony Gustavsson, Australia coach.
"The reality is setting in that this is the end of our World Cup road, but all credit to Australia. They were the better team tonight, a magnificent crowd. I've got no criticism of my players." Bev Priestman, Canada coach.
WHAT'S NEXT Australia will face the second-place finisher in Group D in the round of 16 next in Sydney. Tuesday's simultaneous matches between first-place England and China and Denmark against Haiti will determine Australia and Nigeria's round of 16 opponents. The Australians have seven days to prepare for their next match, giving captain Kerr more time to fully recover.
Canada returns home unable to win medals in back-to-back tournaments. Canada forward Christine Sinclair, 40, the leading international goal-scorer with 190, finishes her World Cup campaign without a goal in Australia. 
Cassidy Hettesheimer is a student at the University of Georgia's Carmical Sports Media Institute.