Despite lack of time together, USA expects more cohesive unit vs. Portugal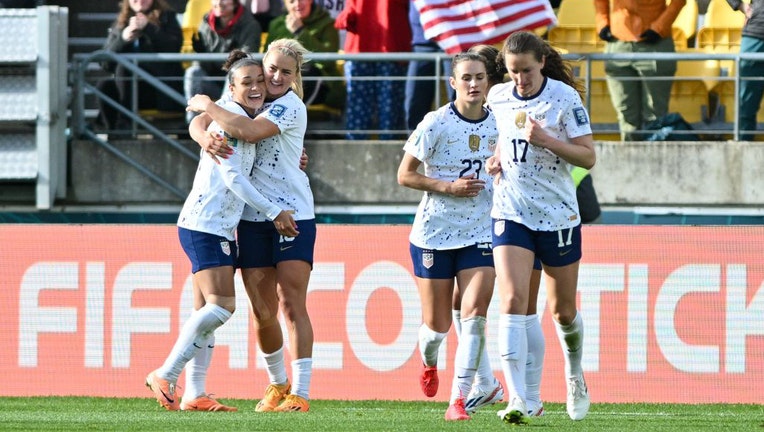 article
AUCKLAND, New Zealand - The United States women's national team players are fully aware they haven't played anywhere near their best yet at this World Cup.
Players have said it to each other, and Vlatko Andonovski has admitted it himself.
"That's a fair statement," the U.S. head coach said after a 1-1 draw against the Netherlands.
"Part of the reason," he continued, "is because this team has not had time together. The first time we've seen this team [play] together is Game 1. And now we've seen them in Game 2. So in Game 3, we expect to grow from there. 
"The baseline is the second half of [the Netherlands match], and as we move forward, we're going to see a better and better U.S. team."
That's quite the promise, and one the USWNT hopes to fulfill in a pivotal group stage showdown against Portugal on Tuesday at Eden Park (coverage begins at 1 a.m. ET with kickoff at 3 a.m. ET on FOX and the FOX Sports app). 
The 23 players Andonovski selected for this roster were not the original group he imagined he'd bring when he was first hired in 2019. As he embarked on a four-year cycle that would culminate this summer, he assumed he'd have veteran weapons such as Catarina Macario, Sam Mewis, Becky Sauerbrunn and Mallory Swanson. Maybe even Christen Press and Abby Dahlkemper, too. But injuries (some new, others recurring) kept many star players with major tournament experience out of contention.
Andonovski has had to adapt and tinker with lineups to try to build a cohesive winning group. The challenge is that national teams aren't club teams. The players aren't training together regularly except for a few weeks out of the year.
"You're in and out all the time," midfielder Andi Sullivan said. "So you're constantly adjusting."
That's OK sometimes. The squad that won it all four years ago in France didn't necessarily play more pre-tournament matches together, but they also didn't have quite as many national team newbies. There weren't significant injuries to playmakers in the lead up, either. 
This time, though, there are 14 newer faces, some of whom only earned their first senior national team caps last year (Naomi Girma, Trinity Rodman and Alyssa Thompson). Savannah DeMelo made her USWNT debut at the send-off game July 9 and has started the first two matches in the central midfield.
So, how can this team jell quickly when they are still getting used to playing with each other? Especially in a game with nervy implications. The U.S. currently sits atop Group E based on goal differential and advances to the knockout round with a win or draw. A loss would mean the dream of making history and winning three consecutive titles is over. The Americans have never not made it out of the group stage at a World Cup.
"We're very direct when something is not going the way that we want it to go," Sullivan said, explaining how the team gets in sync with each other. "You have to be direct and clear and honest and loud."
There's a history of having direct conversations on this team. It comes with the high standards and expectations set by previous generations. 
Before the Netherlands match, Carli Lloyd shared a story on the FOX Sports pregame show about being forthright with Julie Ertz during the 2015 World Cup semifinal match against Germany.
Ertz, then 23 years old and playing in her first World Cup, committed a foul in the box that led to a German penalty kick. 
"In that moment, Julie Ertz started crying and getting emotional," Lloyd said. "And I turned to her — I'm not going to use the language that I used on the pitch — but I told her to snap out of it. It was blunt, it was direct, but in that moment you can't dwell on what's happened, and it's important to move on."
German forward Celia Sasic missed that spot kick, and the U.S. ultimately won 2-0 to clinch a spot in the final.
Sullivan said there were pointed conversations in the locker room during halftime against the Dutch because the Americans knew they could play better. It started as player-to-player discussions, including substitutes telling starters at their respective positions what they were seeing from their vantage point on the bench. Then it evolved to coaches giving their perspective. 
Younger players, Sullivan said, have gotten used to this kind of feedback and handle these moments with "grace and confidence."
"It was very direct, knowing that we could do better and sorting out what the issues were," Sullivan said. "This is what we didn't do, this is what went well, this is what we need to do better, let's execute." 
However, as clear and succinct as this team is willing to be with each other, that doesn't change the fact the USWNT hasn't looked the part of the ruthless, do-anything-to-win team yet. 
It showed a glimpse after the break when Rose Lavelle came in and co-captain Lindsey Horan scored an equalizer following a skirmish with Dutch midfielder and Lyon teammate Danielle van de Donk in the 62nd minute. Only then did the USWNT look more dangerous.
But as Andonovski said, that second-half performance is the baseline now. 
And with a World Cup elimination game looming, now is the time for the U.S. to get on the same page, no matter how many minutes they've played together.
Laken Litman covers college football, college basketball and soccer for FOX Sports. She previously wrote for Sports Illustrated, USA Today and The Indianapolis Star. She is the author of "Strong Like a Woman," published in spring 2022 to mark the 50th anniversary of Title IX. Follow her on Twitter @LakenLitman.