2023 Women's World Cup opening ceremony focuses on First Nations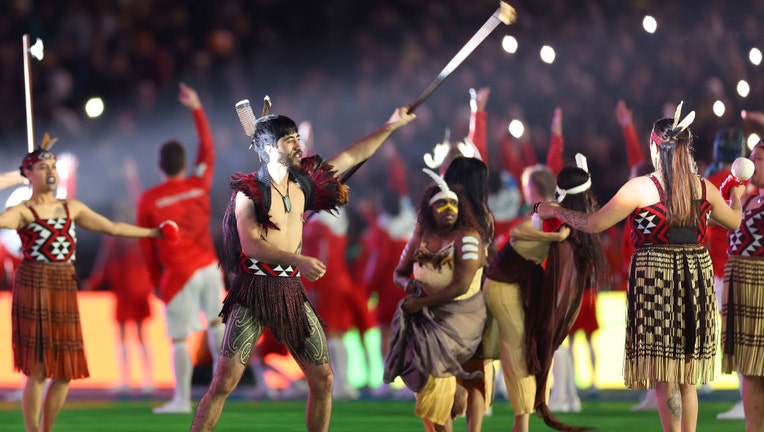 article
AUCKLAND, New Zealand - The Women's World Cup opened Thursday with an elaborate greeting from the Maori people of New Zealand and the First Nations people of Australia.
In a moment intended by FIFA to stress the cultural roots of tournament co-hosts New Zealand and Australia, along with international unity, the roughly 10-minute ceremony focused on groups of people meeting peacefully at the center of Eden Park.
For New Zealand, volunteers held aloft an artistic representation of a giant stingray, which in traditional beliefs is said to have been caught by the demi-god Maui and turned into what has become the country's North Island. A giant rainbow serpent, representing Australia, was likewise held up by the cast and joined the stingray.
RELATED: 2023 Women's World Cup: Australia, New Zealand capture wins in the opening round of tournament
Monique Maihi-Pihema, a descendant of the Ngati Whatua Orakei tribe that has the historical rights over Eden Park, where the opening match between New Zealand and Norway took place, sang a traditional calling to welcome the Australians.
The ceremony ended with the official match ball being presented to the United States, the 2019 and 2015 World Cup champions, and 2011 champion Japan, at midfield to represent the Maori koha, a gift to the other 30 competing teams.
The 32 countries were then introduced on the stadium's video screens, while dancers performed a unity routine in costumes inspired by the 32 jerseys that each country will wear. BENEE performed the official song of the tournament, "Do It Again," as the ceremony came to a close.
RELATED: 2023 Women's World Cup is here: Everything you need to know
Just before kickoff, a moment of silence was observed for the victims of a deadly shooting that occurred earlier Thursday in downtown Auckland. The shootings were unrelated to the tournament but happened near team hotels.
Zach Allen is a student in the John Curley Center for Sports Journalism at Penn State.