US Open marks 50th anniversary of equal prize money for women, honors Billie Jean King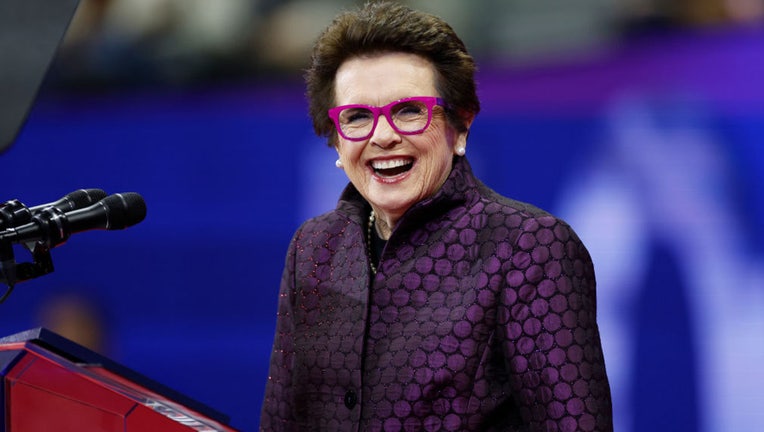 article
NEW YORK - After a rousing tribute from former first lady Michelle Obama, Billie Jean King on Monday celebrated the 50th anniversary of the U.S. Open becoming the first sporting event to offer equal prize money to female and male competitors, promising never to stop fighting to maintain that hard-won progress.
"While we celebrate today, our work is far from done," King said in a speech to a packed Arthur Ashe Stadium crowd between night matches. Echoing a quote from Coretta Scott King, she said: "Struggle is a never-ending process. Freedom is never really won. You earn it and you win it in every generation."
Obama introduced the 79-year-old tennis legend by recalling how King, the U.S. Open champion in 1972, rallied her fellow women players to threaten a boycott of the next year's tournament unless women got the same pay as men. It was announced that summer that the women's champion's paycheck would increase $15,000 so that both men's and women's champions would each receive $25,000.
It would take 34 years before all the other Grand Slam events followed suit. This year, the U.S. Open winners will each receive $3 million, with total player compensation rising to $65 million.
"Let us remember, all of this is far bigger than a champions paycheck," Obama said. "This is about how women are seen and valued in this world. We have seen how quickly progress like this can be taken away if we are not mindful and vigilant, if we do not keep remembering and advocating and organizing and speaking out and, yes, voting."
Obama, who earlier sat in the stadium with her husband, former President Barack Obama, noted that King's achievement came the same year she went on beat Bobby Riggs in the "Battle of the Sexes," when he infamously said women "belong in the bedroom and the kitchen, in that order."
"Billie Jean teaches us that when things lie in the balance, we all have a choice to make," Obama said. "We can either wait around and accept what we're given. ... or we can make our own stand. We can use whatever platforms we have to speak out and fight to protect the progress we've made, and level the playing field for all of our daughters and their daughters."
The ceremony concluded with vocalist Sara Bareilles' soaring rendition of her hit song, "Brave," and video tributes from the world's greatest tennis players, including Coco Gauff, Roger Federer, Iga Swiatek, Carlos Alcaraz and Novak Djokovic, all saying, "Thank you, Billie Jean."