United CEO Scott Kirby slams FAA for flight cancellations, delays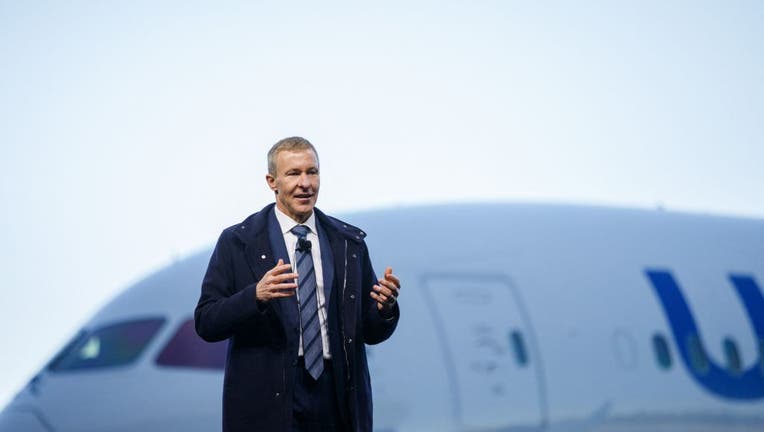 article
The head of United Airlines lambasted the Federal Aviation Administration (FAA) claiming that air traffic control staffing problems led to flight disruptions in the New York City area over the weekend. 
Thousands of flights at Newark, LaGuardia and John F. Kennedy airports had been scrapped starting Saturday after thunderstorms started to roll in. 
"The FAA frankly failed us this weekend," CEO Scott Kirby said in a memo to staff, adding that the weather in the New York City area "is something that the FAA has historically been able to manage without a severe impact on our operation and customers."  
HUNDREDS OF FLIGHTS CANCELED, DELAYED AT NYC AIRPORTS AFTER SEVERE STORMS
On Saturday, Kirby said the FAA reduced the arrival rates at Newark – one of United's hubs – by 40% and the departure rates by 75%.
"This is almost certainly a reflection of understaffing/lower experience at the FAA," Kirby said. "It led to massive delays, cancellations, diversions, as well as crews and aircraft out of position. And that put everyone behind the eight ball when weather did hit on Sunday and was further compounded by FAA staffing shortages Sunday evening." 
Kirby said that over 150,000 United Airlines customers in the New York City area were impacted over the weekend "because of FAA staffing issues and their ability to manage traffic." 
However, Kirby further noted that the staffing issue is "not fault of the current FAA leadership" as this has been a problem that has "been building up for a long time." 
Kirby also told staff that he plans to speak with officials at the FAA and DOT to see what steps can be taken in order to prevent this from happening again this summer.
FAA DELAYS FLIGHTS FOR 5 MAJOR US AIRPORTS SO FAR, AS CANADA WILDFIRE SMOKE IMPACTS VISIBILITY
The FAA told FOX Business that the agency "will always collaborate with anyone seriously willing to join us to solve a problem." 
Over 67% of flights were delayed and nearly 30% were canceled at Newark on Sunday, according to data from flight tracking website FlightAware. On Monday, nearly 50% were canceled and over 72% were delayed at the airport. 
At LaGuardia, over 20% of flights were canceled and nearly 60% were delayed on Sunday. On Monday, the airport had over 45% of cancellations and nearly 60% of delays. 
JFK had just over 7% of flights canceled but nearly 50% were delayed on Sunday. On Monday, over 18% of flights were canceled and nearly 60% were delayed at the airport, according to FlightAware. 
Kathleen Bangs, a former commercial airline pilot and current FlightAware spokesperson, also FOX Business that aside from the bad weather, the airports were seeing impacts from reduced staffing at critical air route traffic control centers. 
GET FOX BUSINESS ON THE GO BY CLICKING HERE
"Going into summer the FAA knew this could be an issue, and hence allowed the airlines to drop some service coverage to the Triad area in return for not losing their gates," Bangs said. 
She also warned that troubles could persist into the Fourth of July holiday weekend. 
"With the lack of staffing almost system-wide impacting air traffic, on high passenger travel days coupled with weather, we could see these delays continue through the upcoming holiday weekend," she added. 
There were no East Coast staffing triggers Monday or Tuesday, according to the FAA. 
Read more of this story from FOX Business.