Trump and his legal problems overshadow DeSantis campaigning in South Carolina
WEST COLUMBIA, S.C. - Florida Gov. Ron DeSantis held a brief news conference Tuesday as part of a shift in strategy for his presidential campaign, but the governor took only four questions, almost all of which centered on the party's front-runner Donald Trump.
DeSantis' attempt to change the conversation, which came while campaigning in South Carolina as he rolled out a policy plan for the military, underscored the challenges he faces to try to overtake the former president and his command of the spotlight in the GOP presidential race.
The Florida governor's day on the campaign trail was supposed to be focused on his filing paperwork for South Carolina's Republican primary, followed by his news conference and a CNN interview later Tuesday.
But shortly before DeSantis' event was scheduled to start, Trump, as he often does, overshadowed the day. The Republican former president broke the news on his social media network that he'd been informed he is a target of the Justice Department's investigation into efforts to overturn the results of the 2020 presidential election.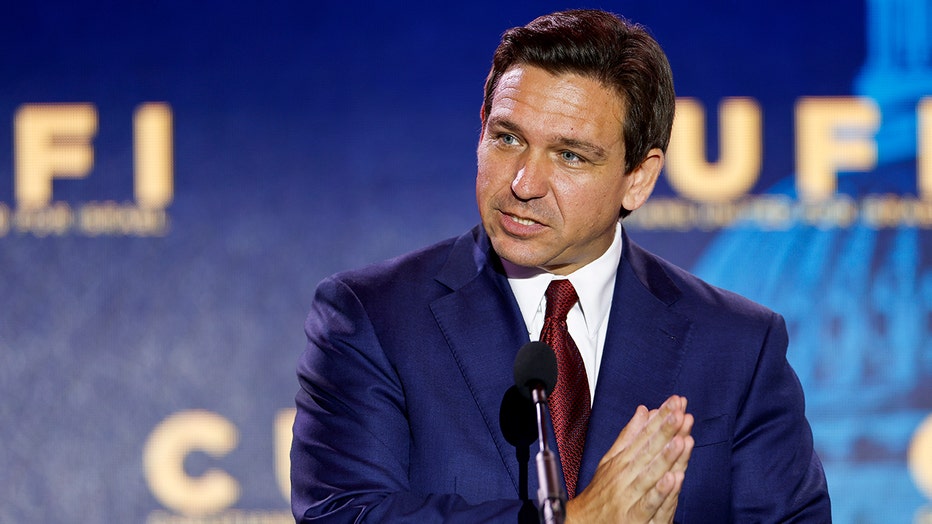 Republican presidential candidate Florida Governor Ron DeSantis delivers remarks at the 2023 Christians United for Israel summit on July 17, 2023 in Arlington, Virginia. (Credit: Anna Moneymaker/Getty Images)
Trump's news, an indication he could soon be charged by U.S. prosecutors, and his behavior on around the Jan. 6, 2021 insurrection at the U.S. Capitol was the subject of two of the four questions DeSantis received at his news conference.
DeSantis, who has offered tepid criticism of Trump amid his legal troubles, made his strongest criticism yet of the former president's actions on Jan. 6.
"Look, there's a difference between being brought up on criminal charges and doing things. Like for example, I think it was shown how he was in the White House and didn't do anything while things were going on. He should have come out more forcefully, of course," DeSantis said of Trump's actions that day as rioters stormed the Capitol.
"But to try to criminalize that, that's a different issue entirely," he said. He went on to repeat statements he has made previously regarding Trump's criminal charges by decrying a "politicization" of the justice system.
A third question from a reporter asked DeSantis how he planned to win in South Carolina after voters there had overwhelmingly supported Trump in the past.
DeSantis and his campaign are facing a consequential moment as the governor makes his third swing through South Carolina as a White House hopeful. He entered the race in May with expectations that he would become the primary threat to Trump. But DeSantis has struggled to make inroads against Trump, who holds a commanding lead in the primary, and recently began cutting campaign staff.
Speaking to reporters earlier Tuesday as he filed his paperwork, he rejected suggestions that his campaign might have grown too big in its early stages.
"At the end of the day, when you when you start there are certain investments that you make," he said. "We really believe having an important apparatus on the ground is important in caucus states and early states."
RELATED: Trump says he's 'target' of criminal probe into efforts to undo 2020 election
DeSantis opened his swing through South Carolina on Monday, holding an event in Tega Cay, an affluent community on Lake Wylie along the state line with North Carolina.
After about a half hour of remarks, in which he hit on the high points of his stump speech, DeSantis also took a handful of questions from the crowd of about 900 gathered to hear him. Questioners included a woman who described herself a "hardcore Trump supporter" who said the 2024 election represented "the most important vote that we're going to have" and that she felt DeSantis "did an excellent job" making the case for his candidacy.
In his response, DeSantis condemned what he has characterized as the "weaponization of government" in the legal cases being brought against Trump, and said, "he was treated wrong, he was treated in ways that are unconstitutional."
"Here's the thing — the question for us now is, what are we going to do about it? ... It's not about me, it's about you. It's about me standing up for you and standing up for the Constitution and restoring this country to what the founding fathers envisioned," DeSantis said.
At his event Tuesday in West Columbia, DeSantis — a former Navy officer who served in the Navy Judge Advocate General's Corps in Iraq — rolled out his plans to reform a U.S. military he has argued is too "woke" and focused on efforts at diversity and inclusion.
He decried the military using electric vehicles and focusing on diversity and inclusion in the armed forces or service academies.
"Clearly it is not good for morale if somebody feels that they've been treated negatively based on, quote 'white privilege' or something like that. It's just toxic," he said. "If you want to talk about that stuff, go to Berkeley."
He also criticized a requirement that U.S. military forces received the COVID-19 vaccine, a mandate that was lifted late last year. The issue forced more than 8,400 troops out of the military for refusing to obey a lawful order when they declined to get the vaccine. Thousands of others sought religious and medical exemptions.
DeSantis said the mandate was wrong and that if elected, he would offer military members who lost their jobs over the mandate to return to their positions and receive back pay.
The rollout is DeSantis' second official policy pronouncement of the campaign. In June, he outlined his immigration proposals — which call for ending birthright citizenship and finishing construction of the southern border wall — during a visit to a Texas border city.
South Carolina is set to hold its GOP presidential primary Feb. 24. The state, which also boasts two homegrown 2024 candidates of its own — former Gov. Nikki Haley and Sen. Tim Scott — is critical for Republican presidential hopefuls and has been a strong base of support for Trump in his previous campaigns.
___
Price reported from New York. Meg Kinnard can be reached at http://twitter.com/MegKinnardAP