'That car is flying!' Wild video shows Idalia-fueled tornado flip car in S.C.
GOOSE CREEK, S.C. - Storm bands from Tropical Storm Idalia spawned short-lived tornadoes that flipped a car in suburban South Carolina Wednesday. 
Wild video from Mason Stewart shows a vehicle, propelled by a strong gust of wind, flying into the air before crashing onto another car.
RELATED: Idalia's tropical threats still pummel Southeast after leaving trail of damage from historic landfall
"That car is flying!" Stewart screams in the video as the car goes airborne.
The National Weather Service confirmed a small, brief tornado caused the accident. Only minor injuries were reported, officials said.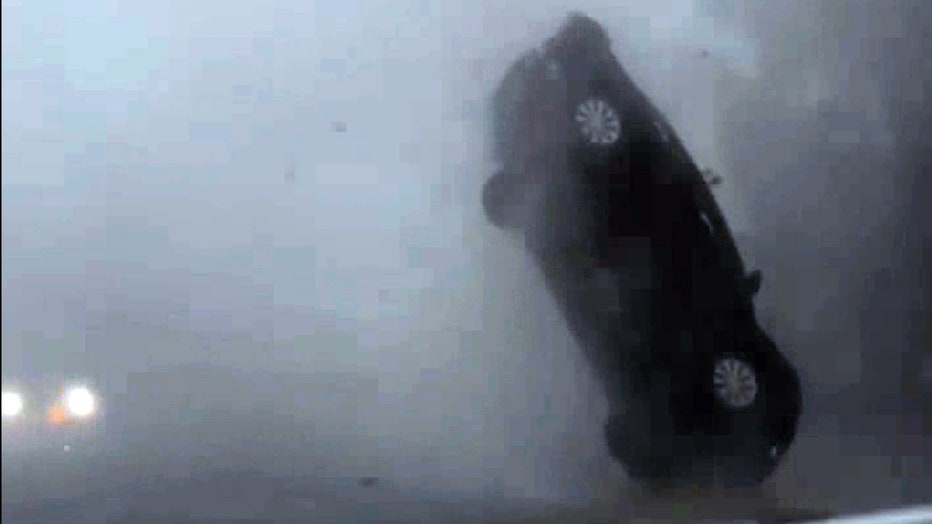 Tornado sends car flying in South Carolina (Mason Stewart via Storyful)
Also in South Carolina, the storm coupled with king tides to send seawater flowing over sand dunes and spilling onto beachfront streets. In Charleston, a surge from Idalia topped the seawall that protects the downtown, sending ankle-deep ocean water into the streets and neighborhoods where horse-drawn carriages pass million-dollar homes and the famous open-air market.
RELATED: 'St. Elmo's fire' seen in crazy Air Force video
Preliminary data showed the Wednesday evening high tide reached just over 9.2 feet (2.8 meters), more than 3 feet (0.9 meters) above normal and the fifth-highest reading in Charleston Harbor since records were first kept in 1899.
After traveling across the Gulf of Mexico, Idalia came ashore Wednesday morning near Keaton Beach as a Category 3 hurricane, pummeling Florida's remote and lightly populated Big Bend region with powerful winds.
The storm left as many as a half-million customers without power in Florida and other states at one point as it ripped down power poles and lines. Still, it was far less destructive than feared, providing only glancing blows to Tampa Bay and other more populated areas as it came ashore with 125 mph (201 kph) winds in rural Florida. It was downgraded to a tropical storm later Wednesday.
RELATED: Tropical Storm Jose forms in the Atlantic as NHC continues to watch Idalia, Franklin and 2 other systems
The weakening storm still packed winds of up to 60 mph (96 kph) as it reached coastal North Carolina on Thursday morning. Tropical storm-force winds were extending outward up to 185 miles (295 kilometers). Idalia was expected to travel just off the North Carolina coast Thursday without losing much of its strength and gradually weaken as it rolls off into the ocean through the weekend. Swells were expected to affect the southeastern coast, likely causing life-threatening surf and rip current conditions into the Labor Day weekend.
The Associated Press contributed to this report.