These states have the most veterans
The U.S. is home to more than 16 million military veterans, according to the U.S. Census Bureau, and some states have a much higher share than others.  
Veterans Day (Saturday, Nov. 11) is a time to honor those millions of servicemembers who live among us.
"Veterans Day is the day set aside to thank and honor ALL those who served honorably in the military – in wartime or peacetime," the U.S. Department of Veterans Affairs says on its website. "In fact, Veterans Day is largely intended to thank LIVING veterans for their service, to acknowledge that their contributions to our national security are appreciated, and to underscore the fact that all those who served – not only those who died – have sacrificed and done their duty."
READ MORE: 'Make Camo Your Cause': FOX Corp, U.S.VETS renew campaign dedicated to ending veteran homelessness
States with the most veterans
Not surprisingly, the three most populated states in the nation – California, Texas and Florida, have the highest populations of veterans. The least populous states in America – Wyoming, Vermont, North Dakota and Alaska, rank near the bottom for the number of veterans living there.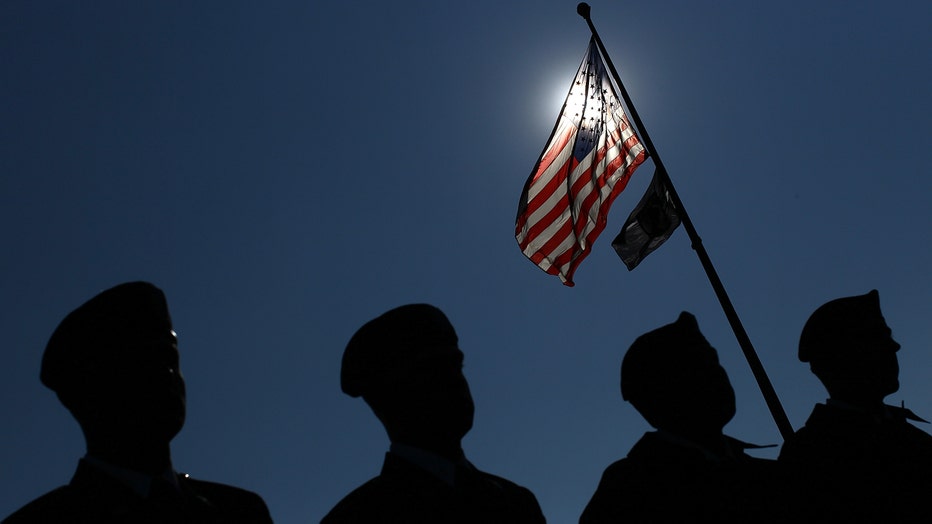 Soldiers from Ft. Lee, Virginia help mark Veterans Day ceremonies at the World War II Memorial November 11, 2011 in Washington, DC. (Photo by Win McNamee/Getty Images)
Veterans account for over 6% of the population, but there are at least four states – Alaska, Montana, Virginia and Wyoming – with a veteran population above 10%, according to Census data compiled by 24/7 Wall Street. All of those states except Montana house the largest military bases in the U.S. 
How many veterans live in your state? 
Here's a state-by-state breakdown of veterans living in the U.S.
Who are the veterans living in America?
According to the Pew Research Center, there are 18.3 million veterans living in America in 2023. Of those, 89% are men and 11% are women.
READ MORE: Veterans Day free meals and deals being offered this year
The largest veteran population – 7.8 million – served in the Gulf War era.  Nearly half of all veterans in the United States were 65 years or older last year, and of those, most served in Vietnam.
READ MORE: Arkansas military veteran receives world's first whole-eye and partial-face transplant
There are fewer than 120,000 World War II vets left in the U.S.. They comprise less than 1% of all living veterans.
As of this year, about 78% of veterans served during wartime, according to Pew.