Spirit Airlines outage resolved after causing major flight delays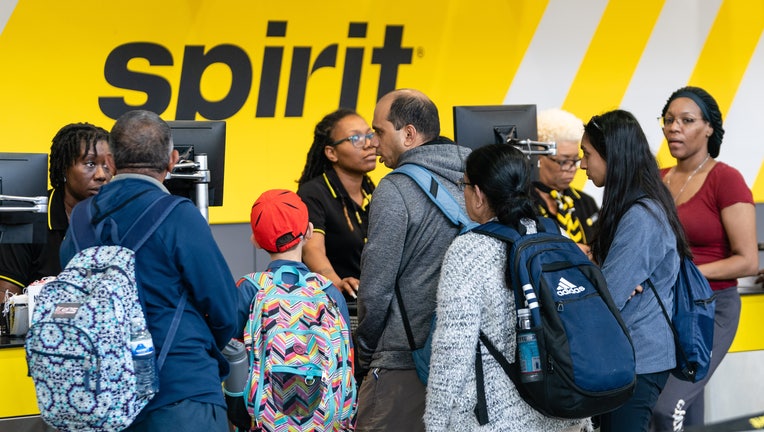 article
The Spirit Airlines website, app and airport kiosks experienced a "technical issue" Thursday morning, causing big delays for passengers nationwide.
According to a statement from the discount airline, the issue was resolved around noon ET after several hours. 
"We apologize for any delays and inconvenience, and we're now working our way back to normal operations," the statement said. 
Passengers on social media reported hours-long delays and having to de-board planes that were set to take off. They were also unable to book or check in for upcoming flights.
The airline said to contact them if you were impacted by the outage and to check FlightAware for the status of your flight.
READ MORE: FAA may have to redo plane evacuation tests as passengers squeeze into smaller spaces
Southwest Airlines planes had a similar technical issue in April, which grounded flights for hours and led to more than 2,200 delays. That came just four months after the carrier suffered a much bigger meltdown over the Christmas travel rush.
Airline industry officials say carriers have fixed problems that contributed to a surge in flight cancellations and delays last summer, when 52,000 flights were nixed from June through August. Airlines have hired about 30,000 workers since then, including thousands of pilots, and they are using bigger planes to reduce flights but not the number of seats.
In a report released last month, the Government Accountability Office blamed airlines for an increase in flight cancellations as travel recovered from the pandemic. It also said airlines are taking longer to recover from disruptions such as storms.
Transportation Secretary Pete Buttigieg says the government will hold airlines responsible to treat passengers fairly when the carriers cause cancellations or long delays. But just like the airlines, the Federal Aviation Administration — the agency that manages the nation's air traffic — has had its own staffing shortages and occasional technology breakdowns that have snarled air travel.
RELATED: Is turbulence happening more often?
The FAA resorted to nudging airlines to reduce flights in the New York City area this summer, and it opened new flight paths over the East Coast to reduce bottlenecks.
"It's going to be an ordeal — it's always an ordeal to travel in the summer," said travel analyst Henry Harteveldt, "but the airlines have done a lot to improve their ability to operate well this summer."
Airlines hope that limiting the number of flights will improve reliability and reduce delays. So far, it seems to be working. About one in every 70 U.S. flights have been canceled this year — half the rate of a year ago and lower than in 2019.
The Associated Press contributed to this report.