Russia launches criminal investigation into Wagner Group chief
For months, the outspoken millionaire head of the Wagner private mercenary force bombarded Russia's military leaders with expletive-ridden insults in a rift that has weakened the country's forces amid the war in Ukraine.
Yevgeny Prigozhin accused them of not providing him with munitions in the key battle for the eastern city of Bakhmut.
A video in May showed him standing in front of the bloodied bodies of his slain troops yelling obscenities at Defense Minister Sergei Shoigu and the chief of the General Staff Gen. Valery Gerasimov, calling them weak and incompetent, blaming them for the carnage.
"They came here as volunteers and they died to let you lounge in your mahogany offices," Prigozhin declared. "You are sitting in your expensive clubs, your children are enjoying good living and filming videos on YouTube. Those who don't give us ammunition will be eaten alive in hell!"
He even made what some considered a thinly veiled jab at President Vladimir Putin as an oblivious "granddad" thinking the invasion was going well.
On Friday, however, Prigozhin appeared to take a step too far.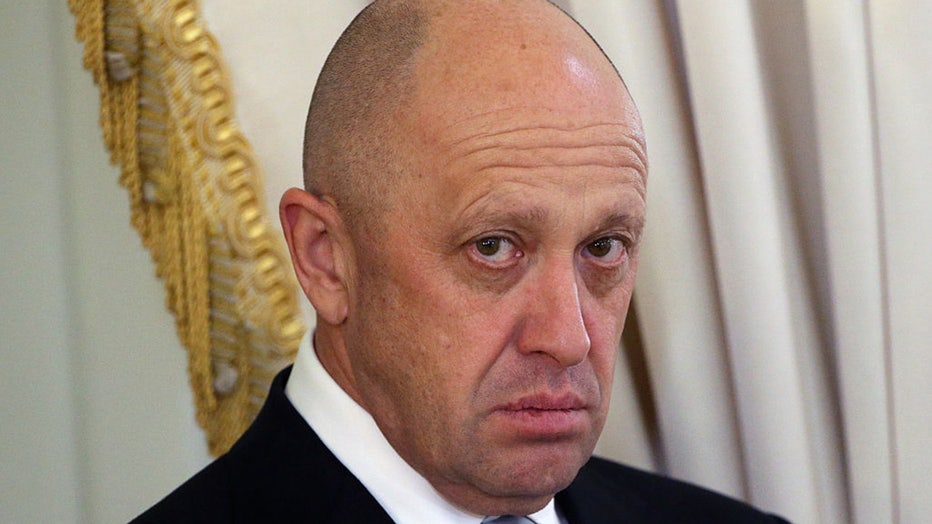 FILE - Russian billionaire and businessman, Concord catering company owner Yevgeny Prigozhin attends a meeting with foreign investors at Konstantin Palace June 16, 2016, in Saint Petersburg, Russia.  (Mikhail Svetlov/Getty Images)
He accused Shoigu of ordering a rocket strike on the field camps for his mercenary troops, with a huge number of casualties, and said he would move to punish him.
That's when Russian authorities struck back, with the country's top counterterrorism organization launching a criminal inquiry against Prigozhin and calling for his arrest on charges of fomenting an "armed rebellion" over threats to oust Shoigu.
It was a startling turn of events in Moscow: After more than two decades of rigidly controlled rule by Putin, the worst infighting spilled out in the open among his top lieutenants.
And it came as the war in Ukraine reached the 16-month mark and Kyiv's forces were probing Russian defenses in the initial stages of a counteroffensive.
Kremlin spokesman Dmitry Peskov said Putin has been informed about the situation, adding: "All the necessary measures were being taken."
Prigozhin, 62, insisted his actions were not "a military coup, but a march of justice."
Prigozhin said his men would punish the military leaders who ordered the strike and said his troops would fire at any troops trying to stop them.
"The evil embodied by the country's military leadership must be stopped," he shouted in a recorded statement, adding that his forces weren't seeking to challenge Putin and other government structures. "Justice in the armed forces will be restored, and then justice will be restored in all of Russia."
The Defense Ministry denied it had attacked Prigozhin's troops. Then the National Anti-Terrorism Committee, an arm of Federal Security Service, or FSB, announced the investigation against the outspoken millionaire and urged Wagner's own forces to arrest their boss.
Prigozhin's statement was a "stab in the back of the Russian troops," the FSB said, and amounted to fomenting armed conflict in Russia.
Until now, Prigozhin's rants against the military have been met with silence from Putin and the brass. Some saw that failure to squelch the infighting as a sign of potential shifts in Russia's political scene that sets the stage for more internal battles.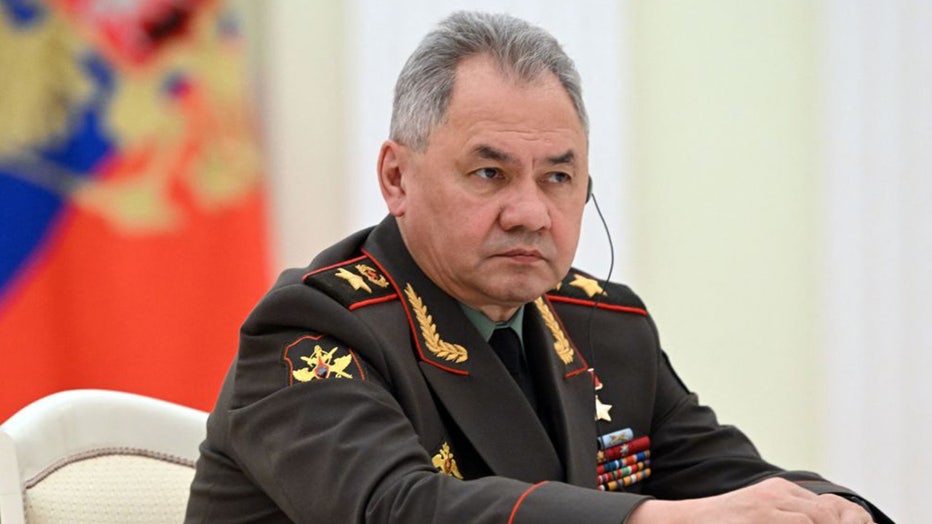 FILE - Russian Defence Minister Sergei Shoigu attends a meeting of Russian President and Chinese Defence Minister at the Kremlin in Moscow on April 16, 2023. (PAVEL BEDNYAKOV/SPUTNIK/AFP via Getty Images)
The conflict has been ignored by state-controlled TV, where most Russians get their news. But in a shift, Channel 1 showed an unscheduled news broadcast Friday that cited the Defense Ministry's rejection of Prigozhin's claim and describing as fake a video he posted that allegedly showed the aftermath of a rocket strike on a Wagner camp.
The dispute has been followed closely, however, by politically active, ultrapatriotic Russians on social media networks who share his contempt for military leaders.
Prigozhin's blistering criticism went on even though the Kremlin vigorously cracks down on other critics through fines and imprisonment.
While there are no indications Putin is losing influence, "there are growing signs of deep dysfunction, anxiety, worry about the war and real problems in marshaling the resources necessary to fight it effectively," said Nigel Gould-Davies, a senior fellow for Russia and Eurasia at the International Institute for Strategic Studies.
Prigozhin's feud with military leaders goes back years and spilled into the open amid the battle for Bakhmut that was spearheaded by his mercenaries. It has pushed the man dubbed "Putin's chef" for his lucrative Kremlin catering contracts to the forefront of Russian politics and signaled his growing ambitions.
With his crude remarks, Prigozhin ventured into areas where only Putin had gone before: Over the years, the Russian leader occasionally broke decorum with an earthy remark or off-color joke, while top officials used carefully worded language.
In another recent video, Prigozhin made a statement that some have interpreted as a thinly veiled attack on Putin himself. He declared that while his men were dying due to the Defense Ministry's failure to supply ammunition, a "happy granddad is thinking he's doing well," and then referred to that "granddad" with an obscenity.
The blunt comment caused a social media uproar, where it was seen as a reference to Putin. Prigozhin later said he was talking about Gerasimov.
"Prigozhin is now sailing much closer to the wind than he ever has," Gould-Davies told The Associated Press.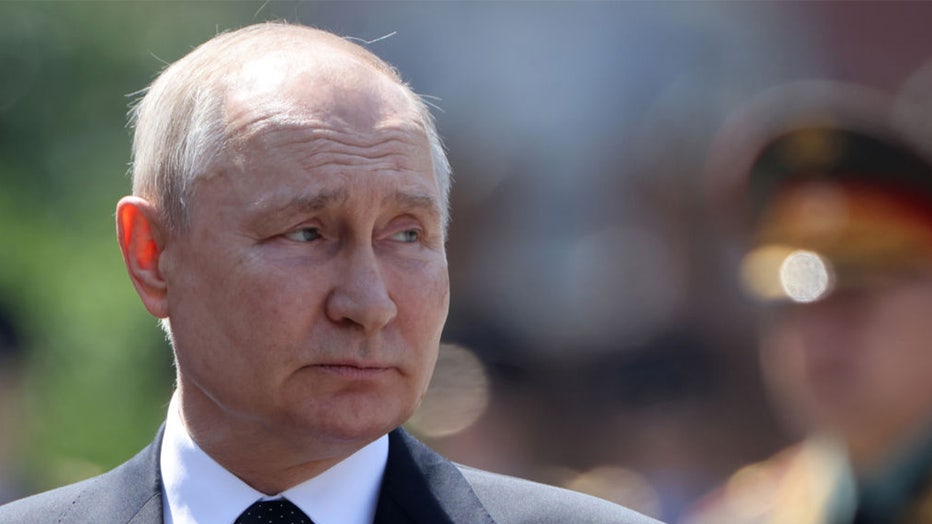 FILE - Russian President Vladimir Putin attends a ceremony, marking the Day of Remembrance and Sorrow, June 22, 2023 in Moscow, Russia.  (Contributor/Getty Images)
Sergei Markov, a pro-Kremlin political commentator, described Prigozhin as "the second-most popular man after Putin" and a "symbol of Russia's military victory for millions of people."
Putin has needed Prigozhin's mercenaries at a time when the regular military is still recovering from setbacks earlier in the war. The Wagner chief's position was bolstered after his private army captured Bakhmut last month in the war's longest and bloodiest battle, relying on tens of thousands of convicts who were promised pardons if they survived six months of fighting.
"Putin dominates the system, but he still sort of depends upon a small number of big people to implement his will, to provide him with resources to carry out his orders, including fighting the war," Gould-Davies told AP.
While Putin may keep various factions divided and then "decide who wins and who loses, and who's up and who's down," the process erodes the government's authority in wartime, Gould-Davies said.
"If your military forces are divided and if they're not fighting together effectively, then your military operations will suffer accordingly and that's exactly what's happening here," he said.
Mark Galeotti, a London-based expert on Russian politics and security, speculated in a recent podcast that Putin's failure to resolve political disputes could be rooted in a lack of interest, a focus on other issues or, more likely, a reluctance to take sides.
"It also raises questions about his overall capacity to do his job," Galeotti said. "This is the one thing, the one job he can't really outsource, and he's not even trying."
Prigozhin has allied with other hawkish officials, reportedly including Tula Gov. Alexei Dyumin, a former Putin bodyguard seen by many as a potential successor. The Wagner head also has gravitated toward Ramzan Kadyrov, the Moscow-backed regional leader of Chechnya.
Some of those alliances have been shaky.
While Kadyrov initially praised Prigozhin and backed some of his criticisms, he later shifted course and criticized him for sounding defeatist. Kadyrov's lieutenants blasted Wagner's efforts in Bakhmut after Prigozhin made dismissive comments about Chechen fighters in Ukraine. Kadyrov's top aide, Magomed Daudov, said Prigozhin would have been executed for such remarks during World War II.
Prigozhin quickly backed off, saying he was only expressing concern about Russian operations.
He has dodged questions about his political ambitions, but recently toured Russia, continuing his blustery comments.
"There are signs that he seeks some sort of political future," Gould-Davies observed.
Even though Prigozhin owes his position and wealth to Putin, he's playing the role of outsider with his criticism of some leaders and by trying to appeal to the masses amid setbacks in Ukraine, said Andrei Kolesnikov of the Carnegie Endowment.
"Prigozhin is playing an independent politician, raising the stakes and testing the system's limits. But it's only technically and physically possible for as long as Putin finds him useful and is amused by his escapades," Kolesnikov said.
In a show of support for the military, Putin backed the Defense Ministry's demand for all private companies to sign contracts with it — something Prigozhin has refused to do.
Prigozhin has urged all-out war with Ukraine, including a total nationwide mobilization and the introduction of martial law in Russia — calls welcomed by some hawks.
But Kolesnikov notes the vast majority of Russians who are mostly apathetic or unwilling to make larger sacrifices could be frightened and appalled by that message.
He cautions against overestimating Prigozhin's clout and political prospects, and underestimating Putin's authority.
"It's enough for the commander-in-chief to move his finger to make the Wagner chief disappear," Kolesnikov said.
___
Associated Press writer Danica Kirka in London contributed.