Ronna McDaniel wins bid for RNC chair after fierce campaign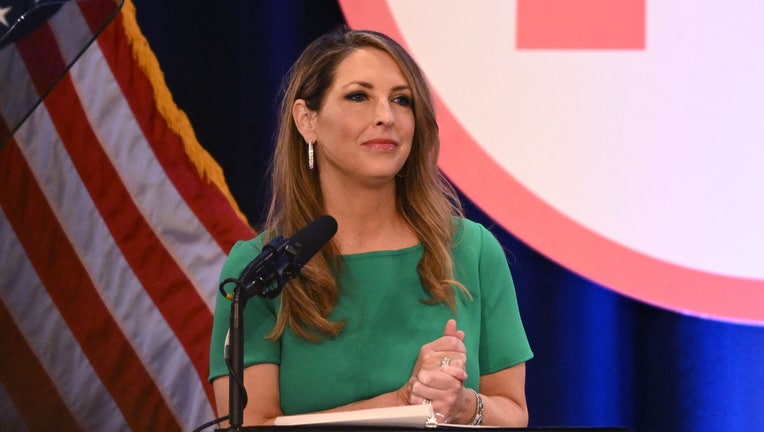 article
Republican National Committee Chair Ronna McDaniel won her bid Friday to lead the GOP for two more years, prevailing in an election that highlighted fierce internal divisions that threaten to plague the party into the next presidential season.
McDaniel, whom Donald Trump tapped as RNC chair in 2016, won on the the secret ballot, 111 to 51, over Harmeet Dhillon, a California lawyer. The high-profile election played out inside a resort on the Southern California coast as the RNC's 168 voting members – activists and elected officials from all 50 states – gathered for their annual winter meeting.
A relieved McDaniel invited her rivals to the stage immediately after the outcome was announced.
"With us united, and all of us working together, the Democrats are going to hear us in 2024," she declared.
READ MORE: McCarthy says Santos will be removed from Congress if Ethics Committee determines he broke the law
With the victory, McDaniel becomes the longest-serving RNC chair since the Civil War. While the vote itself wasn't as close as some had expected, friends and foes alike agree that she will not be leading the RNC from a position of strength.
"The party is not united," McDaniel's chief rival, Trump attorney Dhillon, told reporters in the hallway soon after standing alongside McDaniel on stage. "Nobody's going to unite around the party the way it is, which is seemingly ignoring the grassroots."
Indeed, while Trump privately backed McDaniel, powerful forces within his "Make America Great Again" movement lined up behind Dhillon.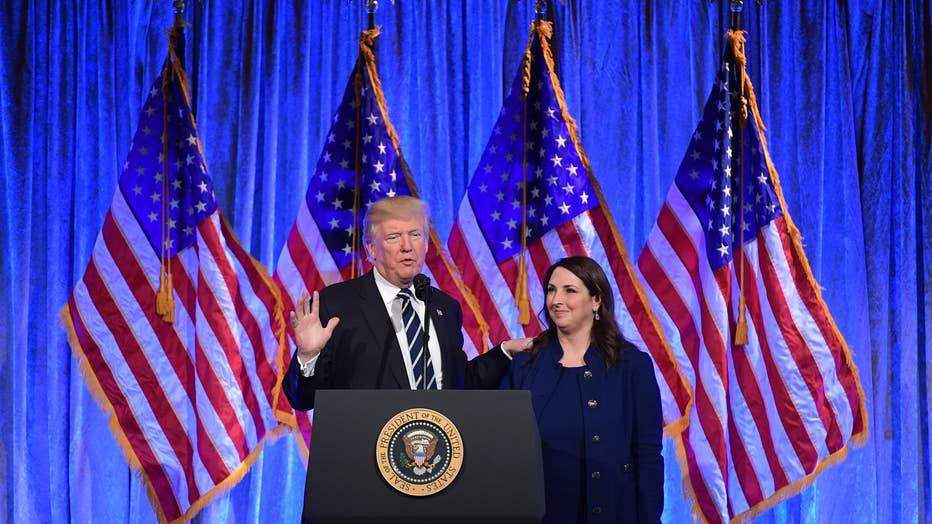 US President Donald Trump speaks after his introduction by RNC Chairwoman Ronna Romney McDaniel at a fundraising breakfast in a restaurant in New York, New York on December 2, 2017 (Photo credit should read MANDEL NGAN/AFP via Getty Images)
Backed by MAGA leaders in conservative media, Dhillon waged an aggressive challenge against McDaniel that featured allegations of chronic misspending, mismanagement and even religious bigotry against Dhillon's Sikh faith — all claims that McDaniel denied. Above all, the case against McDaniel centered on deep dissatisfaction with the direction of the party after continuous election losses since Trump chose her to lead the committee following his upset 2016 victory.
The former president ignored the feud as he congratulated McDaniel on her "big WIN" on his social media network.
"Now we have to STOP THE DEMOCRATS FROM CHEATING IN ELECTIONS!" Trump wrote in capital letters, repeating baseless allegations of election fraud that have filled his political messaging for the past two years.
READ MORE: Judge fines Trump, lawyer for 'frivolous' Clinton lawsuit
But some of Trump's acolytes were not so willing to move on.
Conservative activist Charlie Kirk cited the Republican base's overwhelming desire for change and said those members who voted for McDaniel would be held "accountable."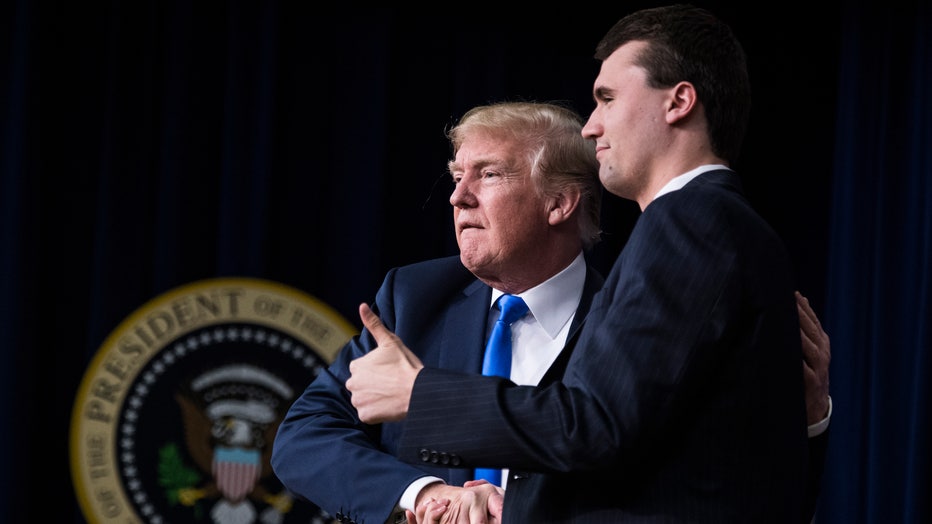 President Donald J. Trump shakes hands with Charlie Kirk, Founder and Executive Director of Turning Point USA, during a panel discussion at the Generation Next Summit in the South Court Auditorium of the Eisenhower Executive Office Building on the Wh
"The RNC has contempt for their voters," said Kirk, who sat among several Dhillon allies in the back of the hotel ballroom where the vote was held. "They basically just gave them a middle finger."
While McDaniel prevailed, some of her supporters privately conceded they were open to a change in the committee's leadership after three successive disappointing elections. But there were specific concerns about Dhillon – and the people around her.
The California Republican closely aligned herself with Caroline Wren, a former Trump fundraiser who was involved with raising money for the Washington rally on Jan. 6, 2021,that preceded the violent attack on the Capitol.
Dhillon's chief surrogate at the RNC meeting this week was Kari Lake, the failed Arizona gubernatorial candidate who has spread debunked claims of voter fraud. Lake courted RNC members on Dhillon's behalf inside the conference hotel.
From afar, Florida Gov. Ron DeSantis, a likely 2024 presidential contender, spoke out against McDaniel on the eve of the vote as well.
"I think we need a change. I think we need to get some new blood in the RNC," DeSantis said in an interview with Florida's Voice, citing three "substandard election cycles in a row" under McDaniel's leadership.
Meanwhile, Trump had quietly supported McDaniel, a niece of Republican Sen. Mitt Romney of Utah, and dispatched a handful of his lieutenants to Southern California to advocate on her behalf.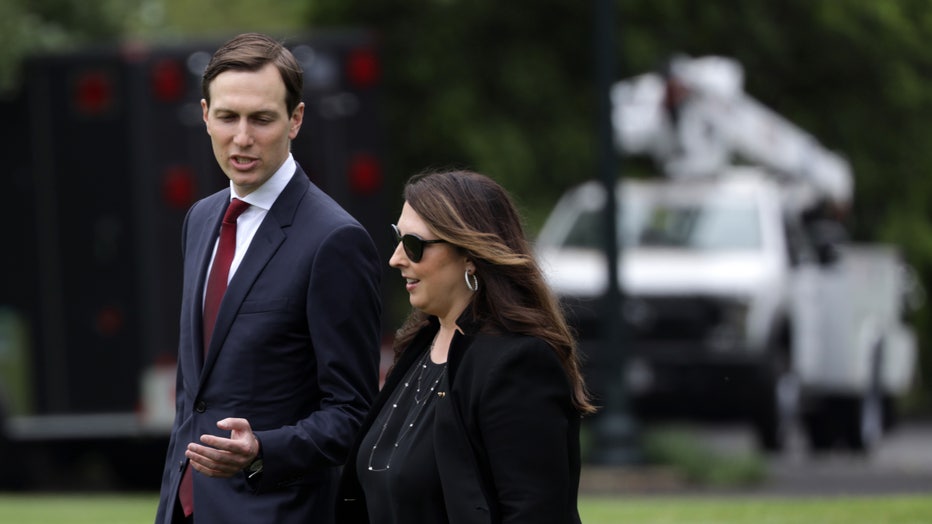 White House senior adviser Jared Kushner (L) and Republican National Committee Chair Ronna McDaniel (R) walk towards the Marine One on the South Lawn of the White House prior to a presidential departure May 21, 2020 in Washington, DC. (Photo by Alex
The former president avoided making a public endorsement at McDaniel's request, according to those with direct knowledge of the situation who spoke on condition of anonymity to describe private conversations. McDaniel's team was confident she would win without his public backing, allowing her to maintain a sense of neutrality heading into the 2024 presidential primary season.
According to its rules, the RNC must remain neutral in the presidential primary. Trump is the only announced GOP candidate so far, but other high-profile contenders are expected in the coming months.
McDaniel is now set to lead the RNC through the 2024 election. Under her leadership, the committee will control much of the presidential nominating process – including the debates and voting calendar -- while directing the sprawling nationwide infrastructure designed to elect a Republican president.
Also in the race on Friday was MyPillow CEO Mike Lindell, a pro-Trump conspiracy theorist who won four votes.
Lindell has already endorsed Trump's 2024 campaign and said he would not change his mind if his longshot bid was successful Friday.
"I've never not endorsed Donald Trump," Lindell said. "I'm never moving off that space."