Republican debate: 2024 presidential candidates on Trump
Wednesday night marked the biggest day of the 2024 presidential race and it kicked off with the first Republican primary debate. 
Eight candidates were onstage in Milwaukee, Wisconsin, one of the few remaining swing states. 
The 2-hour debate was moderated by FOX News' Bret Baier and Martha MacCullum. 
The candidates were expected to discuss an array of issues such as abortion, inflation and the ability to possibly beat President Joe Biden in the upcoming presidential election.  
But the most anticipated topic for Wednesday's debate was a candidate – who did qualify – but chose to not attend: former President Donald Trump.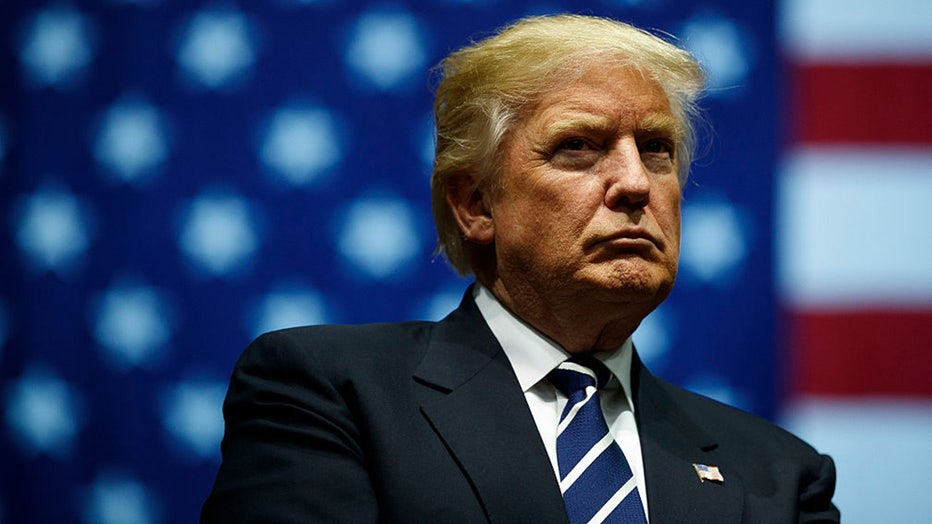 FILE - President-elect Donald Trump looks on during a rally at the DeltaPlex Arena, Dec. 9, 2016, in Grand Rapids, Michigan. (Drew Angerer/Getty Images)
To this point, most of Trump's rivals have tiptoed around the former president, unwilling to raise serious concerns about his mounting legal baggage, his lies about the 2020 election and his divisive leadership style. 
Few Republican rivals, if any, have successfully navigated the delicate politics of Trump over the last eight years. They were tested again under the brightest lights in presidential politics. 
RELATED: Who is running for president in 2024? Meet the candidates 
Nearly an hour into the GOP debate, FOX News showed a live image of Atlanta's Fulton County jail, where the former president is set to surrender on charges on Thursday, drawing boos from the audience. The moderators said they'd spend a "brief moment about the elephant not in the room" and ask about the cases against Trump. 
Those on stage were then asked to raise their hands if they would support Trump if he wins the GOP presidential nomination. Six of the candidates raised their hands, that's even after the moderators noted that Trump is facing more than 90 criminal counts in separate cases across four states. 
Former New Jersey Gov. Chris Christie half-raised his hand and former Arkansas Gov. Asa Hutchinson kept his hand down. 
The candidates on stage were required to sign a pledge vowing to support the eventual nominee before joining Wednesday's debate.
Why is Trump not attending the debate? 
The former president confirmed Sunday that he would be skipping Wednesday's first Republican presidential primary debate — and others as well. 
"The public knows who I am & what a successful Presidency I had," Trump wrote on his social media site. "I WILL THEREFORE NOT BE DOING THE DEBATES!" 
The former president instead attended an interview with Tucker Carlson.  
Trump is now the prohibitive early front-runner in the race, raising serious questions about whether the party will have much of a competitive primary.  
And despite his mounting charges, his standing in the primary has only increased, leaving the GOP on track — barring a stunning realignment — to nominate a candidate who would enter the race against Biden, a Democrat, in a potentially weak position.
Candidates comments on Trump 
Ron DeSantis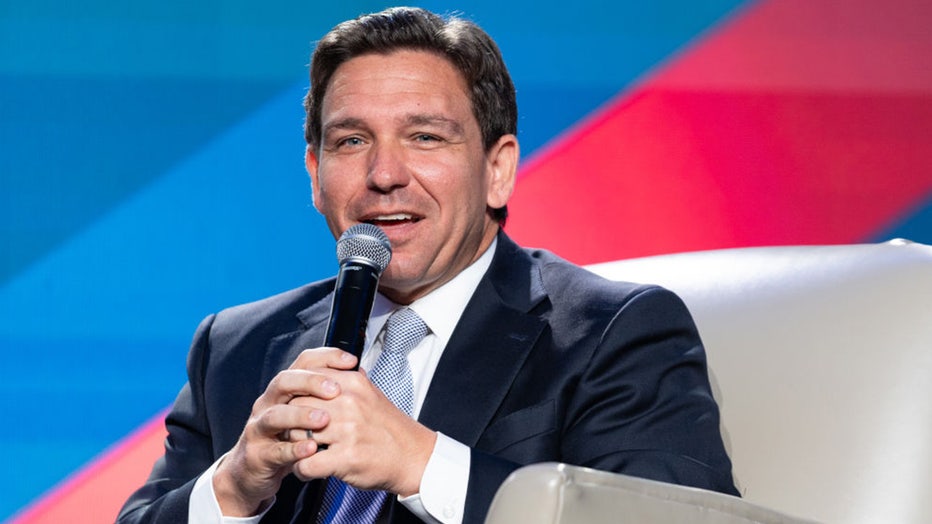 FILE - Republican U.S. presidential candidate and Florida Governor Ron DeSantis speaks at an event hosted by Conservative radio host Erick Erickson on August 18, 2023, in Atlanta, Georgia.  (Megan Varner/Getty Images)
As one of the six candidates to raise his hand saying he would pledge to support Trump if he wins the GOP presidential nomination, DeSantis attempted to move forward from further questions regarding the former president, as well as any questions regarding the Capitol riot. 
He did not address Trump's indictments or his behavior when given the chance, instead calling for the end of the "weaponization" of the Department of Justice. 
Without saying it directly, he suggested that the GOP needs to move past Trump's baggage. 
"We've got to look forward," DeSantis said. But, under pressure from both Pence and the moderators, DeSantis ultimately said, "Mike did his duty. I've got no beef with him," prompting Pence to reply, "I'm relieved."
Tim Scott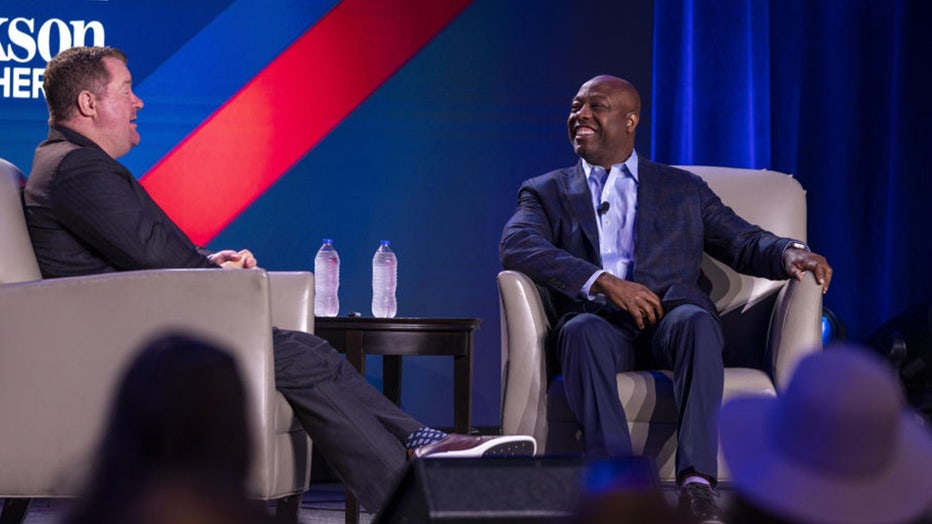 FILE - Senator Tim Scott, a Republican from South Carolina and 2024 Republican presidential candidate, right, during a discussion at Erick Erickson's The Gathering event in Atlanta, Georgia, US, on Friday, August 18, 2023.  (Alyssa Pointer/Bloomberg via Getty Images)
Although he spoke briefly on the former president and his mountain legal troubles, Scott did pipe up to say that he believed former Vice President Mike Pence did act accordingly during the Jan. 6 investigation. 
Nikki Haley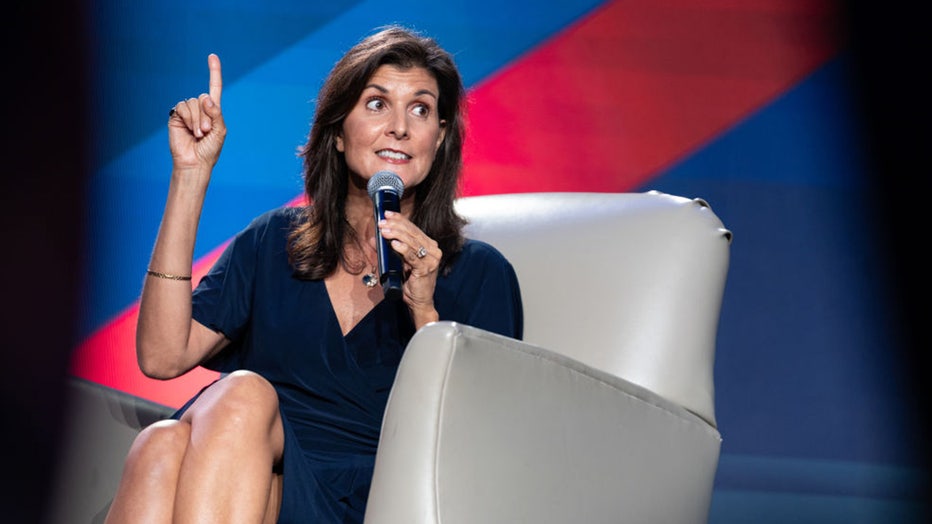 FILE - Republican U.S. presidential candidate and former U.S. Ambassador to the United Nation Nikki Haley speaks at an event hosted by Conservative radio host Erick Erickson on August 18, 2023, in Atlanta, Georgia. (Megan Varner/Getty Images)
Similar to Scott, Haley did not speak much on Trump or Jan. 6 but did say she agreed that Pence "did the right thing" and deserved credit. 
Vivek Ramaswamy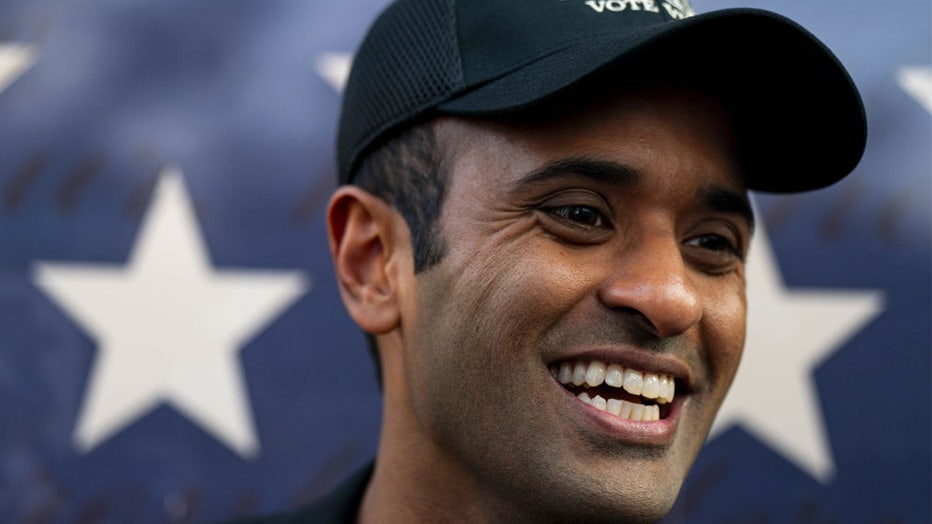 Vivek Ramaswamy, chairman and co-founder of Strive Asset Management and 2024 Republican presidential candidate, speaks with members of the media during a campaign event outside of the Fiserv Forum ahead of the Republican primary presidential debate h (Al Drago/Bloomberg via Getty Images)
"President Trump, I believe, was the best president of the 21st century," Ramaswamy said, vowing to pardon the former president if given the chance. 
Chris Christie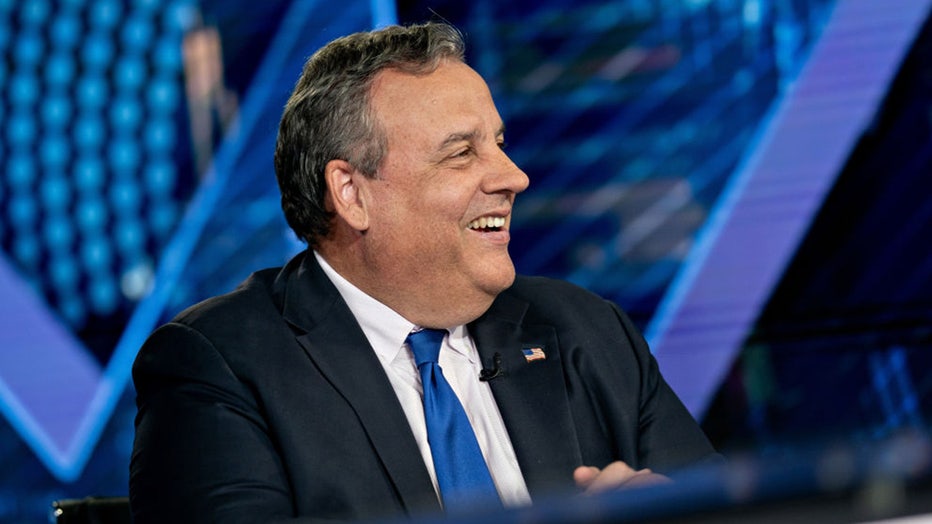 FILE - Chris Christie, former governor of New Jersey, during a Bloomberg Television interview in Washington, DC, US, on Wednesday, July 19, 2023. (Andrew Harrer/Bloomberg via Getty Images)
The former governor of New Jersey was quick to call out the former president, and despite being met with boos from the audience. 
"Someone's got to stop normalizing misconduct. Whether or not you believe that the criminal charges are right or wrong, the conduct is beneath the office of president of the United States," said Christie, who has emerged as one of Trump's harshest critics. 
Christie was also quick to defend Pence and his role in the Jan. 6 investigation, saying the then-vice president "deserves not grudging credit, he deserves our thanks as Americans." 
Doug Burgum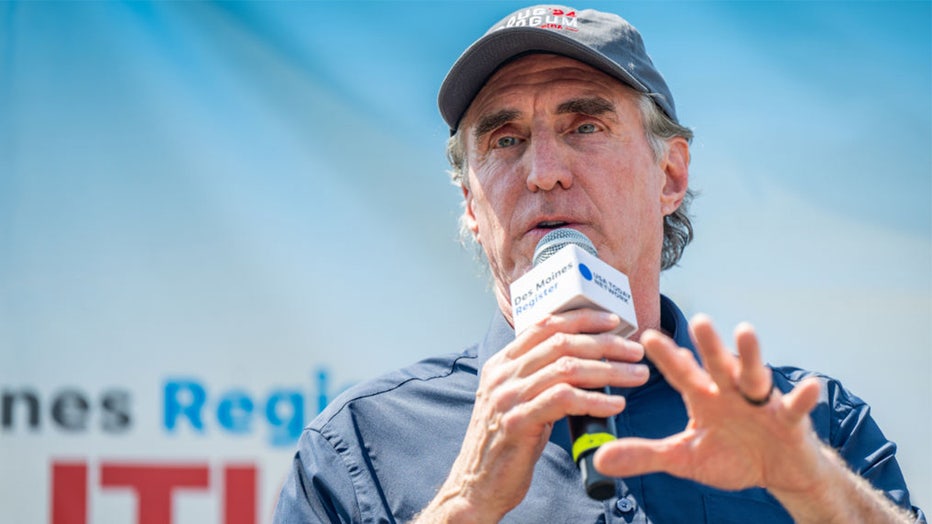 FILE - North Dakota Gov. and Republican presidential candidate Doug Burgum speaks during a campaign rally on the Des Moines Register SoapBox stage at the Iowa State Fair on August 10, 2023, in Des Moines, Iowa. ( Brandon Bell/Getty Images)
Somewhat mirroring DeSantis' sentiments on the issue of the former president, Burgum noted he'd rather use his time during the debate speaking on the issues. 
However, he did note that Pence deserved credit for his role during the Jan. 6 investigation.  
Mike Pence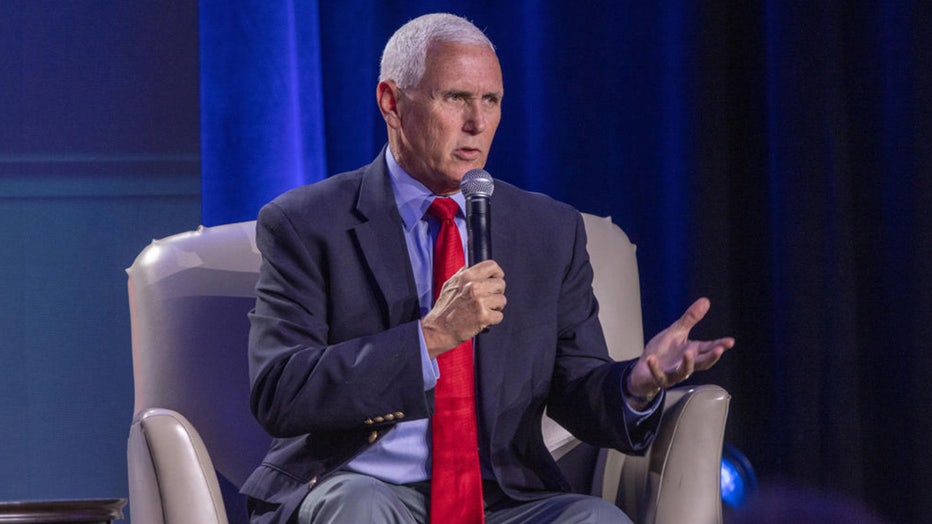 FILE - Former Vice President Mike Pence, 2024 Republican presidential candidate, speaks during Erick Erickson's The Gathering event in Atlanta, Georgia, US, on Friday, Aug. 18, 2023.  (Alyssa Pointer/Bloomberg via Getty Images)
Pence began his comments on Trump by continuing to push that his role as the former vice president and his duty was to defend the Constitution was his first responsibility, disclosing that the former president asked him to "reject or return votes" during the 2020 presidential election. 
"He asked me to put him over the Constitution and I chose the Constitution and I always will," Pence said. 
Asa Hutchinson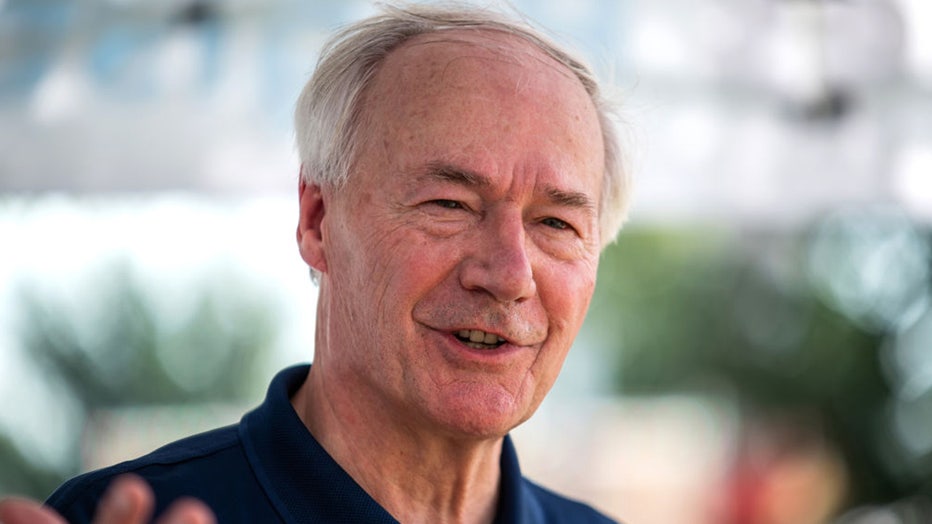 FILE - Asa Hutchinson, former governor of Arkansas and 2024 Republican presidential candidate, speaks to reporters at the Des Moines Register political soapbox during the Iowa State Fair in Des Moines, Iowa, US, on Saturday, August 19, 2023.  (Sergio Flores/Bloomberg via Getty Images)
Hutchinson, who did not raise his hand when asked if he'd support Trump should he win the GOP presidential nomination, made it clear he was not Trump's biggest supporter. 
"I said that Donald Trump was morally disqualified from being president again, as a result of what happened on January 6," Hutchinson said. 
Hot topics
For much of the year, many Republican candidates have sidestepped specific questions about abortion and whether they would support a federal law outlawing the procedure nationwide. Whatever they say or don't say Wednesday night could have serious short- and long-term political consequences. And there are no easy answers.
Religious conservatives who wield tremendous influence in GOP primary elections — especially in the first-in-the-nation Iowa caucuses — strongly support a nationwide abortion ban. But the broader swath of voters who will ultimately decide the general election next fall overwhelmingly support abortion rights. 
Look no further than DeSantis for evidence of the delicate dance on abortion. Just four months ago, the Florida governor signed into Florida law a ban on abortions at six weeks of pregnancy — before most women know they're pregnant. But he has largely avoided the issue on the campaign trail. Scott and Pence stand on the other side. Both have said they would sign a national abortion ban if elected. And Pence is planning to press the issue on the debate stage whether his rivals want him to or not. 
Foreign policy 
The conservatives on stage agreed on most policies. But in the age of Trump, foreign policy has emerged as a serious point of contention. 
A growing group of Republicans, including the likes of DeSantis and Ramaswamy, have embraced Trump's "America First" populism that calls for a reduced U.S. footprint in global affairs. DeSantis earlier in the year described Russia's invasion of Ukraine as " a territorial dispute " before being forced to backtrack. Others have offered similar assessments. And the conflicts extend well beyond Ukraine. 
Ramaswamy last week said he hoped to reduce expanded aid to Israel by 2028. On the other side of the issue, Pence and Haley have called for a more muscular foreign policy against Russia and other geopolitical foes as is the GOP tradition. 
Foreign policy rarely sways presidential primaries, but few issues will demonstrate the differences between the candidates' policies on Wednesday night more than this one. 
Other debate topics include: 
Inflation
Border security and immigration 
Environment
The first GOP primary voters will weigh in on the nomination in less than five months, when Iowa holds its Jan. 15 caucus, followed by other early states in February. The eventual nominee is expected to face Biden in November. 
The Associated Press contributed to this report. This story was reported from Los Angeles.