Port Washington flamingos, Lake Michigan hosts unusual sight
PORT WASHINGTON, Wis. - Beachgoers in Port Washington came across an unusual sight Friday, Sept. 22: flamingos.
The five birds hung out at South Beach for several hours – and seemed very calm as crowd flocked to the Lake Michigan shore to see them.
"I was going to come out for a late summer swim, and noticed I could barely get into the parking lot…someone said there's flamingos out there, and I was kind of shocked," said beachgoer Mike Valente. "I think it's once in a lifetime."
SIGN UP TODAY: Get daily headlines, breaking news emails from FOX6 News
Birders and non-birders alike flocked to see what are believed to be wild flamingos.
So many people arrived to gawk at the birds, in fact, that police had to take control over the parking situation. They said in a Facebook post that the South Beach parking lot would be restricted for handicap parking only – asking others to park and walk.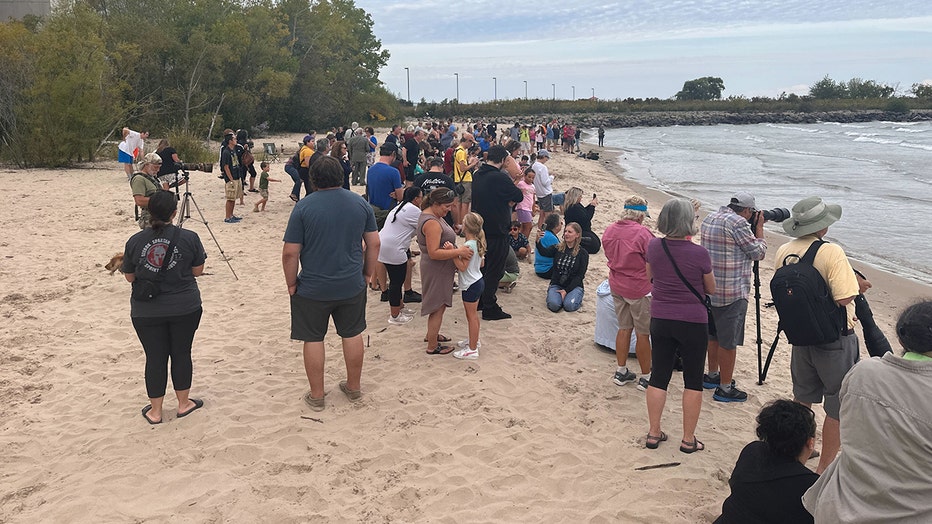 Bird watchers flock to Port Washington to see flamingos at Lake Michigan
"I thought, 'You gotta be kidding, someone's pulling a prank,'" said Waukesha bird watcher Derek Sallmann.
"I had no idea this morning I was going to be looking at flamingos on the beach," Sallmann continued. "My mind still can't understand this is not Florida or some southern state."
Not everyone came specifically for "Flamingo Fest," as Sallmann called it, but they enjoyed the last day of summer with the stars of the beach all the same.
FREE DOWNLOAD: Get breaking news alerts in the FOX6 News app for iOS or Android.
"It's a bit of a blessing," said Benjamin F. Goss Bird Club president Spencer Stehno. "We had a fellow who used to say, well, birds are where you find them. And today's evidence of these birds on the shore are exactly that. Nobody expected to see it."
FOX6 News was at the Lake Michigan shore around 2:30 p.m. as crowds flocked to the waterfront to see the birds. The birds hung out for a few hours, flying away around 5:20 p.m.
"It's so unique, and it is so ephemeral that in a moment they can be gone," Stehno said.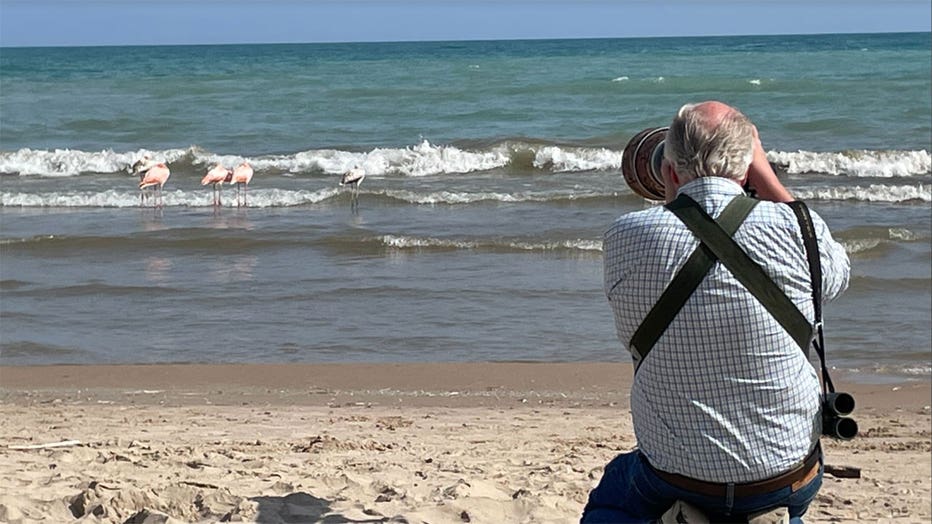 Bird watchers flock to Port Washington to see flamingos at Lake Michigan
Where'd they come from?
With Hurricane Idalia sweeping flamingos north of their natural habitat a few weeks ago, wildlife officials said all signs point to the birds being wild.
"Quite a few states that are seeing this unfold, although we have the distinction of being the northernmost," said Ryan Brady, a Wisconsin DNR conservation biologist.
Brady said it's actually common for wild birds to wander out of range, and hopefully the flamingos will start heading back south on their own soon. If you do see them, give them space.
The Wisconsin Society for Ornithology said a records committee is confirming these birds are in fact wild – to officially add flamingos to the state list. If so, it would be the first flamingo sighting in Wisconsin.
Zoo facts
The Milwaukee County Zoo shared the following Q&A with FOX6 News, shedding light on the situation:
How did they get here?
These are not birds from the Milwaukee County Zoo, and they don't appear to be from another population managed in professional care.
These flamingos' natural range is coastlines along the Gulf of Mexico, Florida and lower Atlantic states, the Caribbean, Central and northern South America. The recent severe weather in their natural range has resulted in recent reported sightings of birds, both isolated individuals and small groups, in many states where they're usually not seen, including Pennsylvania, Indiana and Ohio.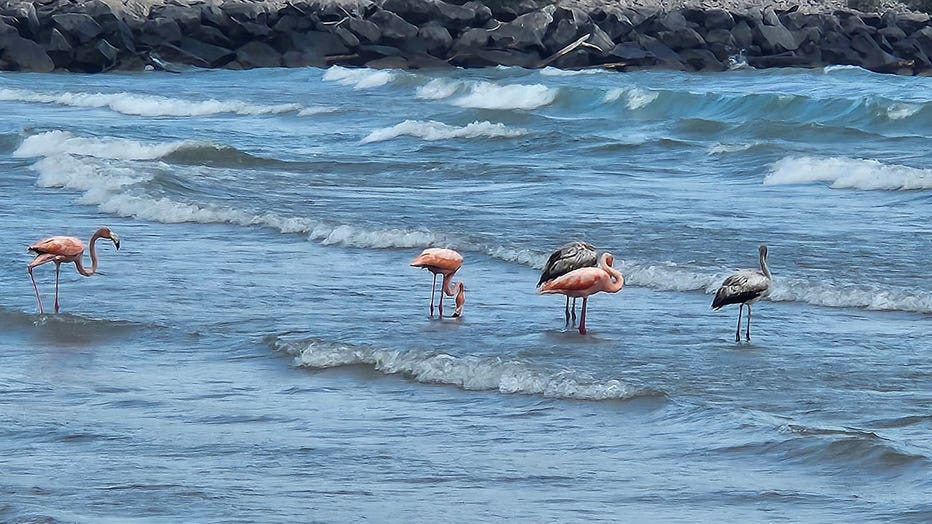 Flamingos seen at Port Washington's shore
Are there things here they can eat?
They can eat aquatic insects, small crustaceans, algae and other small animals that live in shallow waters. But what can be found here in Wisconsin is different than the primary food sources in their natural habitat.
What will happen next? Will they leave?
It's likely that they dropped onto the Lake Michigan shore as it looks similar to their natural habitat. How long they'll stay in this area, or in the state of Wisconsin, will be dependent on their overall body condition and the resources they find here.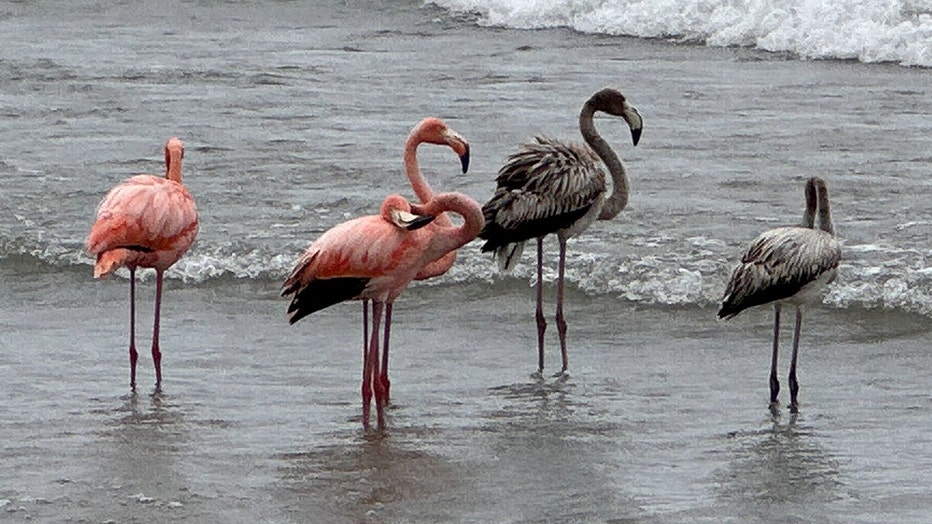 Flamingos seen at Port Washingtons shore
Depending on which population of flamingos these birds come from, they may do annual migrations. But as a species, flamingos are capable of long-distance flights and will likely leave as our days get shorter, provided they feel strong enough to do so.
How can we help?
These are wild birds, and the best thing we can do is leave a respectful distance so that they don't experience elevated stress from humans coming too close.
Flamingo fun on social media
FOX6 News recently shared the story of Julie Olson, a North Shore woman who has taken to Facebook with her Playmobil collection to poke fun at the area's ongoing construction proejcts.
Olson's page, "Mommy plays Playmobil," got in on the flamingo fun Friday as well.
Mandarin duck sighting
Flamingos aren't the first uncommon bird seen in Wisconsin this year.
A mandarin duck was spotted at Milwaukee's South Shore Park in January. One was later seen in Oconomowoc, according to a FOX6 News viewer who shared photos.
The news drew photographers and others to the Lake Michigan shore to try to catch a glimpse of it. The birds are typically found in parts of Asia.