North Texas twins born in different years
DENTON, Texas - A Denton couple is celebrating their new twin girls who were born in different years!
Kali Jo Scott had to be checked in early to Texas Health Presbyterian Hospital Denton for monitoring.
Scott had to be taken in for a C-section on New Year's Eve a week and a half before her twins due date.
Baby Annie Jo was born at 11:55 p.m., the last baby of the year born at the hospital.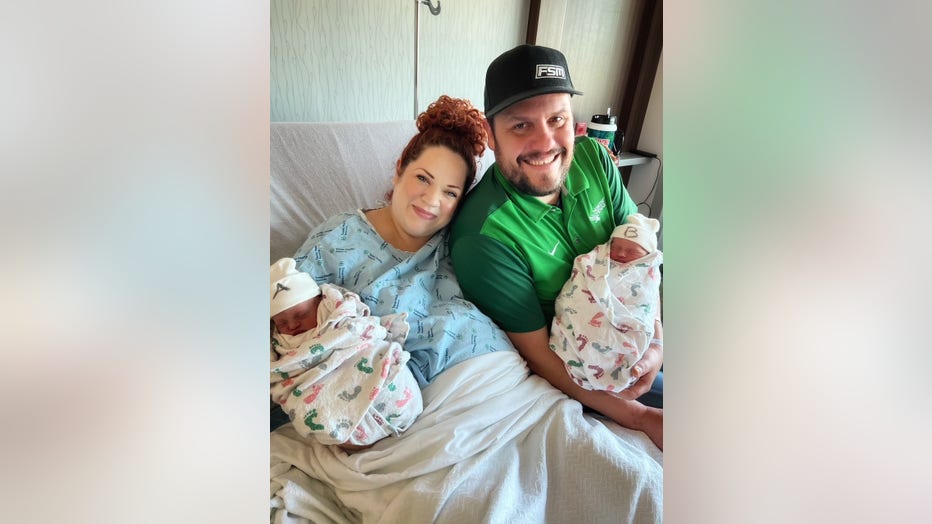 (Source: Kali Jo Flewellen)
Then came Effie Rose at 12:01 a.m. on Jan. 1, making her the first baby born at the hospital in 2023!
The babies are happy and healthy, weighing in at 5.5 pounds.
"We had kind of joked, like, 'wouldn't it be funny if…' with the holiday and New Year's Eve over the weekend," said Scott. "It turned out that was more of a possibility than we realized."
Both parents say they like the fact that each child gets their own day.
Video: Virginia family falls through 'frozen' pool on Christmas after dance party on ice
"I love it. I think it is hilarious and just super fun," Scott said.
"It kind of happened so quick we haven't processed all of it yet," said father Cliff Scott.
They say it will help keep the fraternal twins with their own identity.
IN CASE YOU MISSED IT: New Year's Eve fireworks show in Downtown Dallas rings in 2023
"You always still want to make sure they have their own individual personality and know that they are special and unique. So this gets to add to that special and uniqueness that some twins don't maybe get," she said. "One will always get the glitter and confetti of New Year's Eve and one gets to kick it off with a brand-new year on New Year's Day."
The few-minute difference could have big implications for a few things.
Many youth sports are based around the child's birth year, which could make for complicated schedules.
The new family says some of the financially-minded friends have reached out about the tax implications.
"Our friends were making fun of us for the tax deduction issue since we only get one tax deduction for last year, but I think that's just fine," Scott said.