Nationwide emergency alert test held on Oct. 4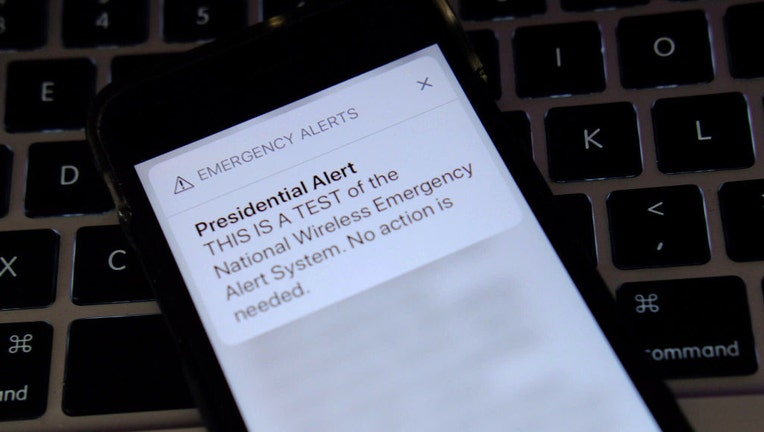 article
The Federal Emergency Management Agency (FEMA) and the Federal Communications Commission conducted an emergency alert test on Wednesday.
The test took place at 2:20 p.m. ET and the process involved two parts: a 30-minute signal sent to radios and televisions as part of EAS, and a similar one sent to all consumer cell phones as part of the WEA system.
FEMA explained on its website that the goal of the test was to ensure that the systems continue to be an effective way to warn the public about emergencies, particularly those on the national level. 
The Integrated Public Alert and Warning System sends out messages via the Emergency Alert System and Wireless Emergency Alerts, the Associated Press reported. 
The Emergency Alert System is a national public warning system that's designed to allow the president to speak to the American people within 10 minutes during a national emergency via specific outlets such as radio and television. And Wireless Emergency Alerts are short messages — 360 characters or less — that go to mobile phones to alert their owner to important information.
Federal law requires the systems be tested at least once every three years. The last nationwide test was Aug. 11, 2021.
RELATED: National emergency alert test planned by FEMA, FCC: Here's what you should know
Federal officials shared that cell towers would send out the WEA test for about 30 minutes.
"During this time, WEA-compatible wireless phones that are switched on, within range of an active cell tower, and whose wireless provider participates in WEA, should be capable of receiving the test message," read a portion of the statement. "For consumers, the message that appears on their phones will read: 'THIS IS A TEST of the National Wireless Emergency Alert System. No action is needed.'"
A Spanish language test message, according to officials, was seen on phones with the main menu set to Spanish.
Meanwhile, the EAS test lasted about one minute, according to officials. It should be seen on television or heard on radio for people who are tuned in to a radio or television station that is taking part in the test.
What does EAS and WEA represent?
Both the EAS and WEA are systems that are set up to provide emergency warnings, according to federal officials. However, the two systems are set up to provide warnings to different devices.
According to FEMA, the EAS is a system that, when activated, interrupts radio and television broadcasts in order for an emergency alert to be aired.
According to the Encyclopaedia Britannica, the EAS is the replacement of an earlier system called the "Emergency Broadcast System" in 1997. The EBS was put into use in the 1960s.
On their website, officials with the National Weather Service noted that the EAS is frequently activated for "imminent and dangerous weather conditions." In addition, federal law also requires radio and television stations that take part in the EAS to conduct weekly and monthly tests.
According to FEMA, the WEA is described as a system that sends short emergency messages from authorized government entities to mobile devices that can receive such alerts.
The alerts, according to the website, are sent via cell phone towers, and can target a specific area.
Alerts sent via WEA, can feature English and Spanish language alerts. An English alert is required when a Spanish alert is sent, according to officials. 
The Associated Press reported that the WEA was launched in 2012. While digital device users can opt out of missing children messages and alerts for natural disasters, presidential alerts, which are issued at the direction of the White House and activated by FEMA officials, cannot be opted out of.
FOX 10 Phoenix reporter Kenneth Wong contributed to this report, and the Associated Press contributed to this story.  
This is an update to a story published on Sept. 27. This story was reported from Washington, D.C.