Missing Titanic sub: Coast Guard calling in more ships after 'underwater noises' heard
Rescuers on Wednesday rushed more ships and vessels to the area where a submersible disappeared on its way to the Titanic wreckage site, hoping underwater sounds they detected for a second straight day might help narrow their search in an increasingly urgent mission.
Crews were scouring an area twice the size of Connecticut in waters  2 1/2 miles deep, said Captain Jamie Frederick of the First Coast Guard District, who noted that authorities are still holding out hope of saving the five passengers onboard the Titan.
"This is a search and rescue mission, 100%," he said. "... We'll continue to put every available asset that we have in an effort to find the Titan and the crew members."
But even those who expressed optimism warned that many obstacles remain: from pinpointing the vessel's location, to reaching it with rescue equipment, to bringing it to the surface — assuming it's still intact. And all that has to happen before the passengers' oxygen supply runs out, which some have estimated might happen as early as Thursday morning.
Meanwhile, newly uncovered allegations suggest there had been significant warnings made about vessel safety during the submersible's development.
RELATED: How deep is the Titanic? And other things to know as sub search continues
The area of the North Atlantic where the Titan went missing on Sunday is prone to fog and stormy conditions, making it an extremely challenging environment to conduct a search-and-rescue mission, said Donald Murphy, an oceanographer who served as chief scientist of the Coast Guard's International Ice Patrol. The lost submersible could be as deep as about 12,500 feet (3,800 meters) below the surface near the watery tomb of the Titanic.
Key to the search are camera-equipped remote-operated robots, which are designed to scan the seafloor in real-time at depths other vessels can't reach. Two were operating in the area Wednesday and more were on the way, officials said.
Frederick said while the sounds that have been detected offered a chance to narrow the search, their exact location and source hasn't yet been determined.
"We don't know what they are, to be frank," he said.
Retired Navy Capt. Carl Hartsfield, now the director of the Woods Hole Oceanographic Systems Laboratory, said the sounds have been described as "banging noises," but he warned that search crews "have to put the whole picture together in context and they have to eliminate potential manmade sources other than the Titan."
The report was encouraging to some experts because submarine crews unable to communicate with the surface are taught to bang on their submersible's hull to be detected by sonar.
A U.S. Navy official said during a media briefing Wednesday that a special naval salvage system that could be used to pull the Titan to the surface has arrived in St. John's, Canada, but it is expected to take another 24 hours to prepare it for use. The Navy said in a statement that the equipment is capable of hoisting "large, bulky and heavy undersea objects such as aircraft or small vessels."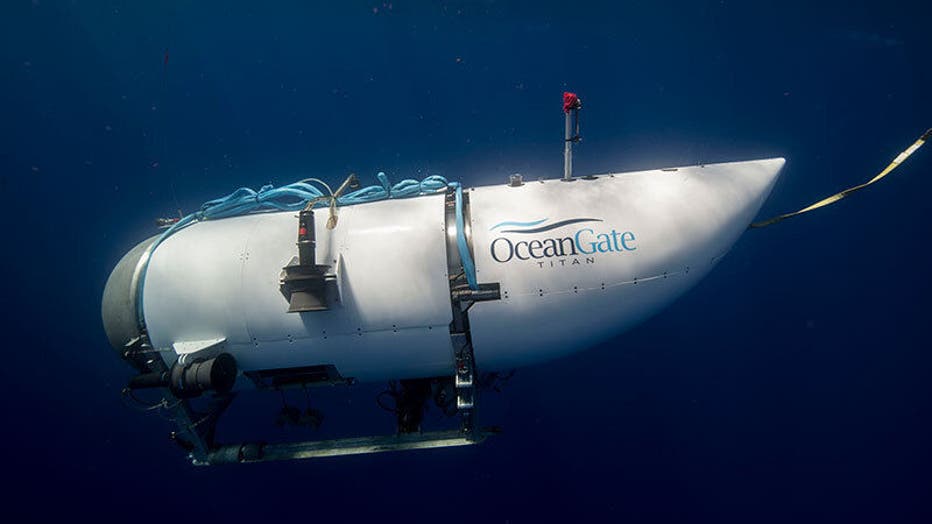 An undated photo shows tourist submersible belongs to OceanGate begins to descent at a sea. Search and rescue operations continue by US Coast Guard in Boston after a tourist submarine bound for the Titanics wreckage site went missing off the southeas
The Titan weighs 20,000 pounds (9,071 kilograms). The Navy's Flyaway Deep Ocean Salvage System is designed to lift up to 60,000 pounds (27,216kilograms).
The submersible had seven backup systems to return to the surface, including sandbags and lead pipes that drop off and an inflatable balloon.
Lost aboard the vessel are pilot Stockton Rush, the CEO of the company leading the expedition. His passengers are a British adventurer, two members of a Pakistani business family and a Titanic expert.
Authorities reported the 22-foot carbon-fiber vessel overdue Sunday night, setting off the search in waters about 435 miles (700 kilometers) south of St. John's.
The submersible had a four-day oxygen supply when it put to sea around 6 a.m. Sunday, according to David Concannon, an adviser to OceanGate Expeditions, which oversaw the mission.
Frank Owen, a submarine search and rescue expert, said the estimated 96-hour oxygen supply is a useful "target" for searchers, but is only based on a "nominal amount of consumption." Owen said the diver on board the Titan would likely be advising passengers to "do anything to reduce your metabolic levels so that you can actually extend this."
Titan's passengers were likely enduring extremely difficult conditions, including temperatures just above freezing, said Jeff Karson, a professor emeritus of earth and environmental sciences at Syracuse University.
"I am sure it is horrible down there," Karson said. "It is like being in a snow cave and hypothermia is a real danger."
At least 46 people successfully traveled on OceanGate's submersible to the Titanic wreck site in 2021 and 2022, according to letters the company filed with a U.S. District Court in Norfolk, Virginia, that oversees matters involving the Titanic shipwreck.
But documents show that OceanGate had been warned there might be catastrophic safety problems posed by the way the experimental vessel was developed.
RELATED: Titanic submarine tour company OceanGate Expeditions: What to know
David Lochridge, OceanGate's director of marine operations, said in a 2018 lawsuit that the company's testing and certification was insufficient and would "subject passengers to potential extreme danger in an experimental submersible."
The company insisted that Lochridge was "not an engineer and was not hired or asked to perform engineering services on the Titan." The firm also says the vessel under development was a prototype, not the now-missing Titan.
The Marine Technology Society, which describes itself as "a professional group of ocean engineers, technologists, policy-makers, and educators," also expressed concern that year in a letter to Rush, OceanGate's chief executive. The society said it was critical that the company submit its prototype to tests overseen by an expert third party before launching in order to safeguard passengers. The New York Times first reported on those documents.
Chris Brown, a British adventurer who paid a deposit to go on the Titan voyage but later withdrew because of what he called safety concerns, has criticized the use of a simple commercially available video game controller to steer the Titan. But OceanGate has said that many of the vessel's parts are off-the-shelf because they have proved to be dependable.
"It's meant for a 16-year-old to throw it around," and is "super durable," Rush told the CBC in an interview last year while he demonstrated by throwing the controller around the Titan's tiny cabin. He said a couple of spares are kept on board "just in case."
RELATED: Titanic shipwreck: A look at notable people, companies who have made the expedition
The search for the missing vessel has drawn international attention. In Dubai, where the missing British adventurer Hamish Harding lives, Crown Prince Hamadan bin Mohammed Al Maktoum wrote: "Dubai and its people pray for their safety and hopeful return home."
Others aboard include Pakistani nationals Shahzada Dawood and his son Suleman, whose eponymous firm invests across the country. In Pakistan's port city of Karachi, employees at his firms said they prayed for the two's safe return, as did government officials. French explorer and Titanic expert Paul-Henry Nargeolet also was on the vessel.
Retired Navy Vice Admiral Robert Murrett, who is now deputy director of the Institute for Security Policy and Law at Syracuse University, said the disappearance of the submersible underscores the dangers associated with  operating in deep water and the recreational exploration of the sea and space, "two environments where in recent past we've seen people operate in hazardous, potentially lethal environments," Murrett said.
"I think some people believe that because modern technology is so good, that you can do things like this and not have accidents, but that's just not the case," he said.
___
Associated Press writers Jon Gambrell in Dubai, United Arab Emirates; Ben Finley in Norfolk, Virginia; and Munir Ahmed in Islamabad contributed to this report.