Mick Fleetwood chartered plane to Maui with relief supplies: reports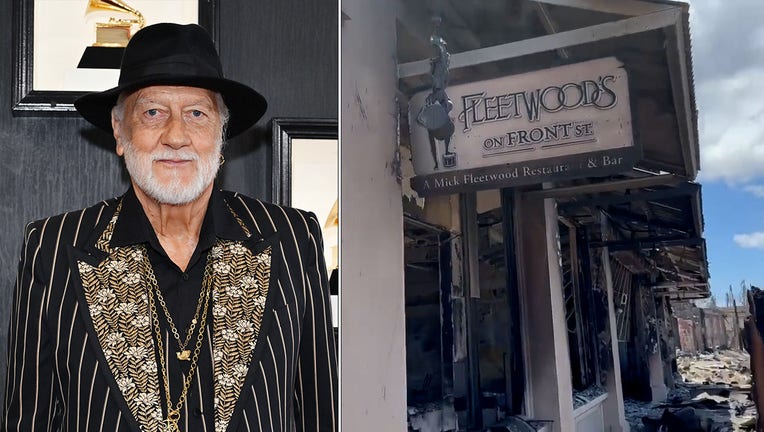 article
Rock legend Mick Fleetwood is one of the many touched personally by the devastation of the Maui wildfires. 
The drummer for Fleetwood Mac has reportedly lived on Maui for several decades. While his home was spared, his Lahaina restaurant that he's owned for more than 10 years, Fleetwood's on Front Street, was destroyed. 
Video posted by Hawaii senator Brian Schatz showed the restaurant's devastation. The restaurant's website says it is closed until further notice. 
"Lahaina Town has suffered tremendous damage and with that Fleetwood's on Front Street has been lost," the restaurant shared on social media. "Words can not express the devastation that our community is facing right now." 
Fleetwood was in Los Angeles visiting family when the fires broke out but chartered a plane to return with relief supplies, according to Sky News.
"Selfishly, I haven't lost a family member. I didn't lose my house. It could've happened, but it didn't happen. So you immediately go to like, 'I'm really lucky. Now, what the hell can I do?'" he told Sky News.
RELATED: Photos: Maui's historic Lahaina ravaged by deadly wildfire
Fleetwood told ABC News that getting back to the island "became a problem for a few days."
"It was me and a dear friend of mine who works with me and my management company and we were fortunate enough, one, to be able to do that; two, to be able to fill the plane up as much as we could," Fleetwood said.
Sky News showed a photograph of boxes of diapers being loaded onto the place. Honolulu's Star Advertiser said canned food was also included in the supplies.
In the week after the blaze, the death toll grew to more than 100, becoming the deadliest fire in the U.S. in the past century. 
Many residents still remained without power, unreliable cellphone service and uncertainty over where to get assistance. 
Read the latest on the Hawaii wildfire devastation here, and learn how you can help here. 
This story was reported from Detroit.