Maui wildfires: Death toll rises to 110 as county starts identifying victims
LAHAINA, Hawaii - Public schools on Maui started the process of reopening and traffic resumed on a major access road in signs of recovery a week after wildfires demolished a historic town and killed at least 110 people, while the head of the island's emergency agency said he had "no regret" that sirens weren't sounded to warn people about the encroaching flames.
At least three schools untouched by flames in Lahaina, where entire neighborhoods were reduced to ash, were still being assessed after sustaining wind damage, said Hawaii Department of Education superintendent Keith Hayashi. The campuses will open when they're deemed safe.
"There's still a lot of work to do, but overall the campuses and classrooms are in good condition structurally, which is encouraging," Hayashi said in a video update. "We know the recovery effort is still in the early stages, and we continue to grieve the many lives lost."
Elsewhere on Maui, crews cleaned up ash and debris at schools, and tested air and water quality. Displaced students who enroll at those campuses can access services such as meals and counseling, Hayashi said. The education department is also offering counseling for kids, family members and staff.
RELATED: United Airlines pilot cuts Maui vacation short, flies tourists off island amid wildfires
The Federal Emergency Management Agency opened its first disaster recovery center on Maui, "an important first step" toward helping residents get information about assistance, FEMA administrator Deanne Criswell said Wednesday. They also can go there for updates on their aid applications.
Criswell said she would accompany President Joe Biden on Monday when he visits Maui to survey the damage and "bring hope."
Meanwhile, transportation officials said the Lahaina Bypass Road, closed since Aug. 8, was open again, allowing residents access to some areas near the burn zone during specified hours.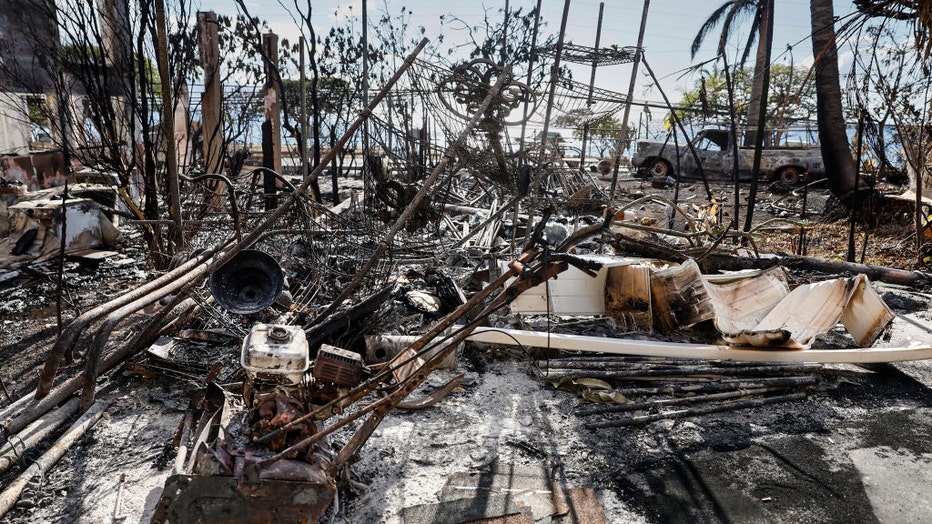 Ash and debris are all that remain at this home located near Wahinoho Way. (Robert Gauthier/Los Angeles Times via Getty Images)
Herman Andaya, Maui Emergency Management Agency administrator, defended not sounding the sirens during the fire. "We were afraid that people would have gone mauka," he said, using the Hawaiian directional term that can mean toward the mountains or inland. "If that was the case then they would have gone into the fire."
There are no sirens in the mountains, where the fire was spreading downhill.
Hawaii created what it touts as the largest system of public safety outdoor alert sirens in the world after a 1946 tsunami that killed more than 150 on the Big Island. Andaya said the sirens are primarily meant to warn about tsunamis. The website for the Maui siren system says they may be used to alert for wildfires.
With the death toll rising by four since Tuesday to 110, a mobile morgue unit with additional coroners arrived in Hawaii on Tuesday to help with the grim task of sorting through remains.
Search and recovery crews using cadaver dogs had scoured approximately 38% of the burn area by Tuesday, officials said. The number of canine teams was increasing to more than 40 because of the difficulty and scope of the operation, FEMA said. The dogs need to rest frequently because of the terrain and heat.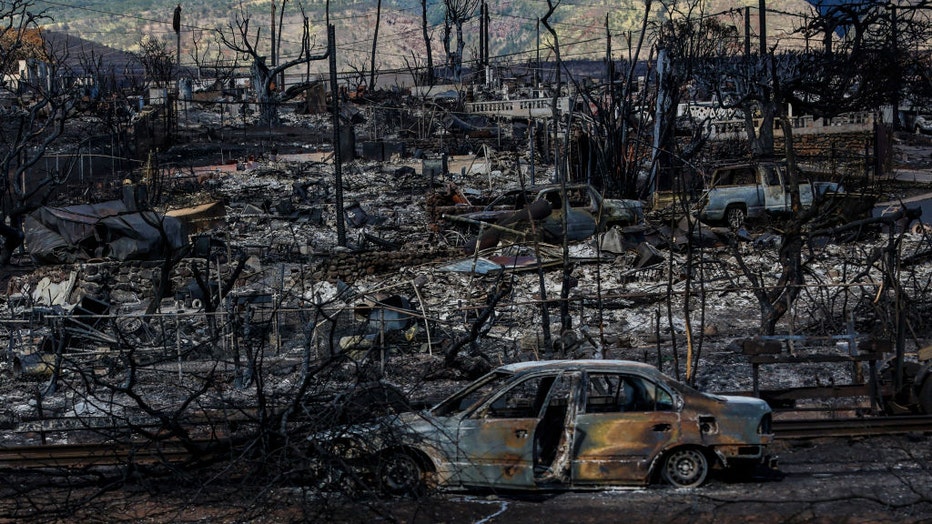 A view of destruction from Hwy 30 days after a fierce wildfire destroyed the town. (Robert Gauthier/Los Angeles Times via Getty Images)
Searchers combing through the ashes found some of Lahaina's most vulnerable residents, including children, among the victims. Gov. Josh Green said this week that teams found a family of four killed in a charred car and the remains of seven family members inside a burned-down house.
"Some of the sights are too much to share, or see, just from a human perspective," Green told Hawaii News Now on Tuesday.
Just over a quarter of Lahaina's 13,000 residents are under age 18, according to Census Reporter, an organization that analyzes U.S. Census data. Another 10% are ages 71 or older.
Kimberly Buen was awaiting word Wednesday of her father, Maurice "Shadow" Buen, a retired sport fisherman who lived in an assisted-living facility that was destroyed.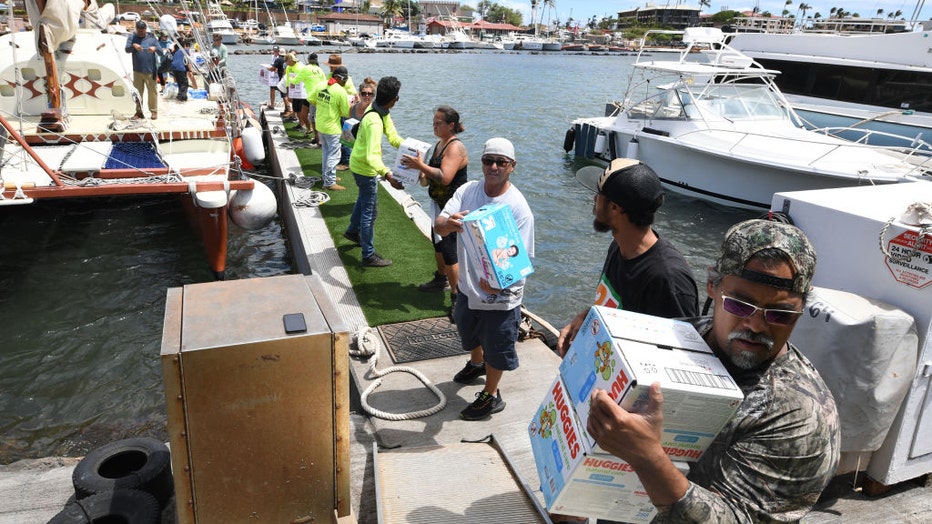 Members of the Hikianalia canoe club off load a boat with supplies at the Maalaea Harbor before heading into the burn area on Monday August 14, 2023 in Maalaea, HI. (Matt McClain/The Washington Post via Getty Images)
RELATED: Pictures of Maui fire damage 'will shock you,' Hawaii governor says
The 79-year-old was blind in one eye, partially blind in the other and used a walker or an electric scooter to get around. In recent weeks, he also had swollen feet.
"For him, there is no moving quickly," Buen said. The stories from survivors who fled the fast-moving flames terrified her.
"If able-bodied people were having to run and jump into the ocean, I can only imagine what's happened to the assisted living and the lower income and the elderly people that didn't have warning, you know, or have any resources to get out," she said.
RELATED: 4 family members die in Hawaii wildfire: 'It's like a gut punch'
Bill Seidl, 75, lived in the same complex. His daughter, Cassie Seidl, of Valencia, California, said her father knocked on doors before escaping.
"I think people were assuming it was just another brushfire," she said. "I don't think people realized, and they were not warned."
Seidl said her father made his way to a nearby mall and slept outside for two days, eating and drinking little to nothing. He's now camping on a friend's property in Wailuku.
On Tuesday, the county released the names of two victims: Lahaina residents Robert Dyckman, 74, and Buddy Jantoc, 79. They were the first of five who have been identified. Maui Police Chief John Pelletier renewed an appeal for families missing relatives to provide DNA samples.
Sacred Hearts School in Lahaina was destroyed and Principal Tonata Lolesio said lessons would resume in the coming weeks at another Catholic school. She said it was important for the students to be with their friends, teachers and books, and not constantly thinking about the tragedy.
"I'm hoping to at least try to get some normalcy or get them in a room where they can continue to learn or just be in another environment where they can take their minds off of that," she said.
None of the roughly 3,000 public school students in Lahaina were in classes last Tuesday when the fires started. The education department had closed several West Maui campuses because of dangerously high winds and many students stayed home while their parents worked, according to survivors' accounts.
Communication on Maui remained difficult Wednesday. Some people walked periodically to a seawall, where phone connections were strongest, to make calls. Flying low off the coast, a single-prop airplane used a loudspeaker to blare information about where to find water and supplies.
Thousands of displaced residents were staying in shelters, hotel rooms and Airbnb units, or with friends. The power company restored electricity to over 10,000 customers but around 2,000 homes and businesses still had none Tuesday night, Maui County wrote.
The cause of the wildfires, already the deadliest in the U.S. in more than a century, was under investigation. Green has warned that scores more bodies could be found.
The Lahaina fire caused about $3.2 billion in insured property losses, according to Karen Clark & Company, a prominent disaster and risk modeling company. It said more than 2,200 buildings were damaged or destroyed by flames, with about 3,000 damaged by fire, smoke or both.
John Allen and his daughter surveyed an ash-gray landscape once festooned with colorful orchids and plumerias from a hill above the Lahaina fire zone. His daughter wept as she pointed to the coffee shop where she used to work, and the places they used to live.
Allen moved to Maui two years ago after leaving Oakland, California, where he witnessed a destructive wildfire race up hillsides in 1991.
"No one realizes how quickly fires move," Allen said.
___
Kelleher reported from Honolulu and Weber from Los Angeles. Associated Press journalists Haven Daley in Kalapua, Hawaii; Kathy McCormack in Concord, New Hampshire; Seth Borenstein in Washington, D.C.; and Heather Hollingsworth in Kansas City, Missouri contributed.
___
Associated Press climate and environmental coverage receives support from several private foundations. See more about AP's climate initiative here. The AP is solely responsible for all content.